The Killers have shared their latest charity Christmas single, Christmas In L.A., whose proceeds will benefit the Global Fund to Fight AIDS. This is the eighth year that the Killers have partnered with (RED), the AIDS awareness organization founded by Bono and Bobby Shriver, to produce a Christmas single.
Directed by Kelly Loosli (who is the program director of BYU's animation program) , the mixed media five minute and 12 second music video casts Owen Wilson as a melancholy out of work actor who is dreading December 25th in Los Angeles. I'm not sure if this is odd or perfect casting given Wilson's suicide attempt in 2007 , which everyone seems to have forgotten. The lonesome video also features actor Harry Dean Stanton (below with Wilson) and animation by Loosli's students at Brigham Young University.
Watch the video below, and head over to iTunes to purchase "Christmas in L.A.," which features supporting vocals from Dawes.
The enchanting book sculptures by Su Blackwell have been featured commercially and in fine art galleries around the world. Created on various scales, her amazing craft has been used as full sized sets for videos, theater productions and television commercials, window displays and editorials as well as compelling small boxed sculptures, installations and fine art exhibitions.

above: Su Blackwell's The Little Prince

above: for The 2008 Snow Queen video
While many art sites and blogs showcased her talents, it's been awhile and she has some new work worth sharing.  Here's a look at some of her latest (2012-2013).
Snow White:


Editorial:


Nature:


The Last Unicorn:


Rose:

2013 Editorial work for Intelligent Life Magazine, Oprah Magazine and Real Simple Magazine:

Some of her earlier pieces from 2009-2011 That I especially favor:
Out of Narnia, 2009:

Little Red Riding Hood, 2010:

Baron In the Trees, 2011

Su Blackwell's work is often used in advertising and marketing because it's a nice and unique way to conveyy people and places that is different from photography. Many large brands (Cartier, Volvo, British Airways, to name a few) have featured her work in their stores, commercials and print ad campaigns.
British Airways:

The Fairmont Hotels have commissioned her work on a few occasions:

Crabtree & Evelyn posters:

Volvo:

Pilsner Urquell:

Harper's Bazaar editorial:

Theater set for The Snow Queen:

Video set for Indah:

In-store installations:

Su talks about her craft in this video from the artist:
Available starting December 5th, 2013 (and can be pre-ordered now here) is this Artist Monograph from Su that catalogs her work from 2006-2013:


above: Su Blackwell 'Book Sculptures', Case-bound, hard-back with 84 full-colour pages. Measures 297mm x 210mm.
Su says of her work:
"I often work within the realm of fairy-tales and folk-lore. I began making a series of book-sculpture, cutting-out images from old books to create three-dimensional diorama's, and displaying them inside wooden boxes".
"For the cut-out illustrations, I tend to lean towards young-girl characters, placing them in haunting, fragile settings, expressing the vulnerability of childhood, while also conveying a sense of childhood anxiety and wonder. There is a quiet melancholy in the work, depicted in the material used, and choice of subtle colour."
Paper has been used for communication since its invention; either between humans or in an attempt to communicate with the spirit world. I employ this delicate, accessible medium and use irreversible, destructive processes to reflect on the precariousness of the world we inhabit and the fragility of our life, dreams and ambitions. — Su Blackwell, 2007
A great holiday gift for both young and old is the book, The Fairy-Tale Princess: Seven Classic Stories from the Enchanted Forest
, which features seven classic fairy tales, imaginatively retold and illustrated with Su's specially commissioned paper-cut constructions:
Her online shop features laser cut greeting cards, signed monographs, prints of her work, journals and more.
Su Blackwell Studio Ltd. was set up in 2011 to work on a variety of projects, commissions and collaborations. The studio comprises of Su (director) and her assistants, 'Emma and Freya'.
Su is represented by Long and Ryle Gallery, London.

Su Blackwell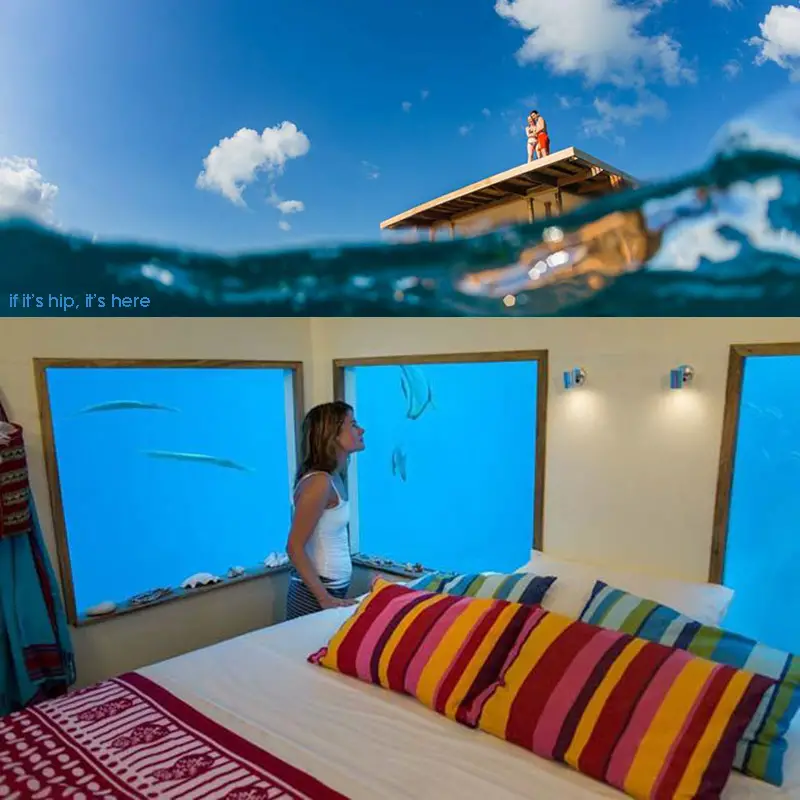 Everyone is buzzing about Africa's first underwater hotel room. Opened as the Manta Resort's newest attraction on November 1, 2013, the sub-aquatic accommodation floats in a circular blue hole in the coral reef near Pemba Island, off the East Coast of Tanzania.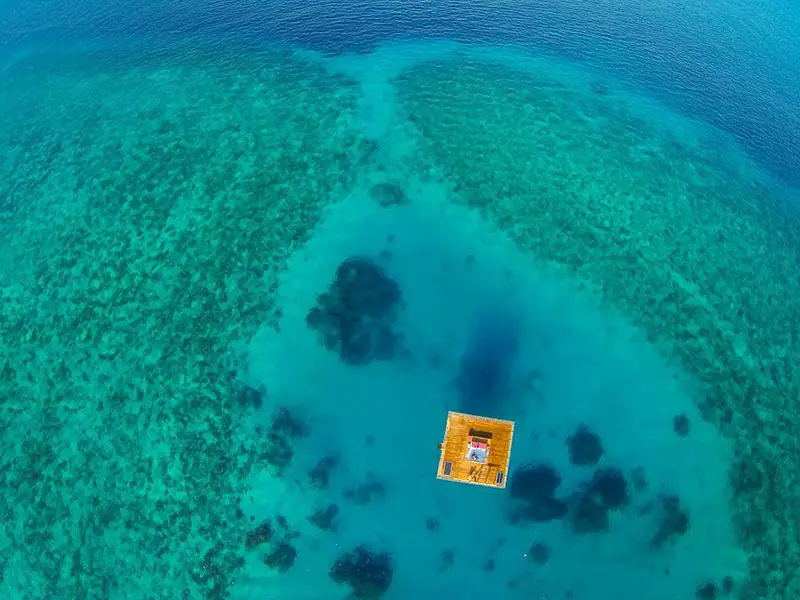 I was very excited when I heard that an actual underwater hotel room could be booked, but I was expecting one of these: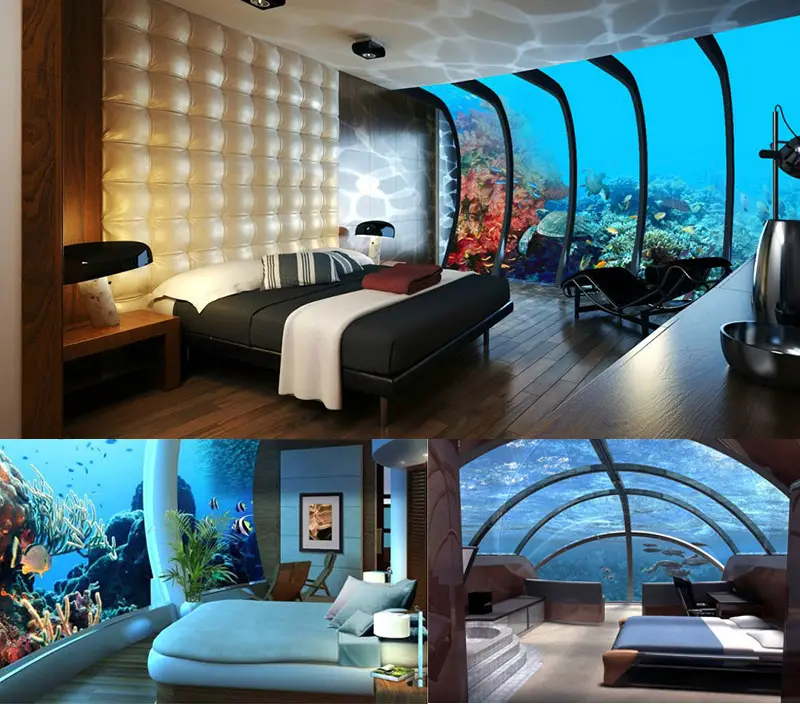 Instead, the Manta Resort's Underwater Room is really more of a submerged observation cubicle.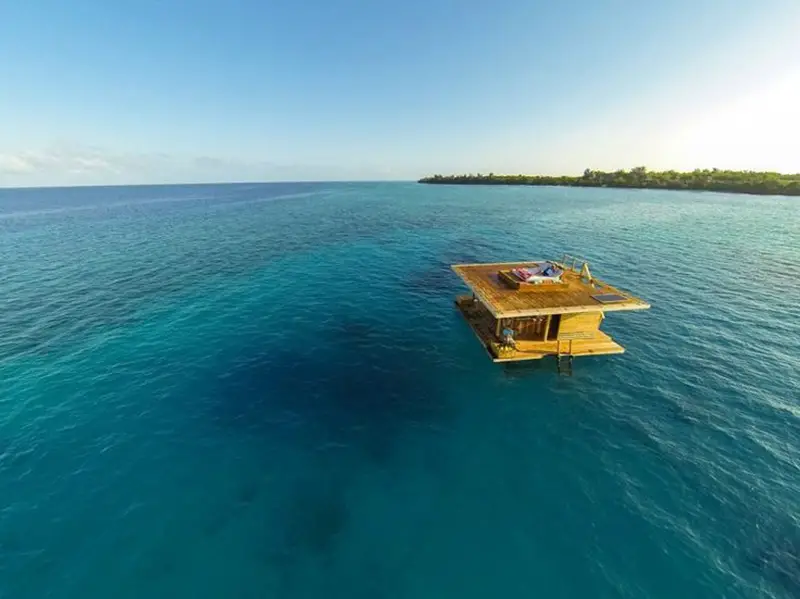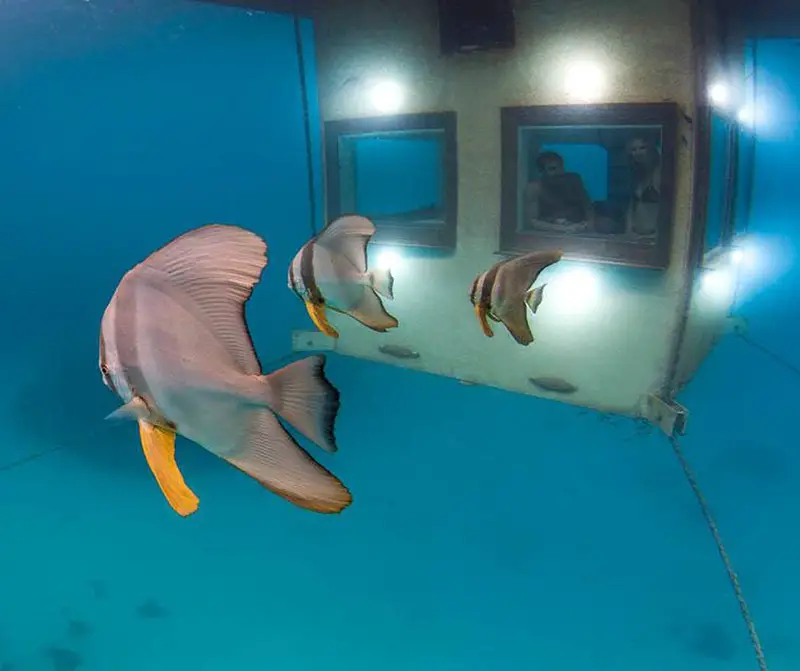 The top floor, which sits above sea-level, is basically an open-air deck like a floating raft with a bed upon it. Here guests can relax, take in the idyllic Indian Ocean surroundings and soak up some sun or gaze at the stars.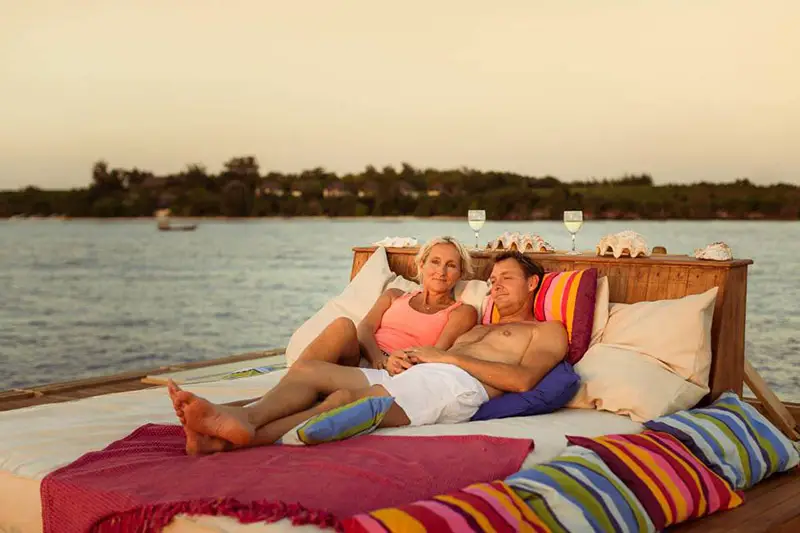 Beneath the top deck is a level with a lounge, a shower, a bar and a cozy sofa/ built in bench and table.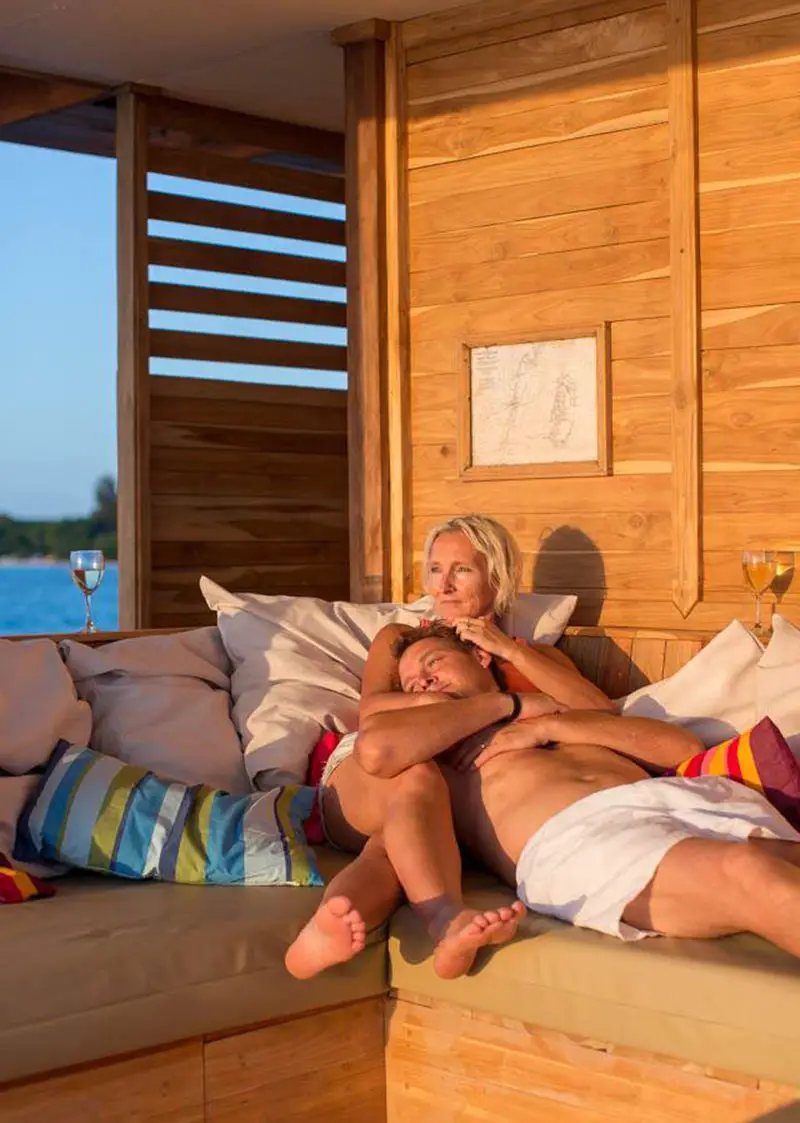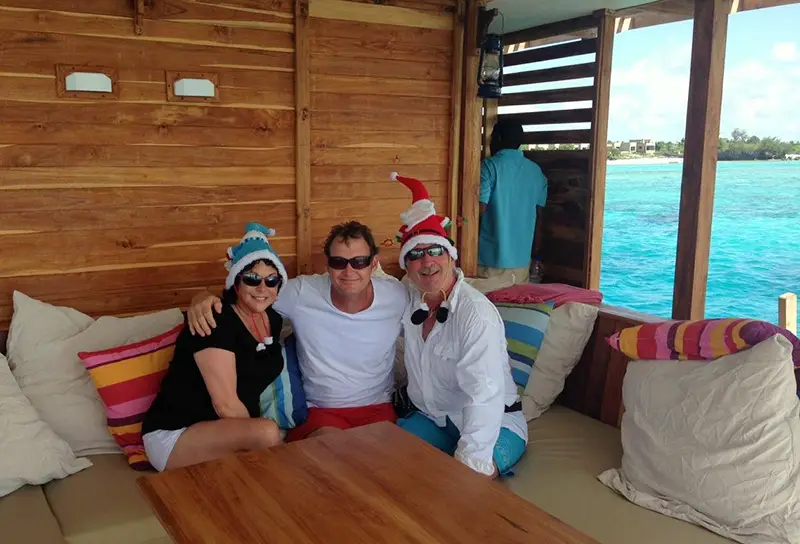 The bottom floor is a small square, claustrophobic-inducing box submerged to the depth of four meters. A bedroom with inset windows, hardly "walled entirely in glass" as it has been described.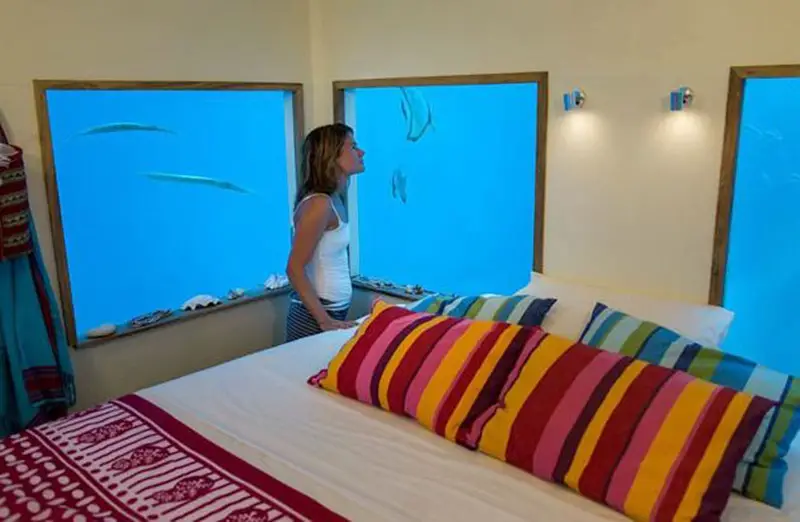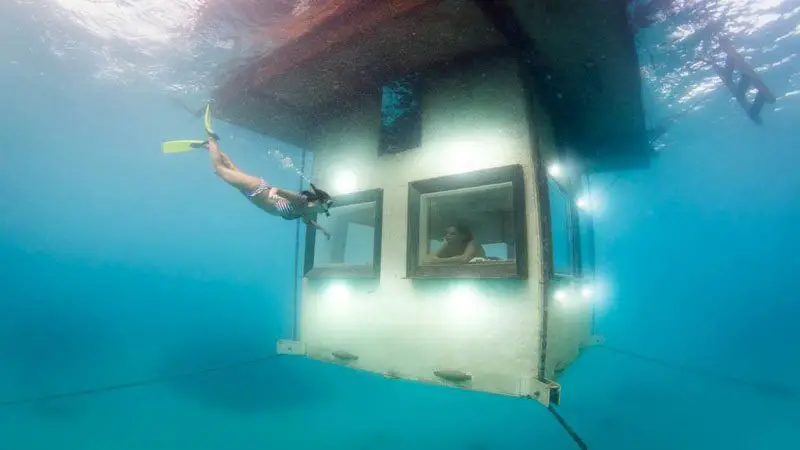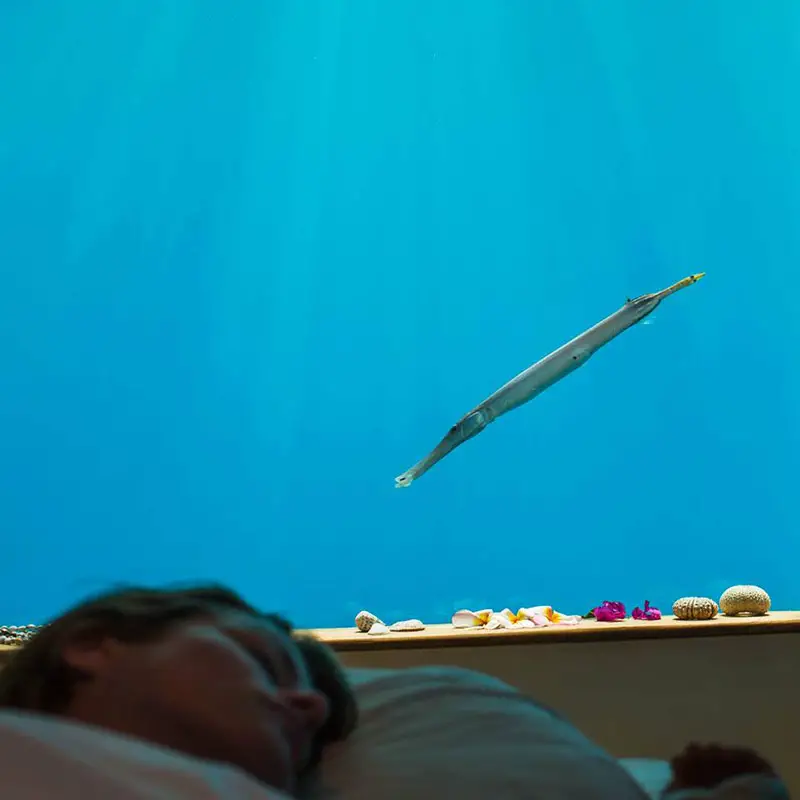 It most certainly does offer surreal views of passing sea-life and at night, the nocturnal sea life illuminated by spotlights is breathtaking. And yes, it's true, most of the occupants will be spending time above on the deck or looking out the windows below.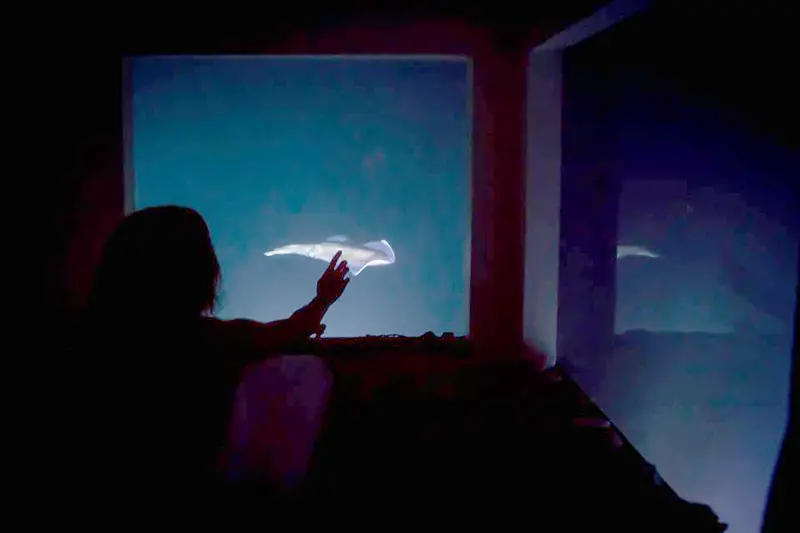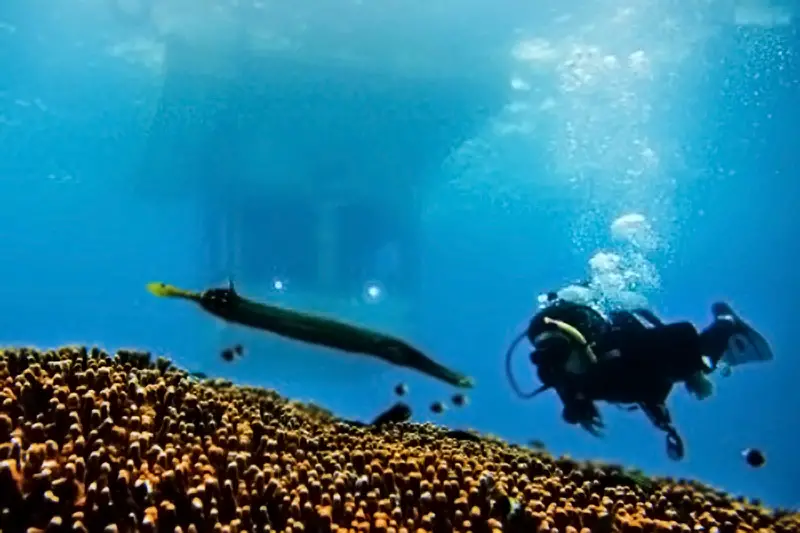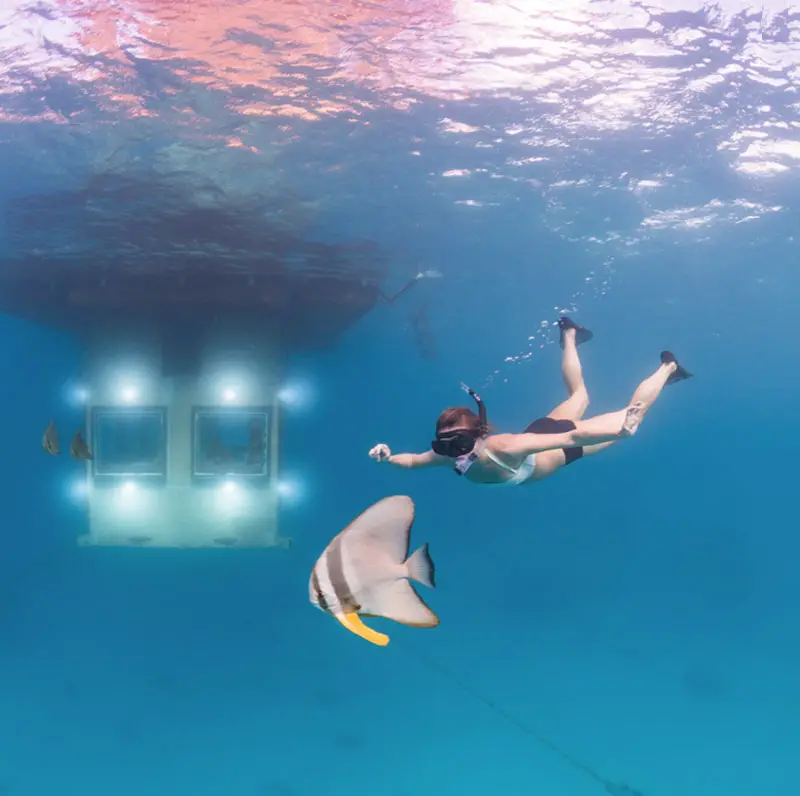 But given the glut of underwater hotel designs and proposals, this is where we can stay?
Where are the rooms that look like those proposed in The Poseidon Resort, and The Discus Hotel? Even the actual Underwater Spa treatment rooms at the LIME, Hufaven Fushi are prettier.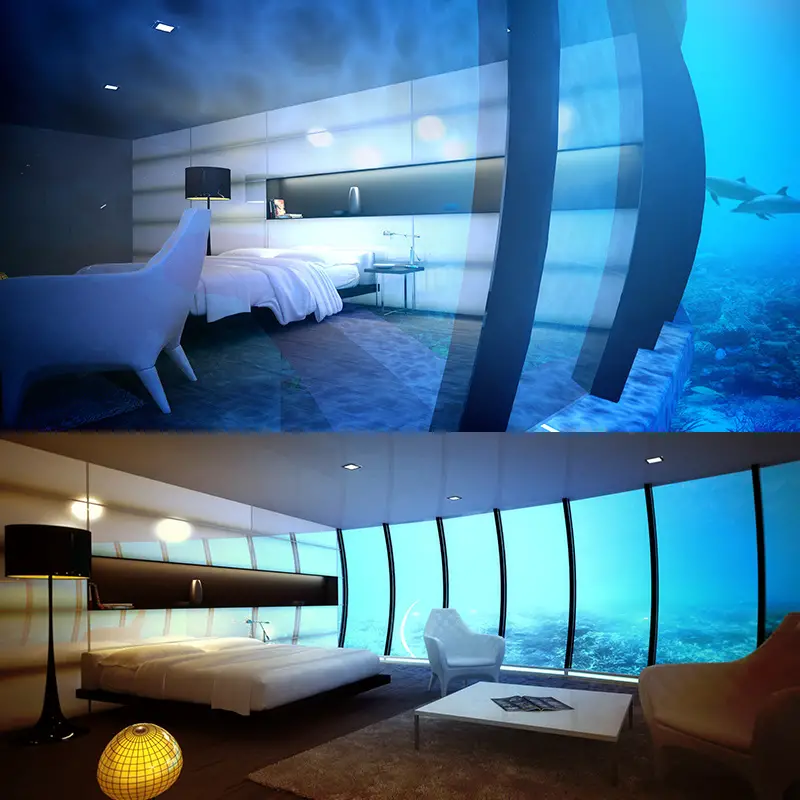 above: The proposed underwater bedrooms at the Water Discus Hotel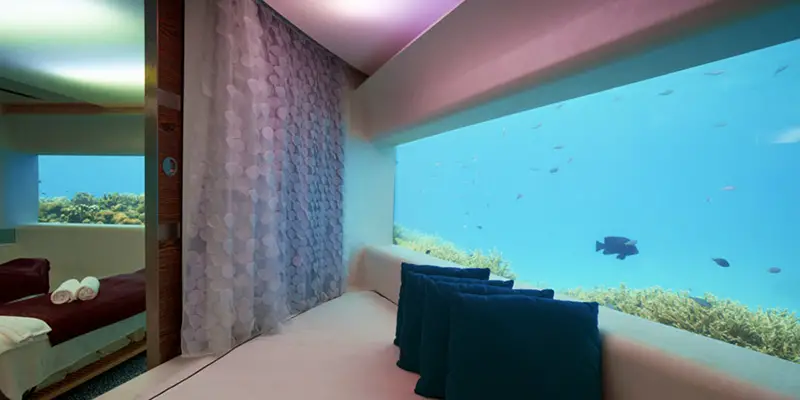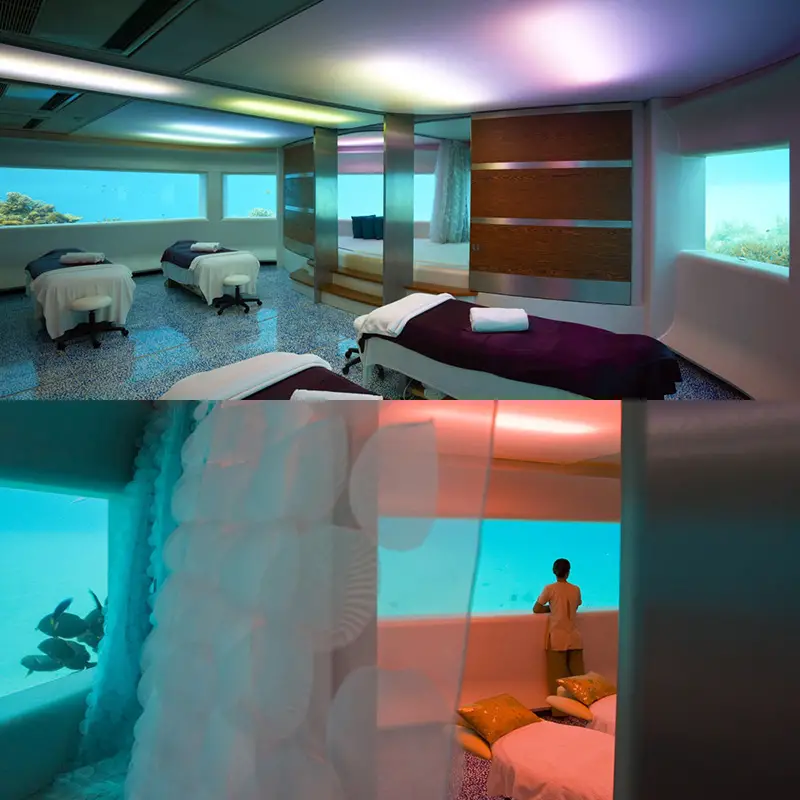 above: the underwater treatment rooms at the LIME spa in the Maldives
The gorgeous photos of the Manta Resort's underwater room from the exterior by Jesper Anhede are lovely. And, to be fair, the Manta Resort in Pemba, Tanzania has lots to offer in terms of activities: scuba diving, sailing, gorgeous white sand beaches, massage, spa treatments and exotic underwater life to observe. But come on, couldn't they have decorated that room a little better?
An overhead view of the Manta Resort on Pemba Island, Zanzibar, Tanzania, Africa: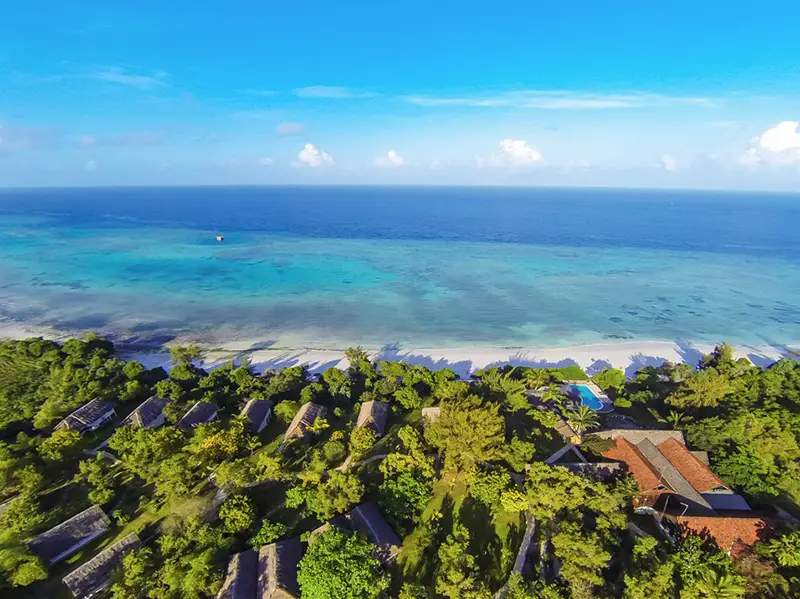 The vacation innovation was designed by Swedish installation artist and sculptor Mikael Genberg. He's the brains behind the Utter Inn, an underwater room built in a lake near Stockholm, and is currently contemplating putting a Swedish-style cottage on the moon.
Funding was achieved via a newly formed company registered in Zanzibar, Genberg Art UW Limited, which represents a collaboration between several Swedish and Tanzanian investors, including Genberg Underwater Hotels, Christer and Jacky Abrahamsson, Hans Elis Johansson and Michael Wild.
The underwater room can be 'added' to your bookings for a night or two at the Manta Resort for $1500 ($750 per person) as opposed to being booked as your sole room. They do offer special prices for divers.
prices and packages
The Manta Resort
images courtesy of Photographer Jesper Anhede
What about those cool looking underwater bedrooms shown in this post? Check those out at the links below:
• The Poseidon Resort and the H2Ome
• The Water Discus Hotel
• The Underwater Spa, LIME at Huvafen Fushi
This complete collection of 6 letterpress coasters with display stand by Nathan Mummert makes a great gift for the artisanal or craft beer enthusiast.
Each of the beautifully designed and eco-friendly coasters feature quotes from beer drinkers Jack Nicholson, Bart Simpson, Ben Franklin, W.C. Fields, Jim Morrison and Frank Sinatra.
Made in the USA, each printed piece is delicately handcrafted by a vintage 1960′s letterpress:

Designed for visibility, the 6 pub/bar coasters are well displayed by an eco-friendly premium bamboo stand, engraved with the Beer Press logo.

Price for the decorative and functional set and stand is $34.99


Buy them here
We could all use a dad like Fred Giovannitti. Heck, we could all use a friend like him. An inventor and philanthropist, tattoo artist and environmental engineer, Fast Company has profiled him, he has spoken at TED and now he's become famous as a Dad for coloring in his childrens' drawings.
Fred Giovannitti (aka Redditor Tatsputin) trades his quiet, rural Delaware lifestyle for 10 days per month as a high-end tattoo artist in glamorous Las Vegas, Nevada at Tatlantis Allied Arts and Sciences.

above: some examples of Fred's incredible skin art
By digging deep to reveal common interests, Fred believes we can form personal bonds between ourselves and our teammates/partners/clients, allowing us to connect with each other's personal history and develop ideas that have the ability to take on lives of their own. Giovannitti uses this philosophy to draw inspiration for each project he takes on, and the relationships he has shared with his client have led to many successful ventures—from spiritual enrichment to ocean cleaning innovations. In the wake of the Gulf of Mexico oil spill, inventors were called upon to develop a mass-scale oil cleanup solution. Fred responded by co-developing an oil-cleanup device at Southern California's VorTek Recovery Solutions.

above: Fred's daughter and son and the first drawing of theirs that he colored in.
The constant traveling to Las Vegas led him to use this time as a personal challenge to see how much he could fill per flight into a single page in his sketchbook. He begins each drawing at take off and ceases upon landing. He posts the results on one of his two Instagram profiles, Mile High Moleskine and his personal Instagram Profile at It's Pronounced Jovaneti.
One of his latest collections of 'Airborne Art' is that of coloring in his children's playful drawings. The compelling side by side images have been making the rounds all over the internet and I simply couldn't resist posting the pics here for you as well. Some of them he drew in with colored pencils, others were done on an iPad:
On the iPad:


images courtesy of imgur and Fred's instagram feeds, information courtesy of his own website, TED and Fast Company
You can follow Fred on Twitter at @FredGiovannitti
Fruition is a small batch Bean-to-Bar Chocolate Workshop in the Catskill Mountains of New York and Shaloon is a design studio in Brooklyn, NY. Together they created the Chocolate Invader.
This collaborative effort between Fruition Chocolate and Shaloon brings us delicious small batch chocolate made in the shape of a classic video game character from Space Invaders, an arcade video game developed by Tomohiro Nishikado and released in 1978.
The Chocolate Invader, which weighs 50 grams, is created with with Single Origin 66% Dark Chocolate crafted from Costa Rica Cacao and Peruvian cocoa:

The beans are sorted by hand to remove any foreign materials or less than perfect quality beans. Each batch of chocolate invader is made from beans from one region. The genetics, climate, and post harvest processing effect the final flavor of cocoa beans from every region, yielding unique flavors from origin to origin.
The beans are then slowly roasted and then the shells are removed.:

The cocoa is mixed with evaporated cane juice and cocoa butter:

The cocoa is ground in a granite melangeur for 4 days. When complete, its texture is extremely smooth and the flavor is nuanced and in balance. The mill uses two 40 pound granite wheels to refine the particle size of cocoa until grittiness is no longer detected on your palate.
Once finished, the chocolate is tempered and molded into invaders. Tempering is the process by which chocolate is warmed and cooled to specific temperatures in order to induce the propagation of stable cocoa butter crystals. Proper tempering will allow the chocolate to set shiny and have its characteristic snap.
The design was produced on a CNC (computer numerically controlled) machine to create the mold. The metal plate was then used to thermoform plastic, creating the molds they used to shape the chocolate into an invader.

The Chocolate Invader was designed in 3D CAD. You can download the STL model for their chocolate invader here at Thingverse
The Three Bar Gift Set:

three 50 gram 66% dark chocolate bars
- invader mini-poster
- invader sticker
- invader postcard
- joy of eating 69 pixels
$20, buy it here
2-Bars + Laser Engraved Box:


- two 50 gram 66% dark chocolate bars
- limited edition engraved wood box
- invader mini-poster
- invader sticker
- invader postcard
- joy of eating 46 pixels
$18, buy it here
Fan of Space Invaders? 
Then you'll want to check these out: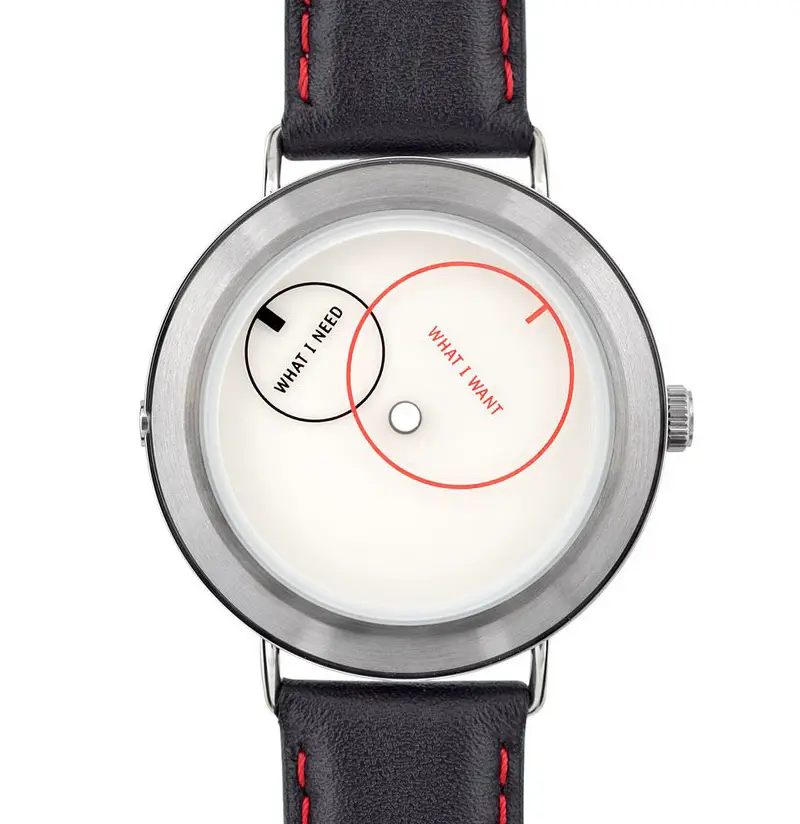 Let me start by saying that the limited edition watches from Mr. Jones always sell out quickly. So, if you like this unusual timepiece, I suggest you jump on it now, since it's limited to 100 pieces only.
Unisex/Mens: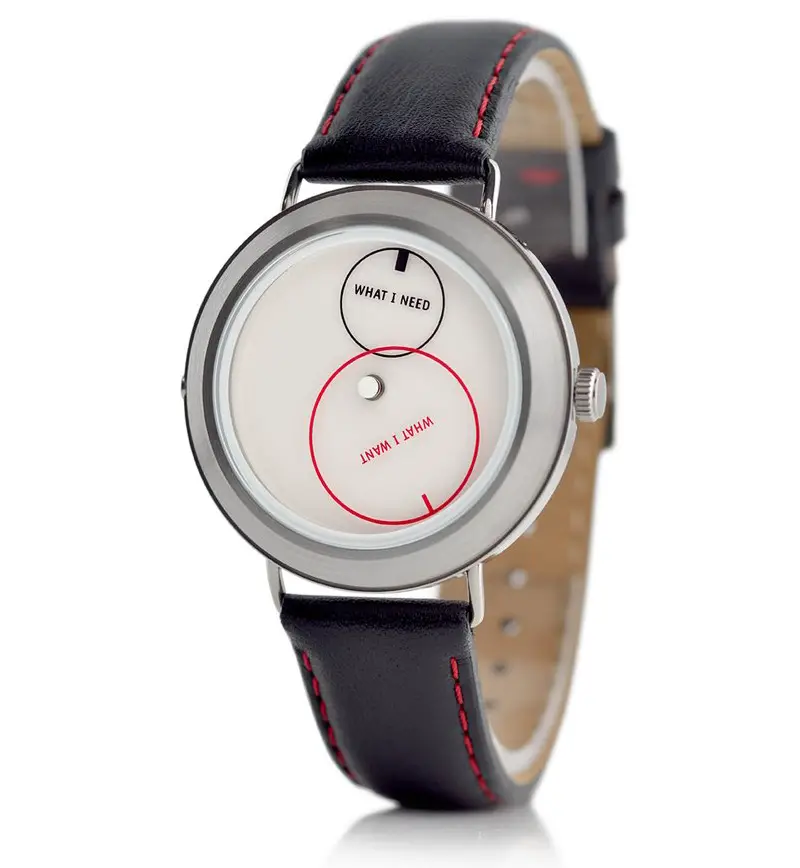 Ladies: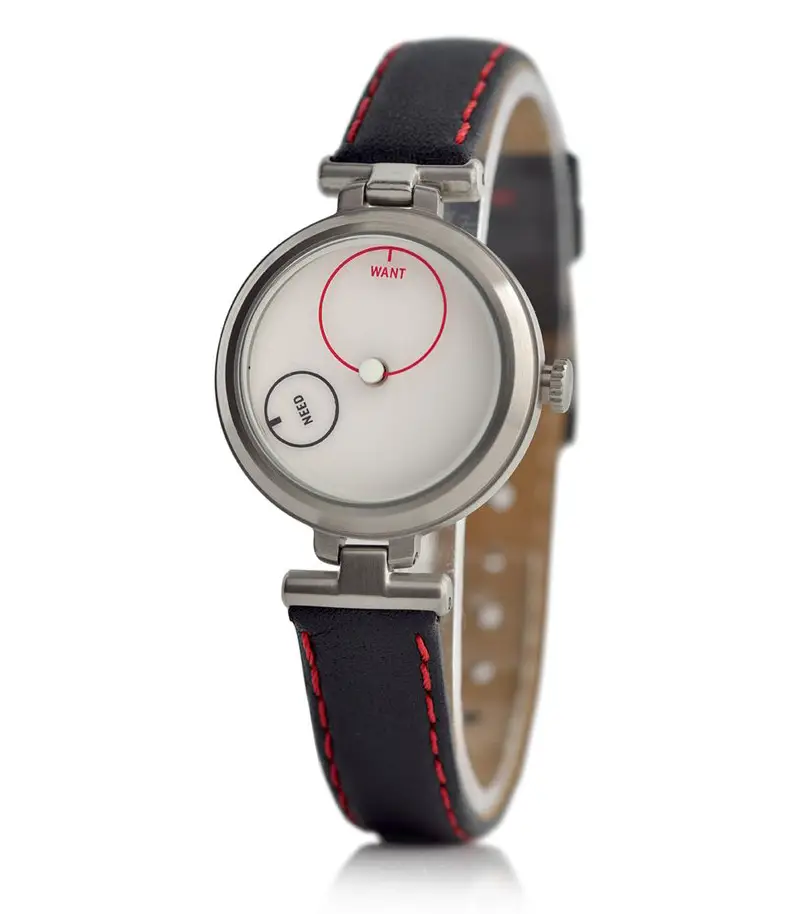 Both Mens/Unisex and and Ladies styles: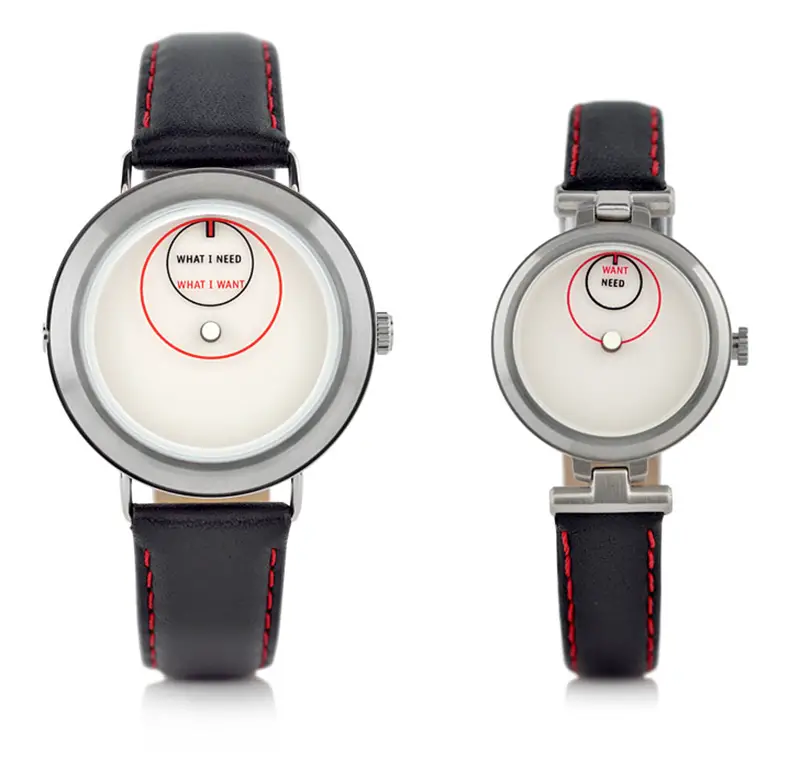 Wants vs Needs comes in two sizes: a smaller ladies-specific case as well as this larger unisex size. This watch is produced in an edition of 100 pieces, with each watch individually numbered on the case back.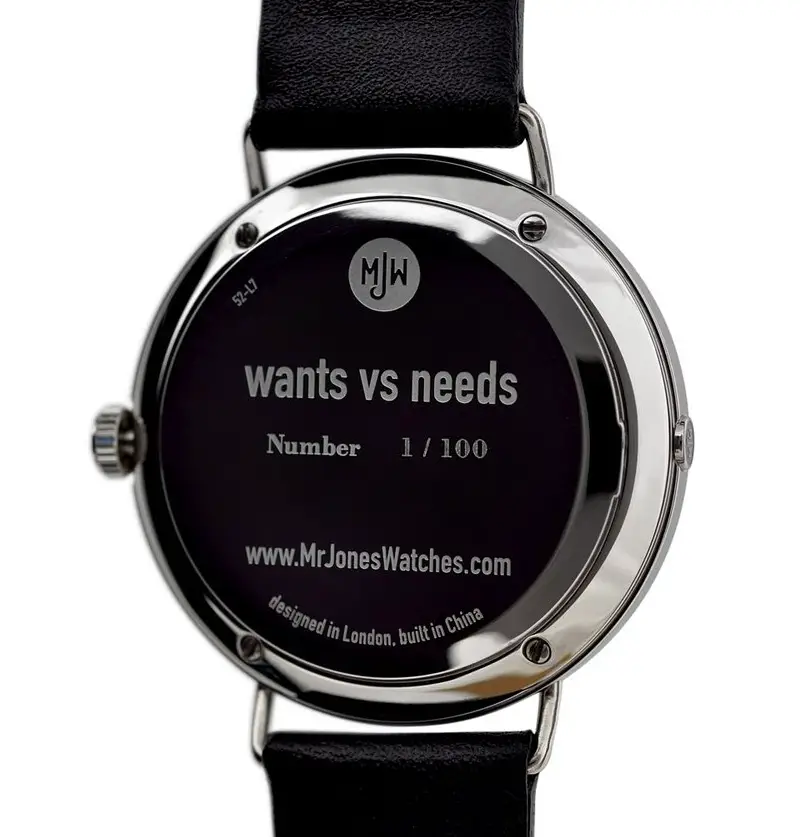 Unisex Watch Box by artist Camilla Meijer
The Unisex or Mens watch comes in a MJW presentation box, with specially commissioned design by artist and illustrator Camilla Meijer: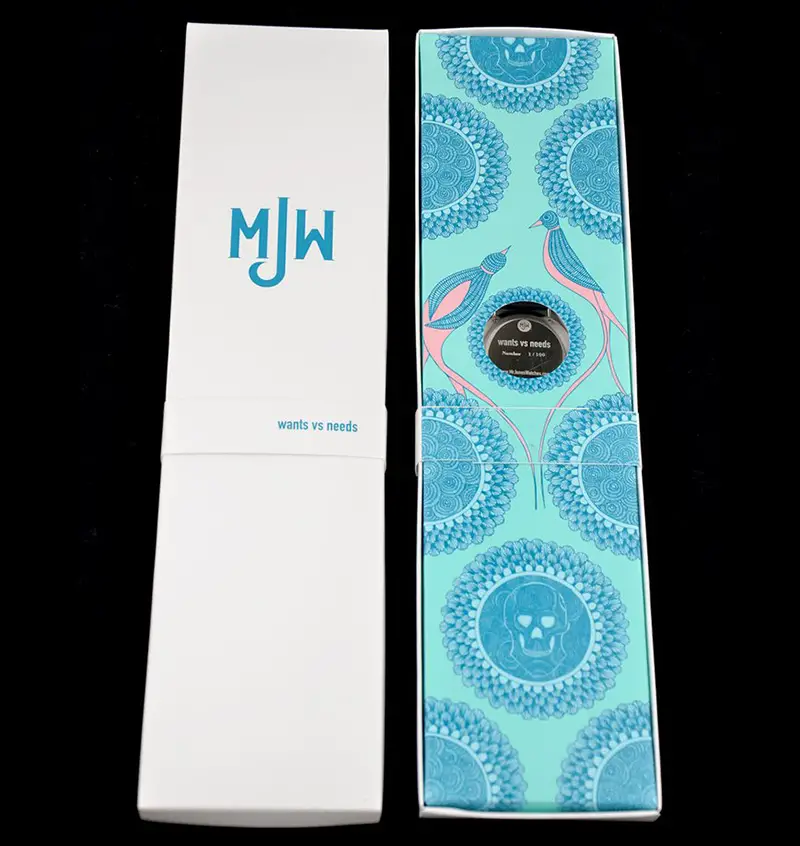 Women's Watch Box by artist Fanny Shorter
And the women's watch comes in a MJW presentation box, with specially commissioned design by artist and illustrator Fanny Shorter:
The hands on this watch are in the form of two circles, one circle is labelled "what I want" and the other "what I need". As the circles move to mark the time, they form a Venn diagram.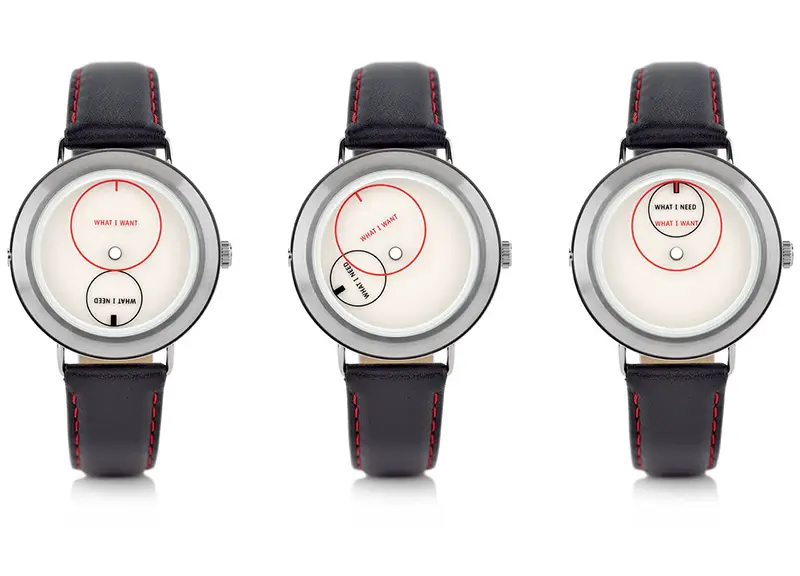 The shifting relationship that the diagram depicts between "wants" and "needs" is a way for us to think about the changing nature of our own desires and their fulfilment.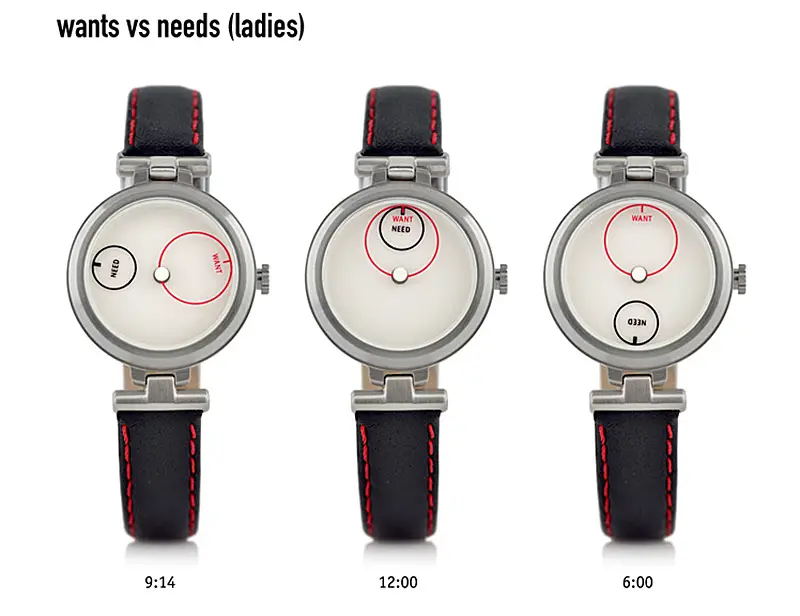 The watch is a tool for questioning ourselves – how does the diagram reflect the relationship between our own wants and needs at any given time?
Specs:
Case: 316L stainless steel
Mechanism: Ronda 513 quartz movement
Strap: Black leather with red stitching
Width (3 o'clock to 9 o'clock): 37mm
Height (from lug to lug): 46mm
Waterproof: 5ATM
Guarantee: 12 months
Smallest strap diameter:150mm
Largest strap diameter: 205mm
Shop for the Wants vs. Needs watches here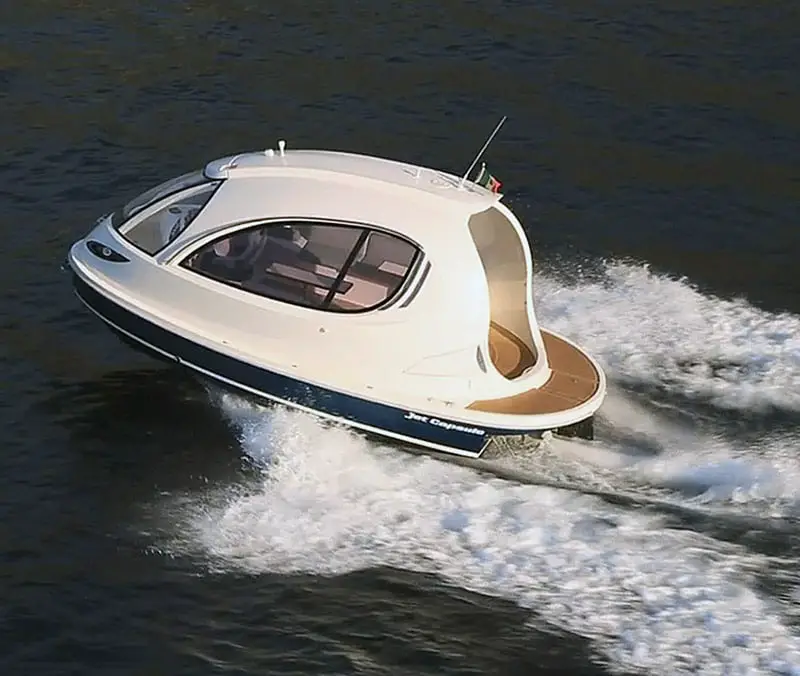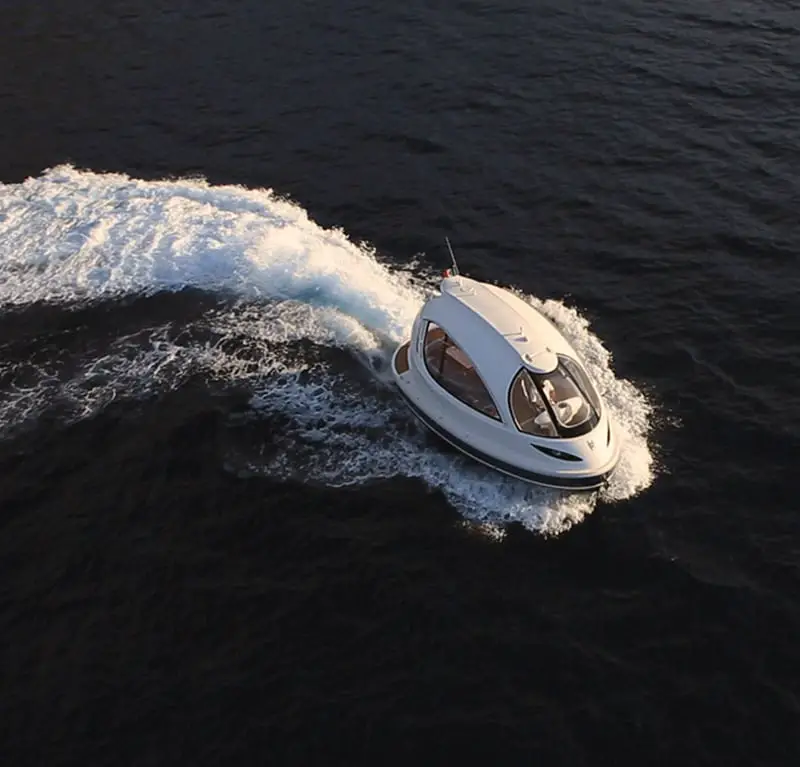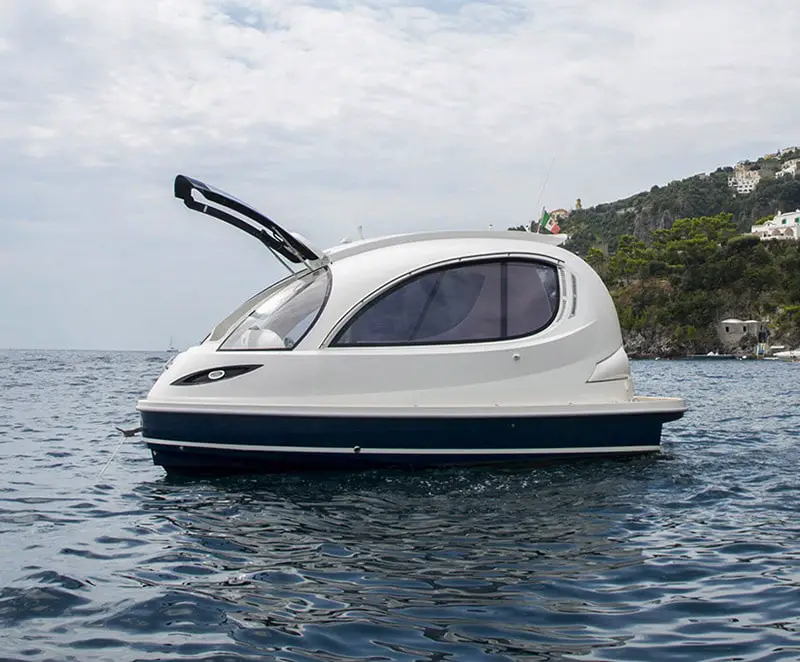 The Jet Capsule is a small, aerodynamically designed customizable egg-shaped fiberglass boat designed by Pierpaolo Lazzarini of Lazzarini Design that has evolved much since it's initial concept in 2009.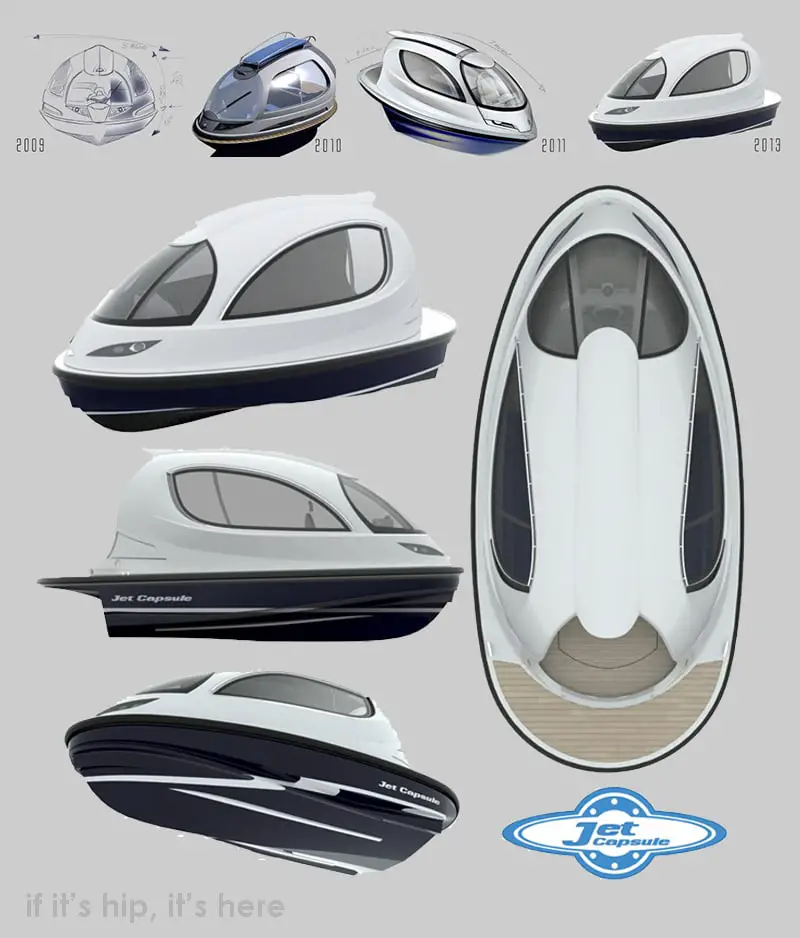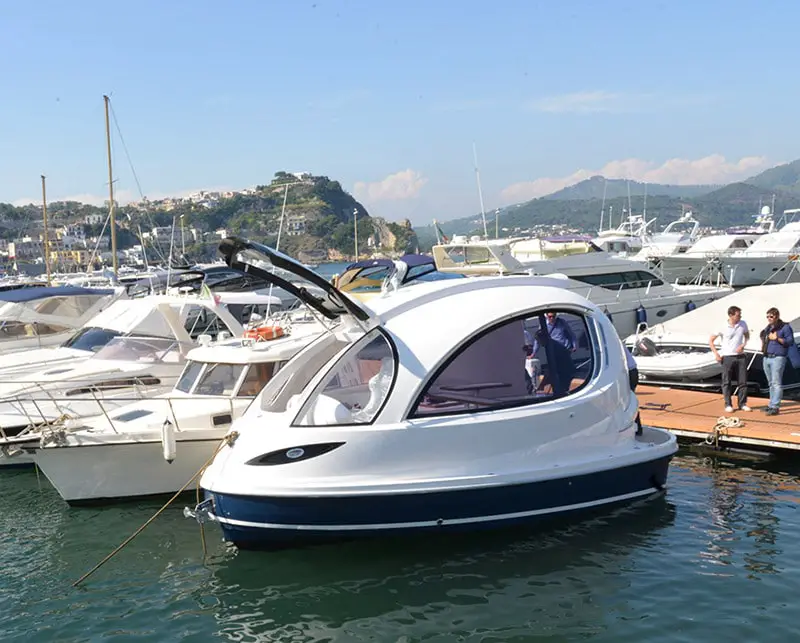 The 2014 Jet Capsule is a customizable 7 Meter (23 Ft) boat with a maximum width of 3.50 Meters (13Ft). These proportions make the Italian-designed Jet Capsule more spacious than any other seven meter boat.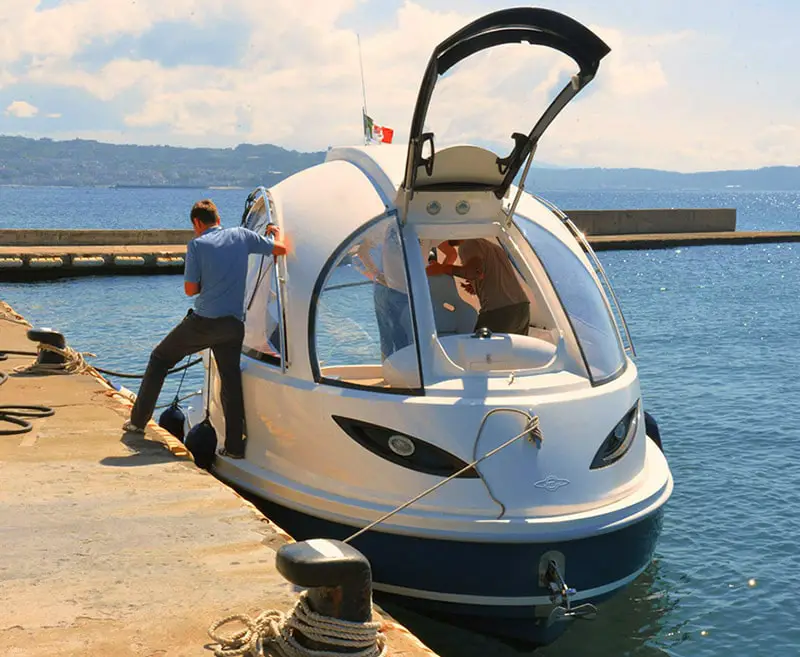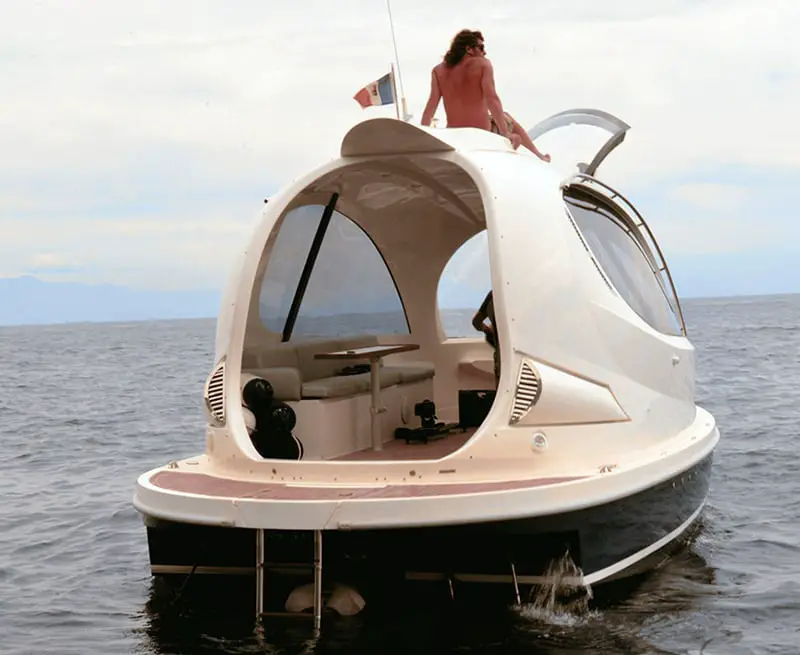 Interior: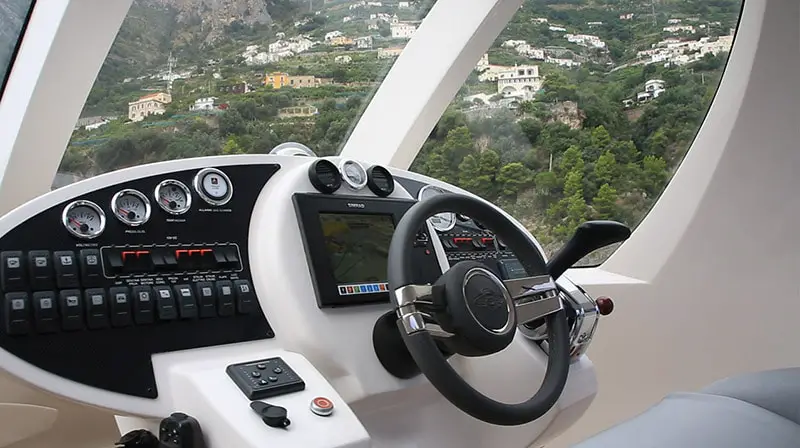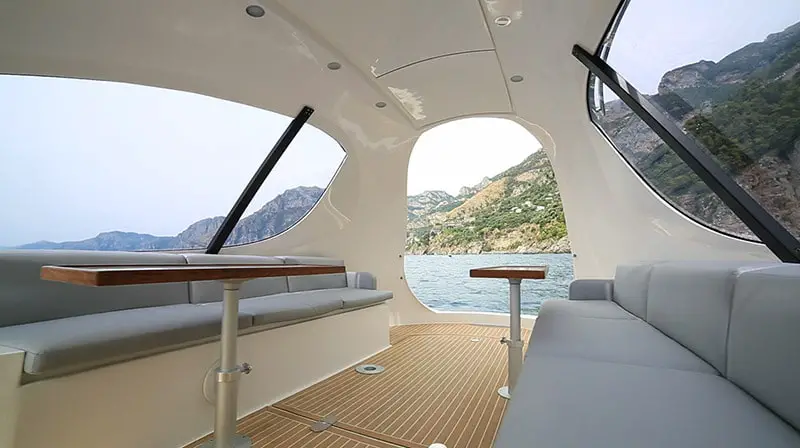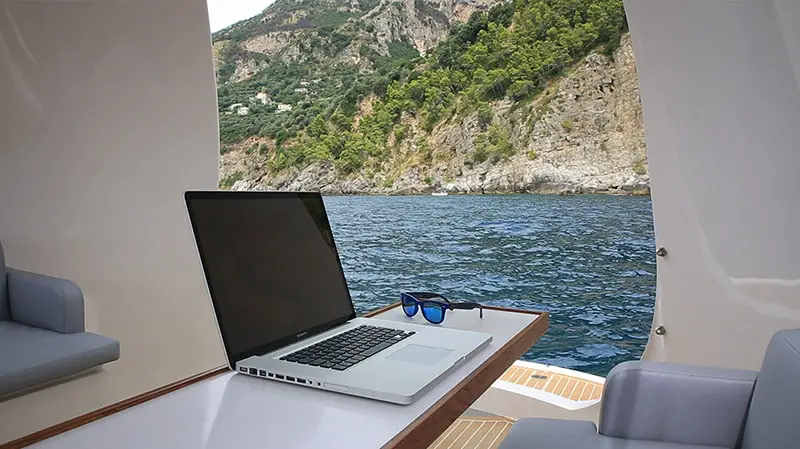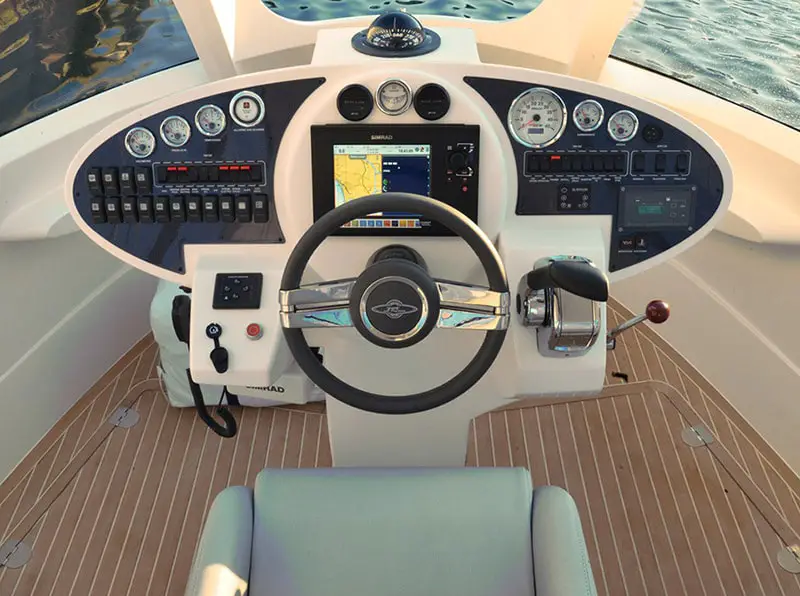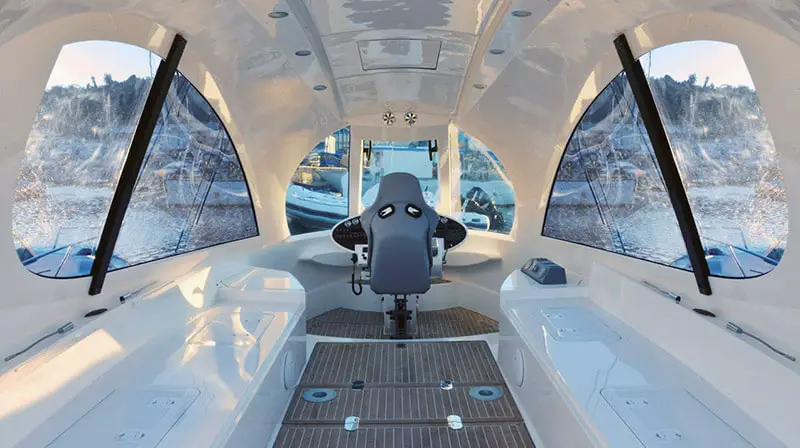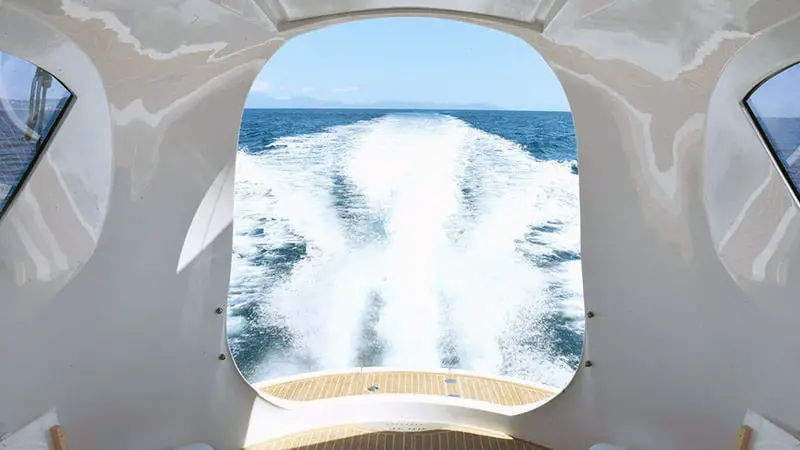 The capsules can be outfitted internally to seat up to 9 people or with transformable bed solutions, photochromic, plexiglass or even bullet-proof windows, attachable transformable sunbathing deck, air conditioning, automatic anchors, anti-theft system, live capsule locator, multiple remote and automatic functions and various electronic systems.
Available in 4 designs: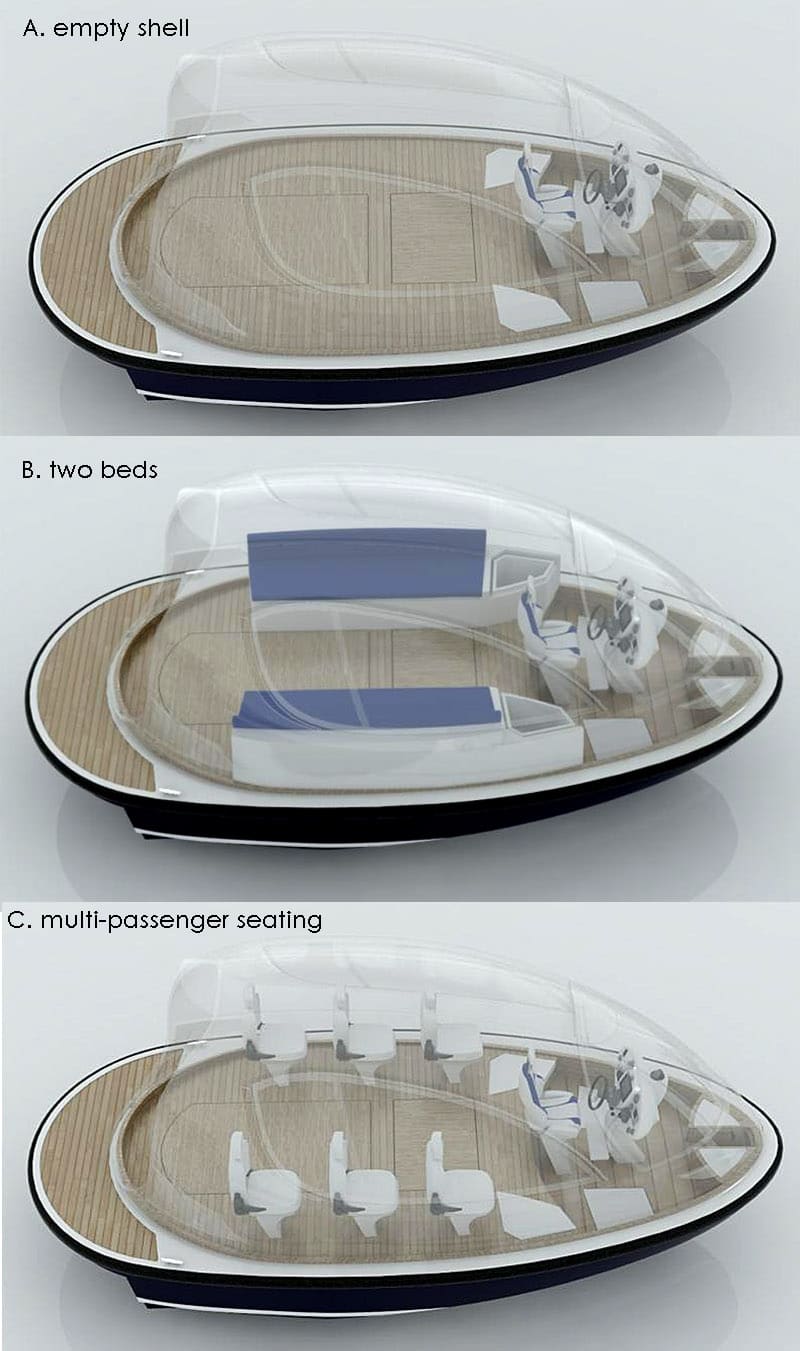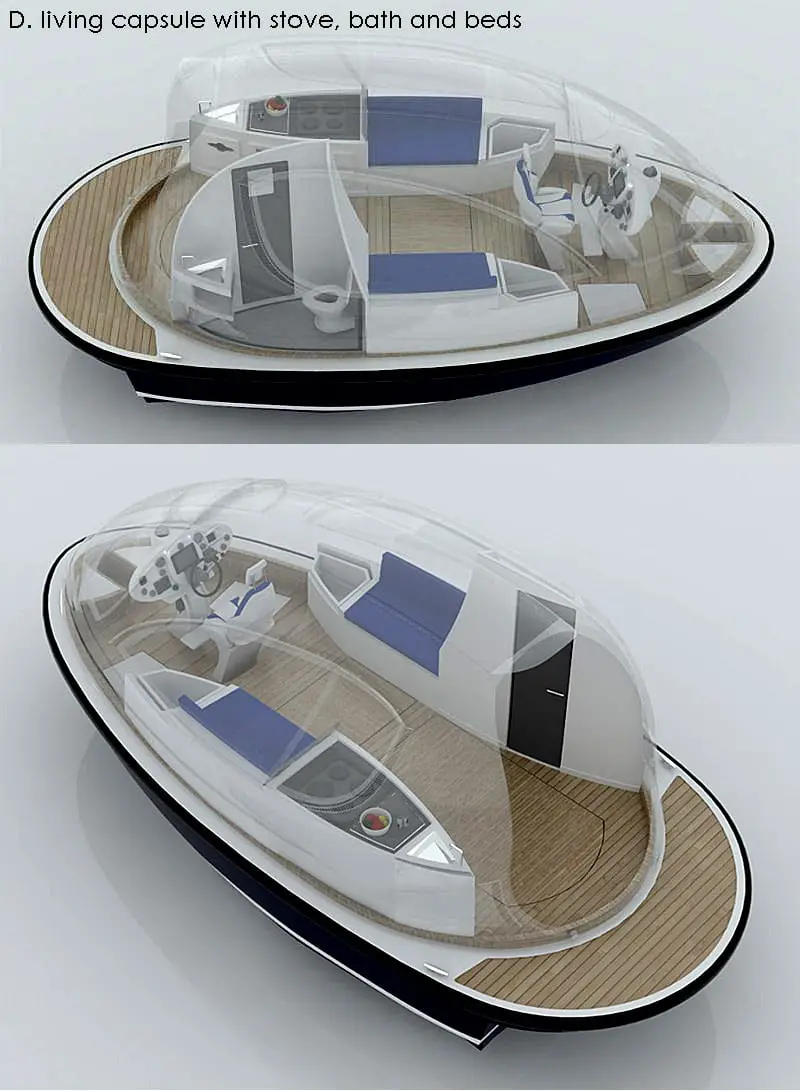 A. (Empty shell/Customizable) However a designer and an architect can follow adapt your idea to create a complete personalized layout on your demand.
B. (Comfort mode) two big side sofas transformable into a triple bed:
C. (Taxi/Bus version) it's the perfect solution if your Capsule needs to transport multiple passengers. Seats 6 to 9 adults.
D. (Living Jet Capsule) Kitchen, private bathroom, two transformable sofa in a double bed and all the sea you need around you.
Length: 7m – 23 Ft
Width: 3,50m – 12ft
Engine, Color and Design Options:
The engine power is completely customizable to include hydro jet propulsion engine systems (diesel or petrol fueled) ranging from single jet engines of 120Hp to 350Hp or dual engines of 400Hp to 800Hp.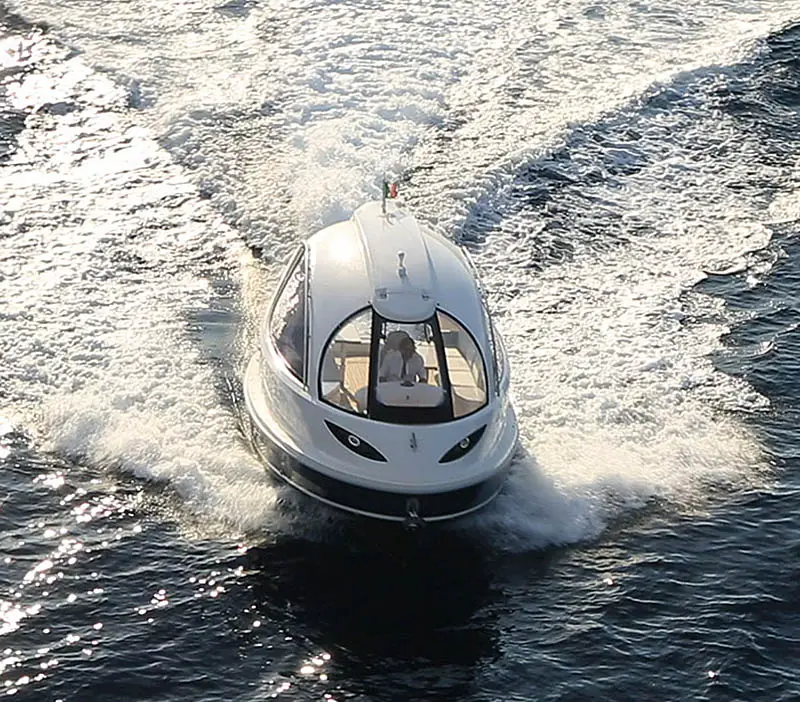 You can choose from various two color custom paint schemes, Alacantra leather surfaces, various LED color lighting systems, and even pick the color stain of the hardwood floor.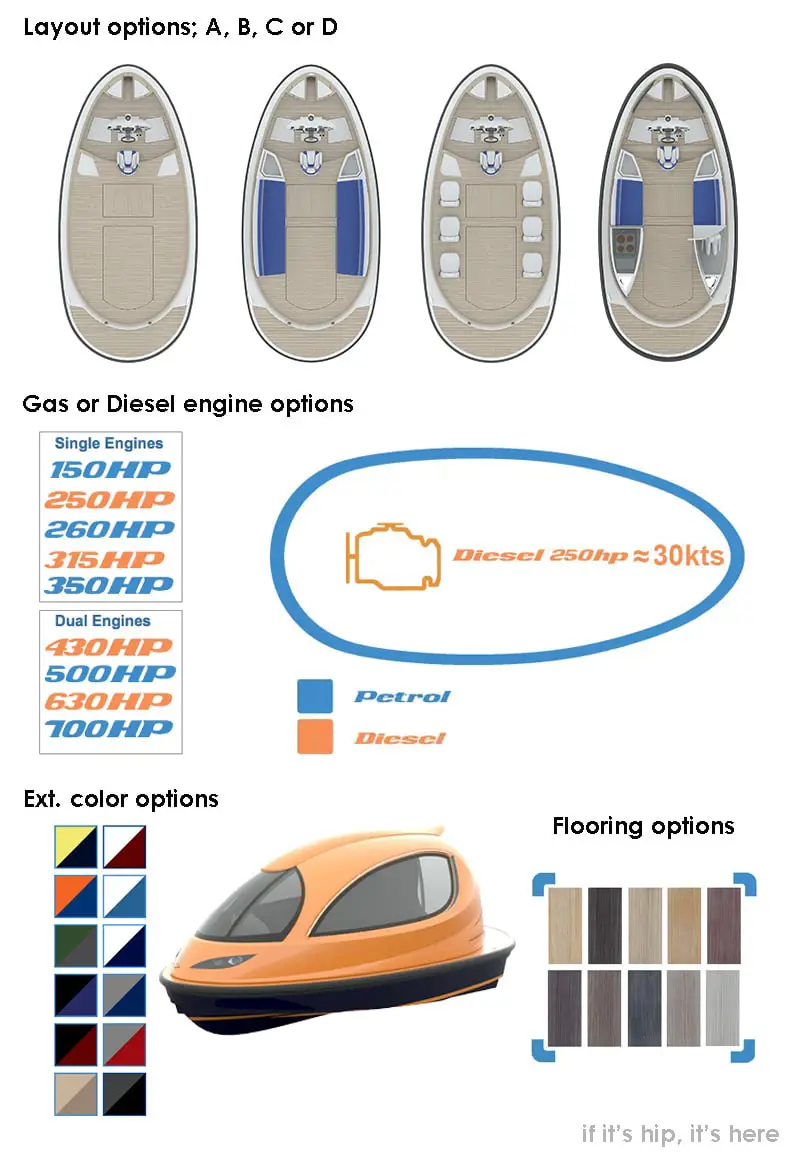 Various LED Lighting sytems: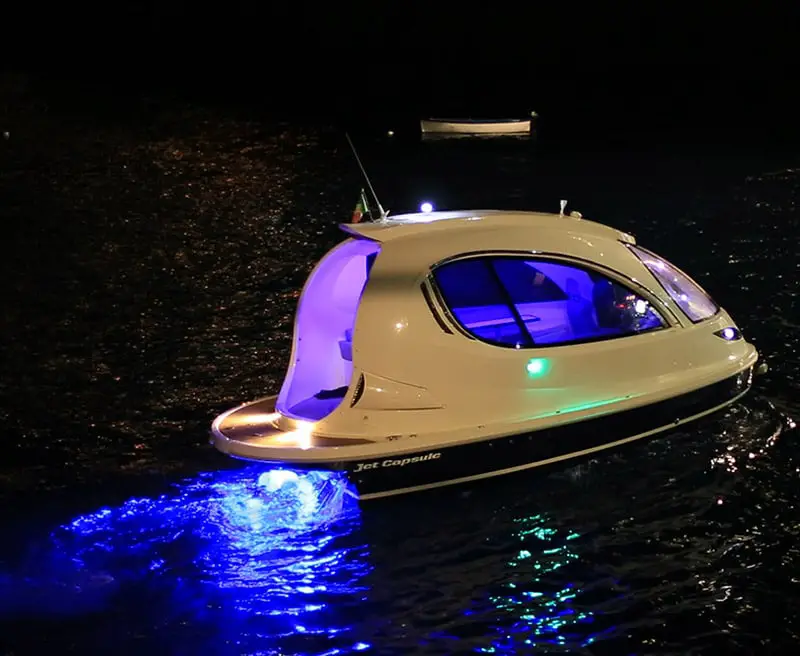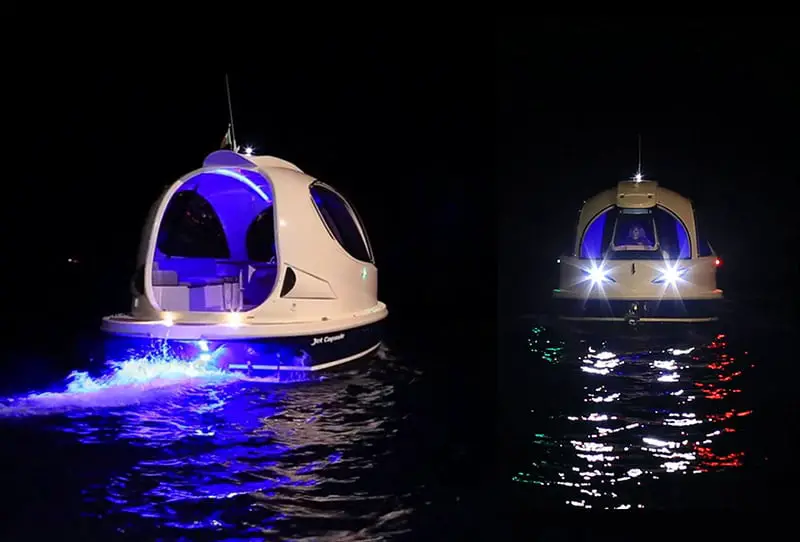 Made of vacuum-infusion moulding with film in composite and 70% carbon, The Jet Capsule's leading optional feature is the 100% full carbon shell. Other parts such as the upper structure, central stairway and deck are extremely lightweight – guaranteeing maximum stiffness, efficiency and minimum waste.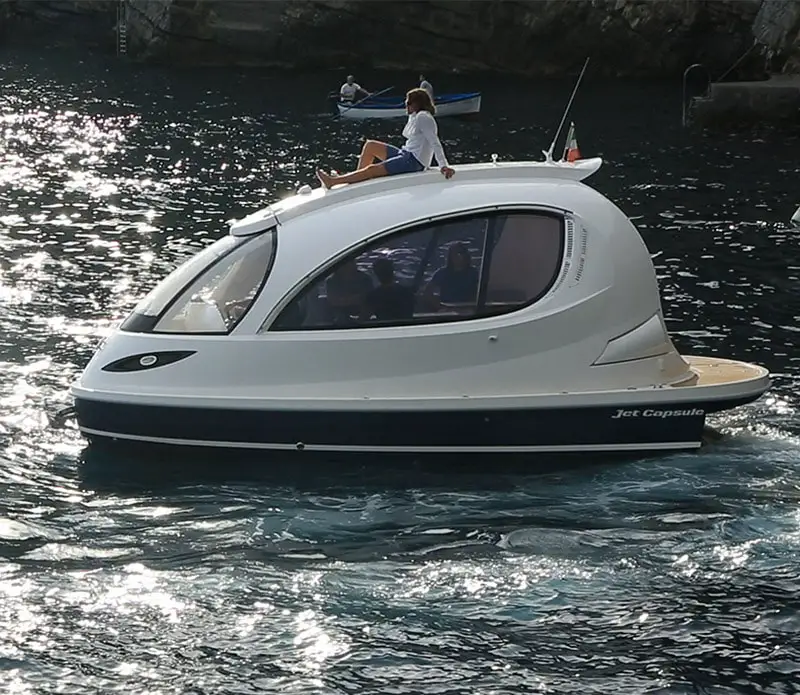 The highly advantageous weight/power ratio enables the Jet Capsule to reach a top speed range from 20 to 50 knots (depending upon the selected engine configuration).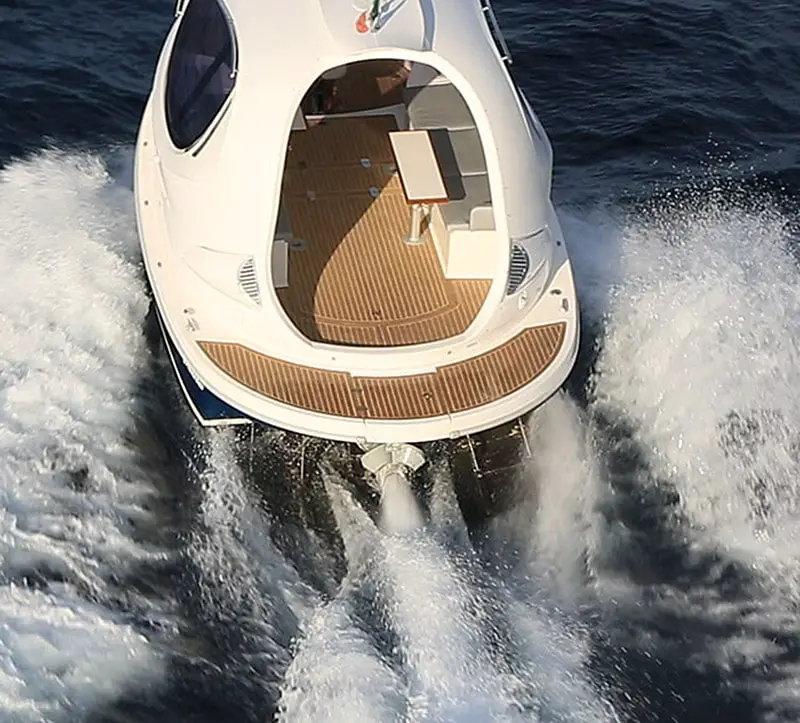 This also means that less diesel is needed aboard, producing a positive cycle which makes the yacht less expensive, respectful of the environment and guarantees a large range. An electrically charged power plant version is underway.
Video of the Jet Capsule:

Custom, Branded and Government Jet Capsules:
In addition to designing the Jet Capsule to meet your personal specific needs, it can be customized for many government and branded uses, such as Police capsules, Ambulance and Paramedic Emergency responder capsules, Armored Combat Capsules, as a Party capsule complete with DJ table and loudspeakers for brands like Red Bull, and an Angel Capsule with suntanning deck, back bench and more.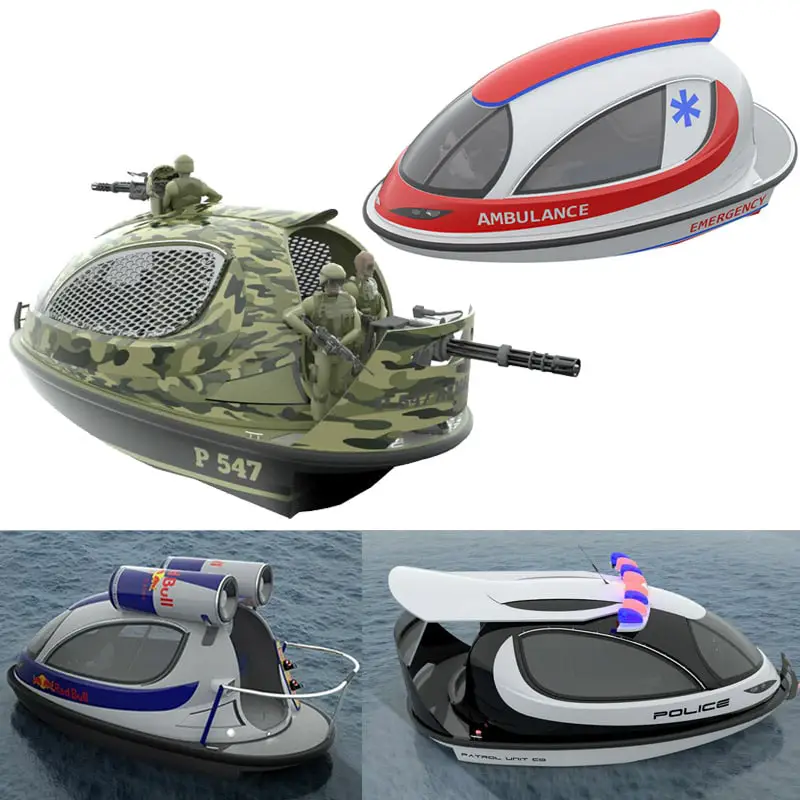 Custom "Angel" capsule with suntanning deck: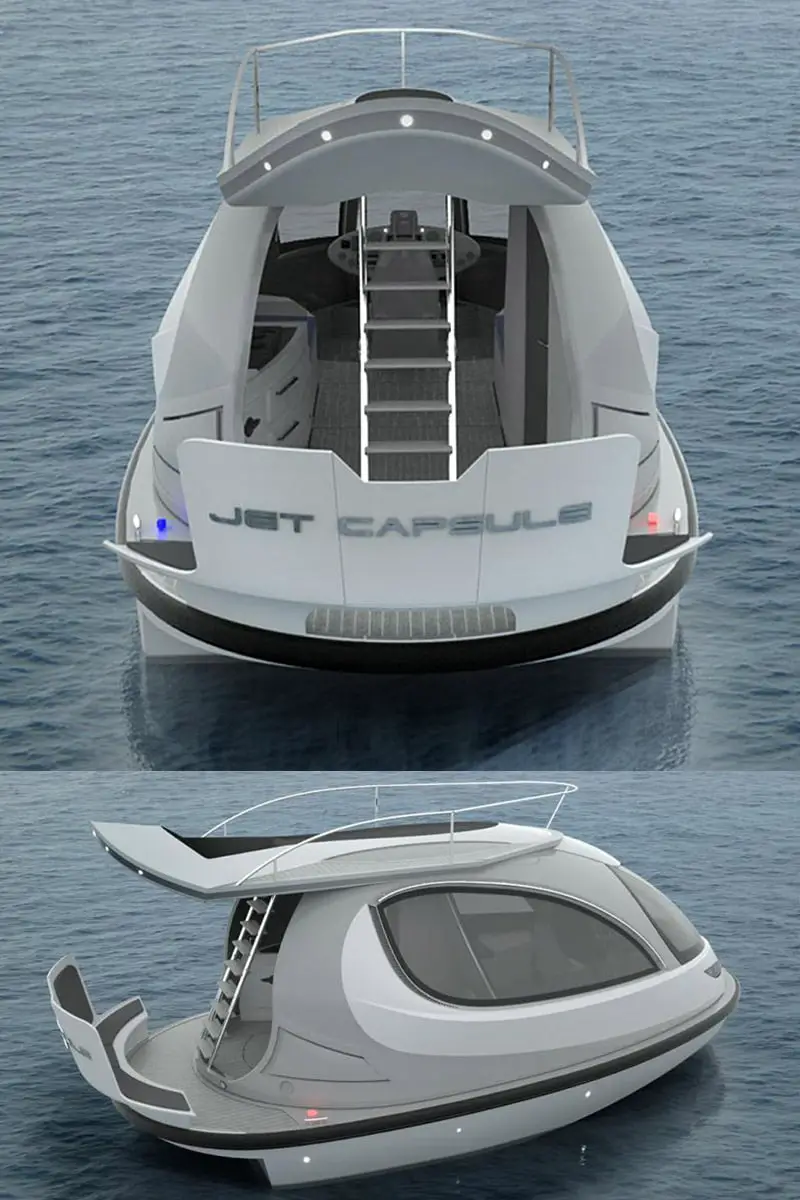 Custom "Party" capsule with DJ deck: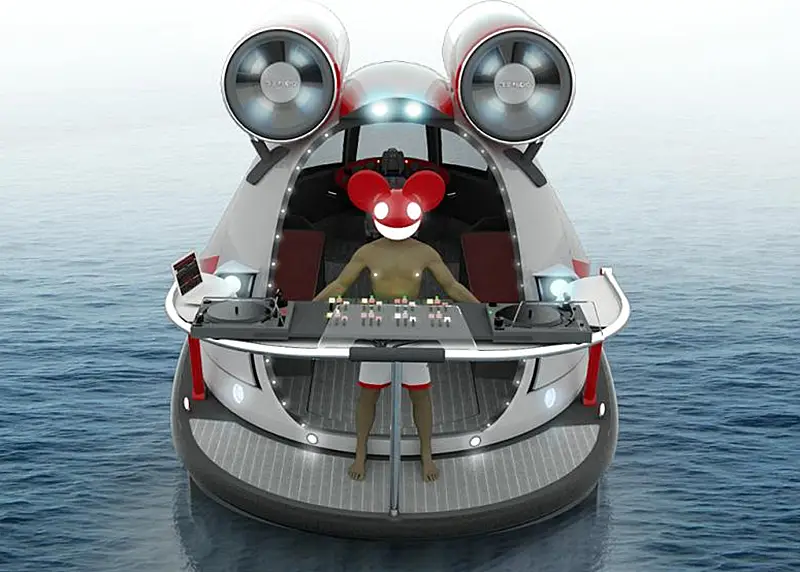 The Mini Jet Capsule:
A MiniJet Capsule with a seating capacity of 4 people, 1 mini transformable bed, 1 dining table, air conditioner, 250 hp, self-limited maximum speed of 30 knots is also available.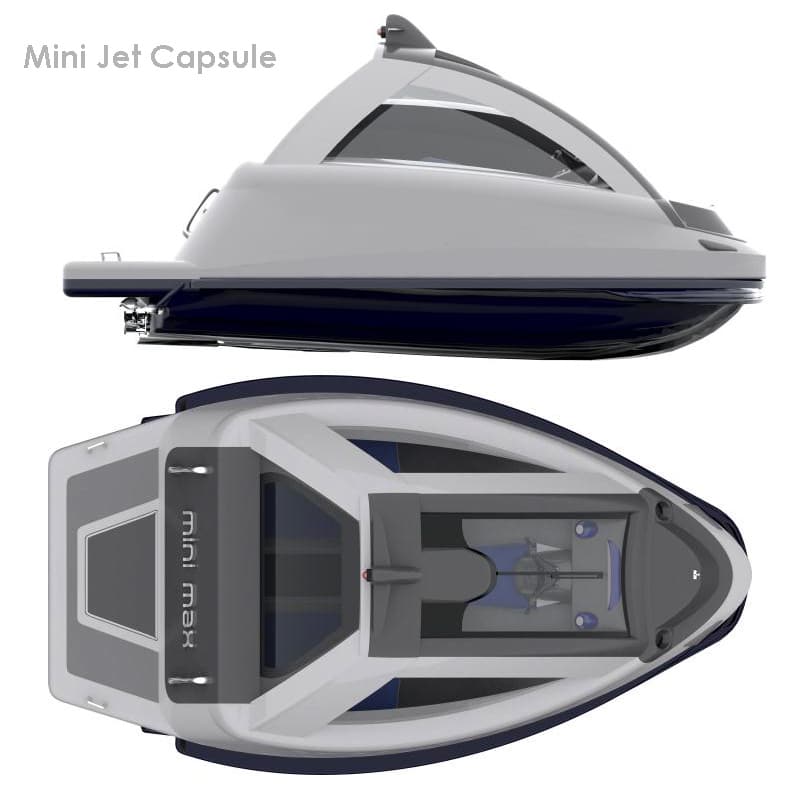 For more information, to customize your own or to order, visit Jet Capsule.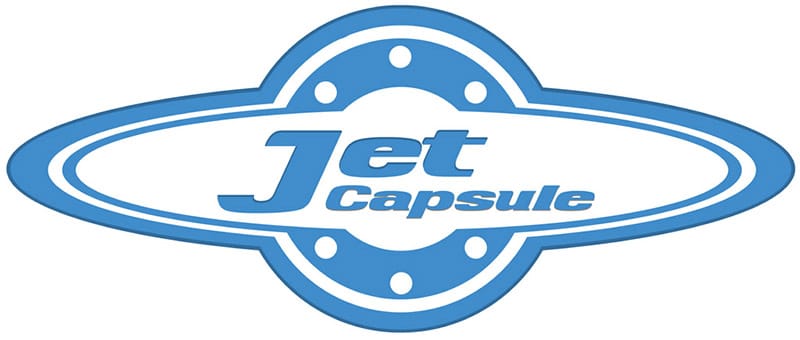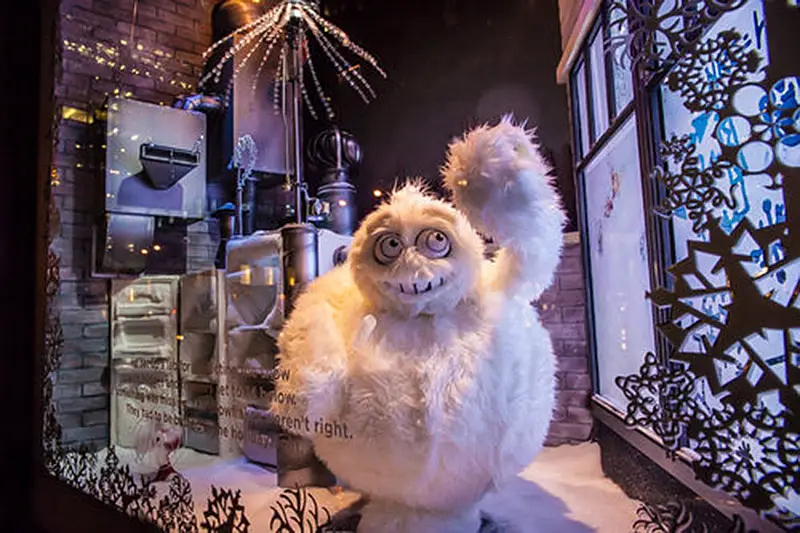 On Monday, November 25, Saks Fifth Avenue's flagship store came alive with the unveiling of its iconic holiday windows and the debut of its Snowflake Spectacular, a dramatic 3D light show projected onto the façade of the building.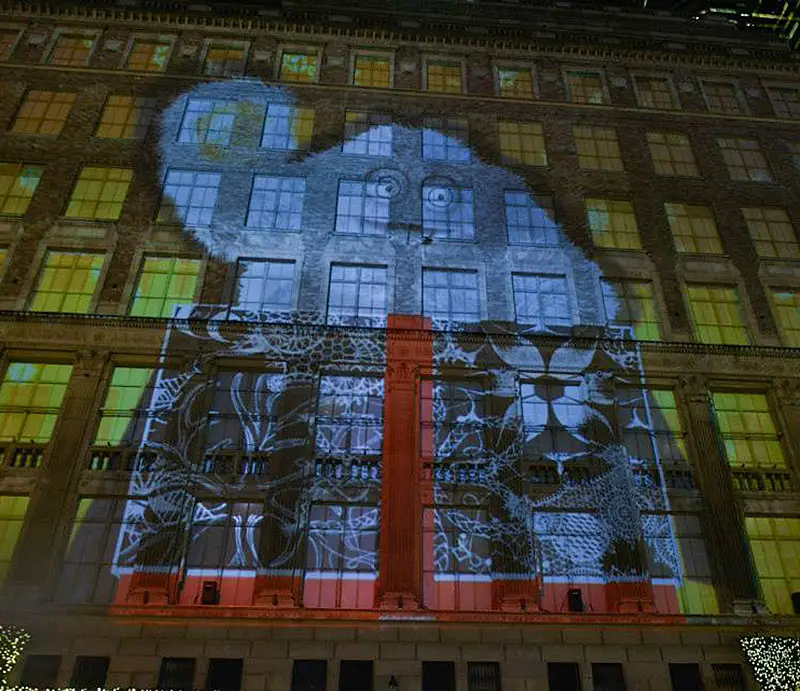 above: Saks' holiday mascot, a shaggy YETI appears in the projected light show as well as in the interactive windows.
Saks Fifth Avenue's annual holiday light show turned the façade of the iconic luxury retailer into a traffic-stopping festive 3D spectacle. Snowflakes, ice skaters, gifts and a Yeti all interact through a custom-built, six-projector system. Iris Worldwide developed the dramatic light show, which utilizes state-of-the-art imaging technology to create a vivid 3D projection that maps the holiday story onto the building's exterior. The show will continue every evening throughout the holiday season.
It's the year of the YETI at Saks with interactive the light show, holiday windows, mobile apps and more featuring the story of the legendary Yeti, who is rumored to live on the roof at Saks, making snow during the holiday season.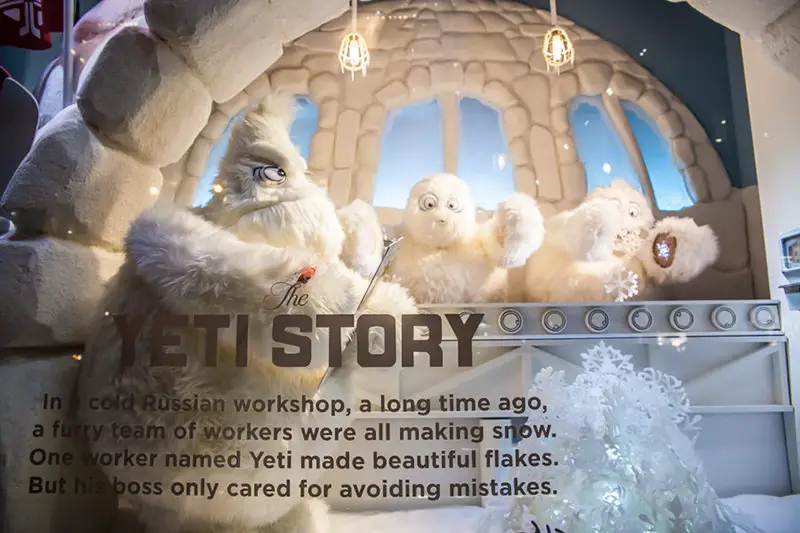 Each window depicts a scene from Yeti's life, from his humble beginnings as an unappreciated snowmaker in Siberia to his starring role as a true snowflake artist in New York.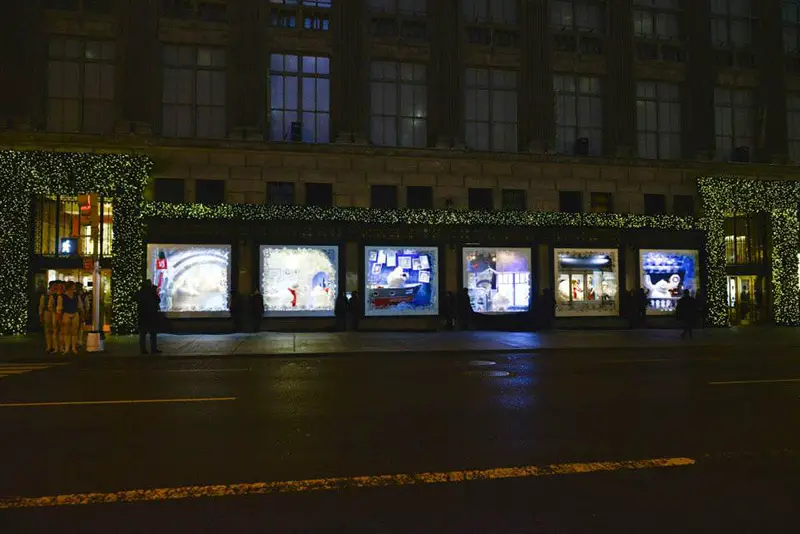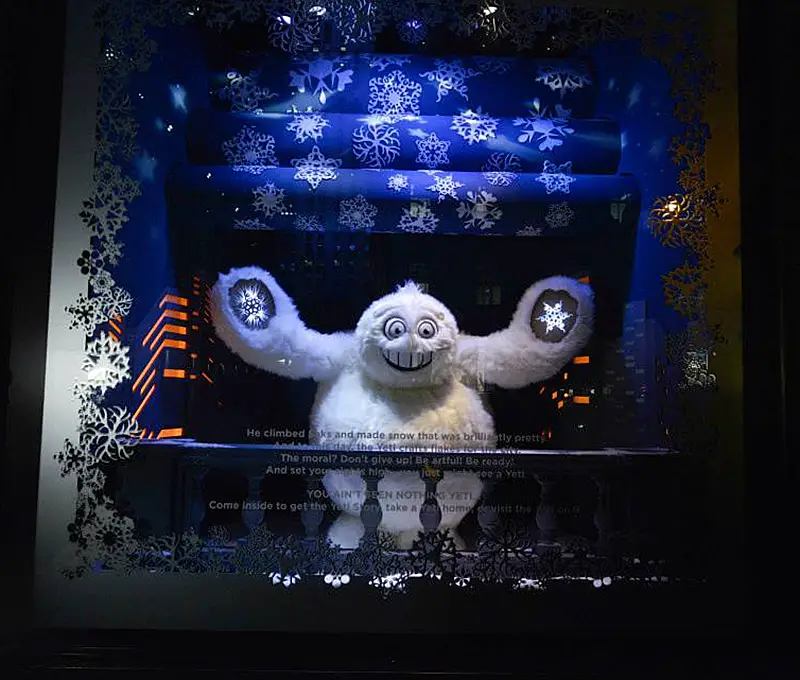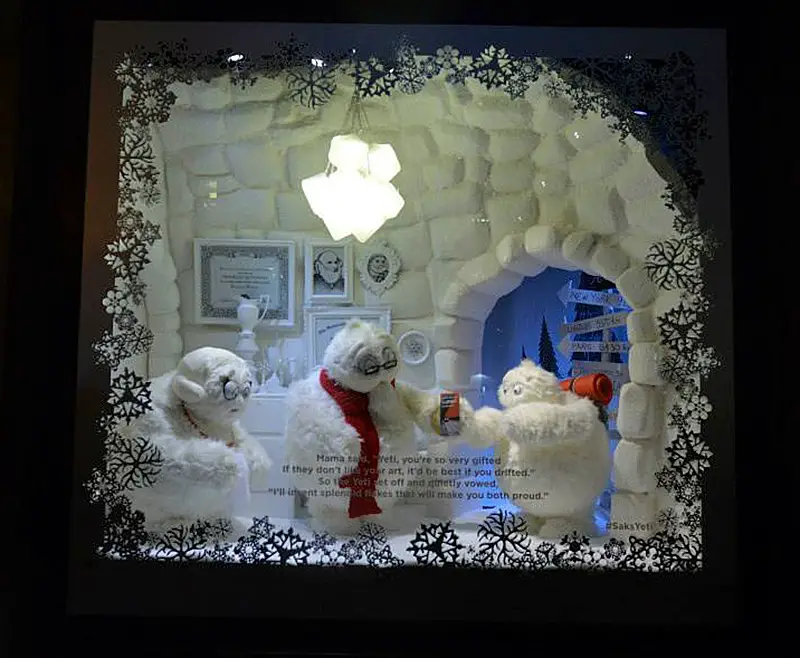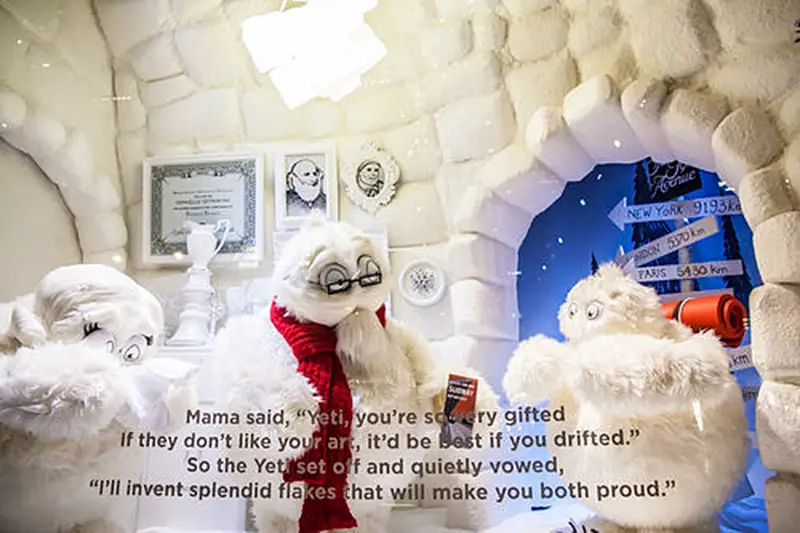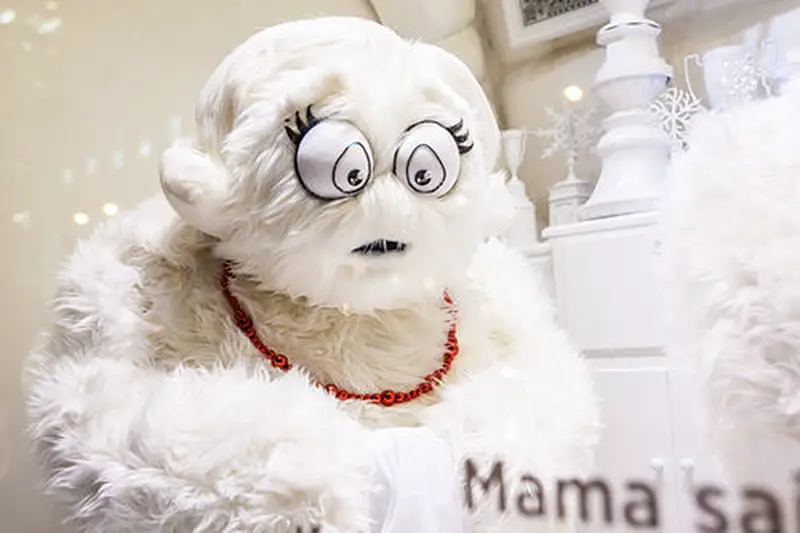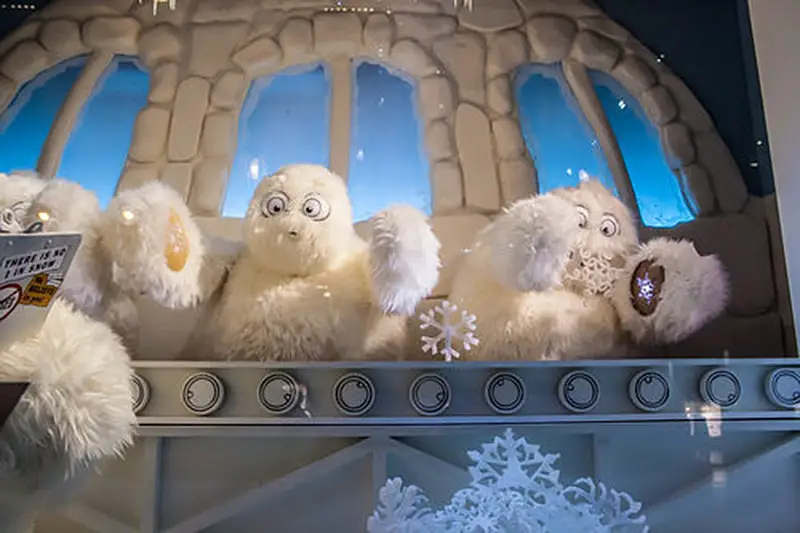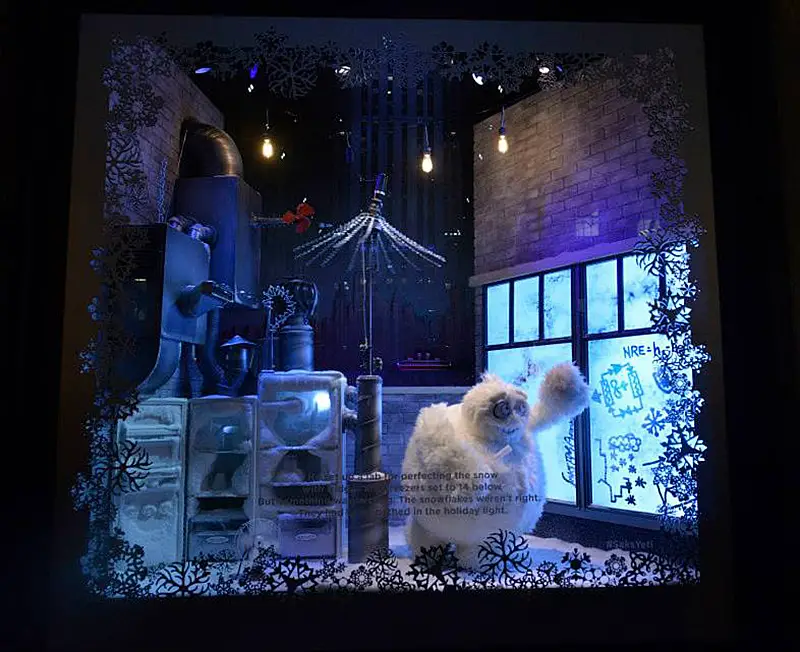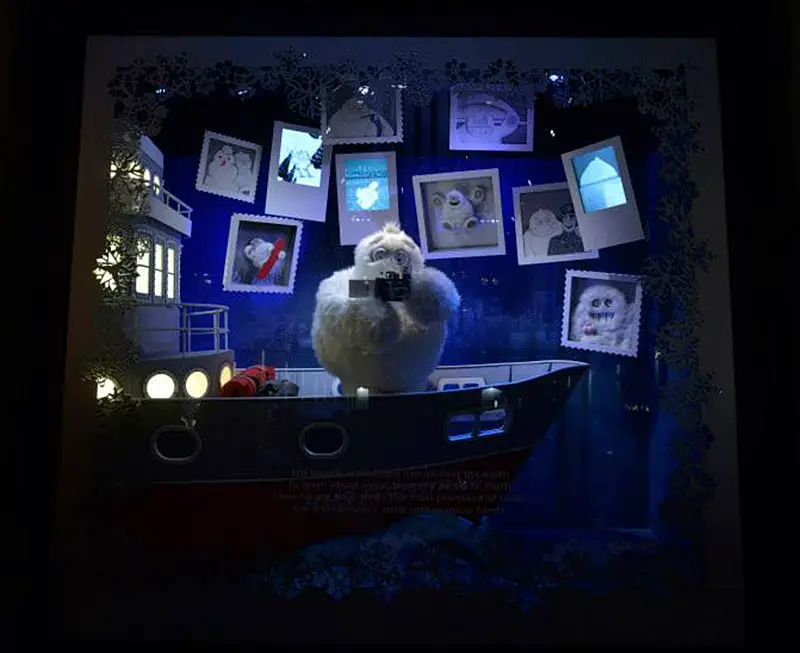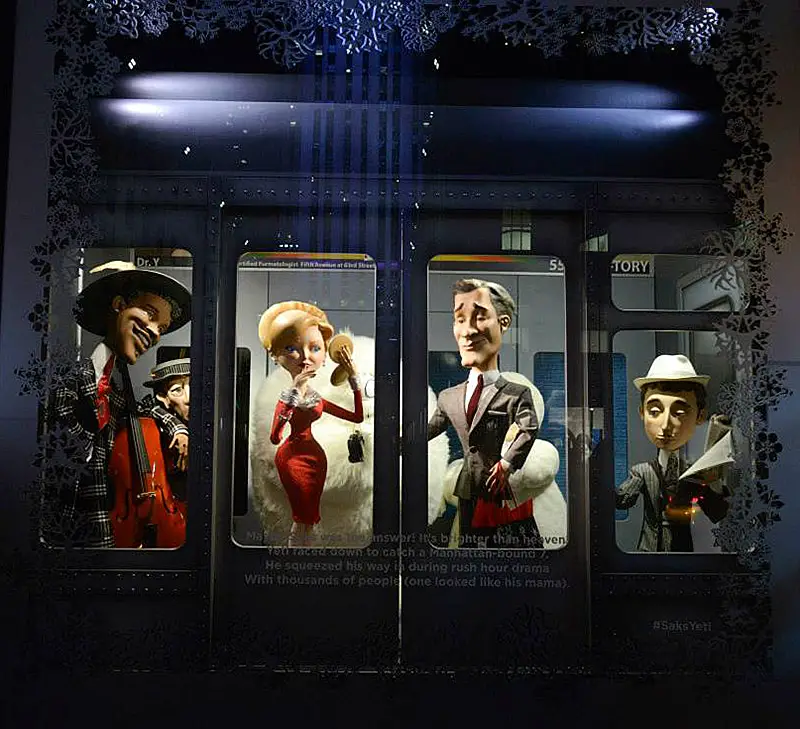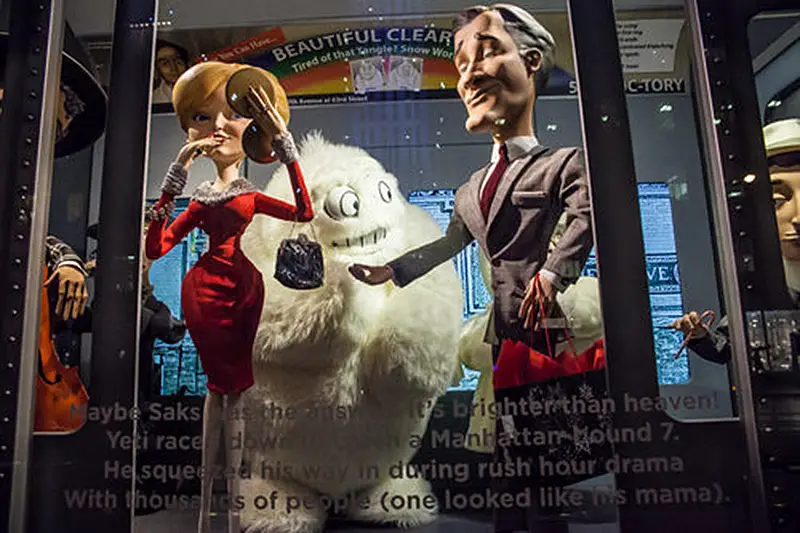 The YETI plush toy and the accompany storybook (shown below) are available from Saks Fifth Avenue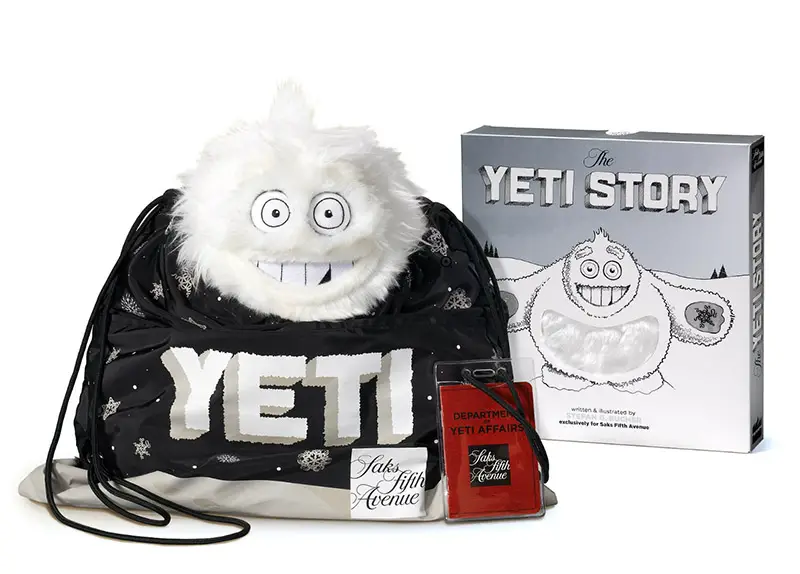 Spectators can add a personal touch to the window display too. Before arriving, visit saks.com/snow to discover your Yeti name and create your own snowflake, which can later be pinged from your phone onto the tableaux.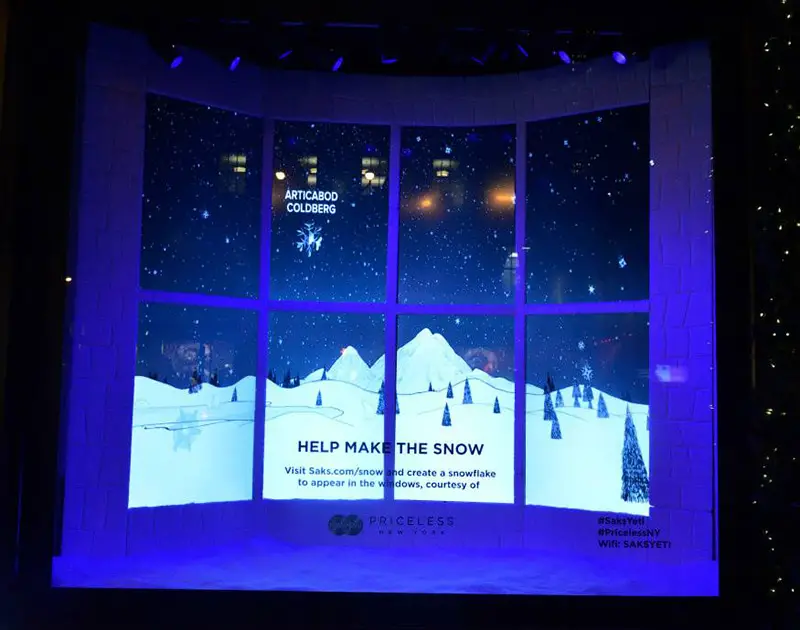 The mobile site was created by New York-based The Science Project, featuring artwork from renowned designers Marian Bantjes and Stefan Bucher.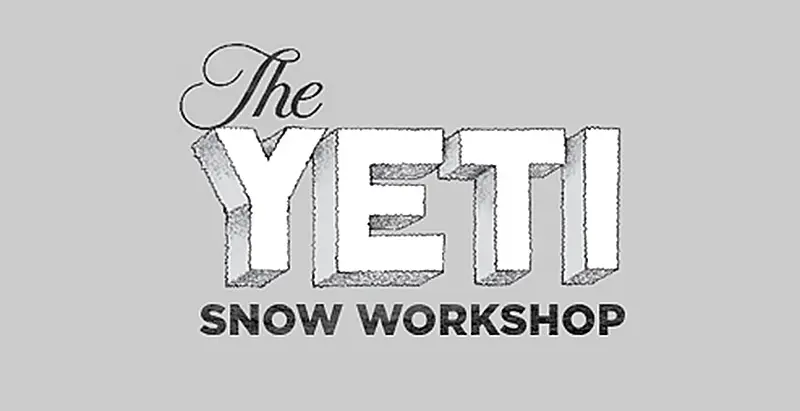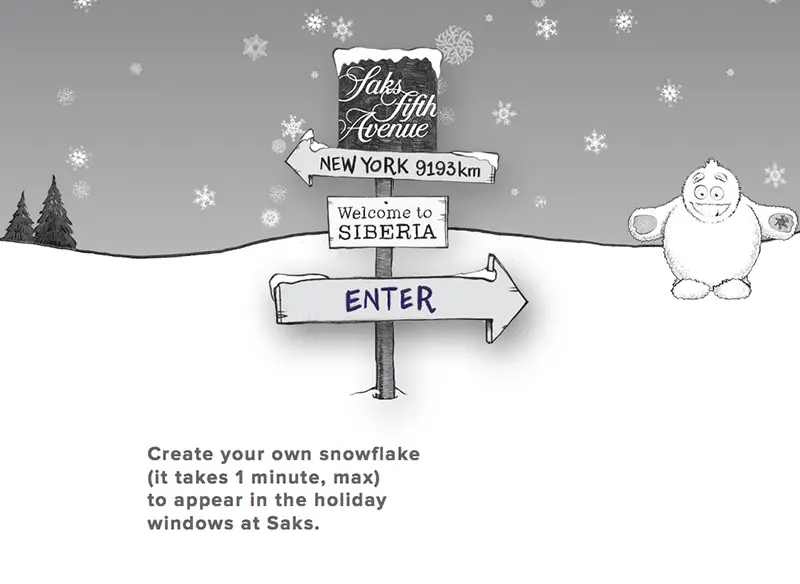 Another special window features a holiday Cadillac. The "Frozen Escalade" prominently features the front clip of a White Diamond 2015 Escalade — a limited edition model offered exclusively to Saks customers. The display's vehicle will have functioning LED running lamps, which appears to be embedded and breaking through a block of ice.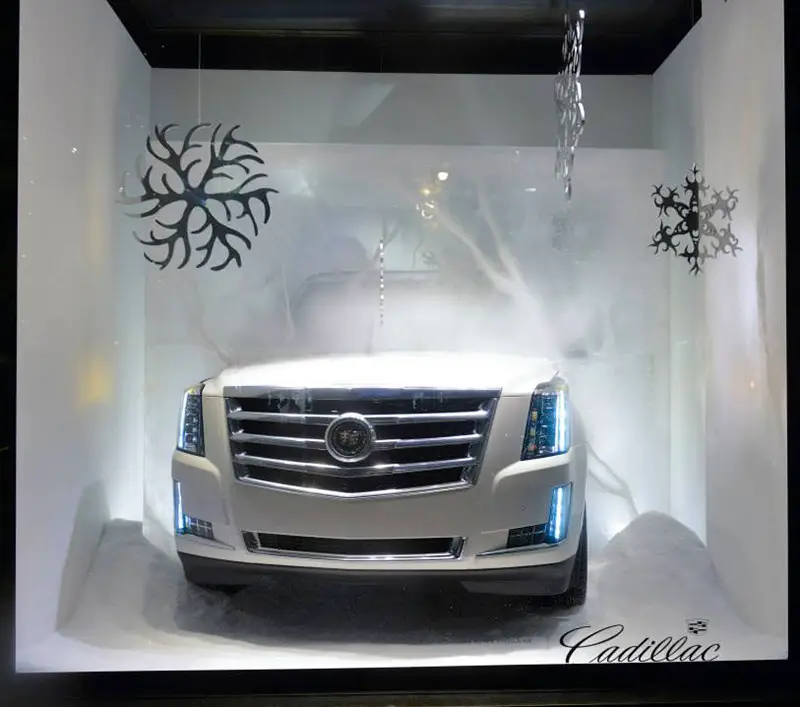 Other Fifth Avenue windows will feature blueprint architectural drawings of the 32 Marian Bantjes snowflakes that have become synonymous with the holidays at Saks Fifth Avenue and will serve as the backdrop to the fashion featured in this year's windows.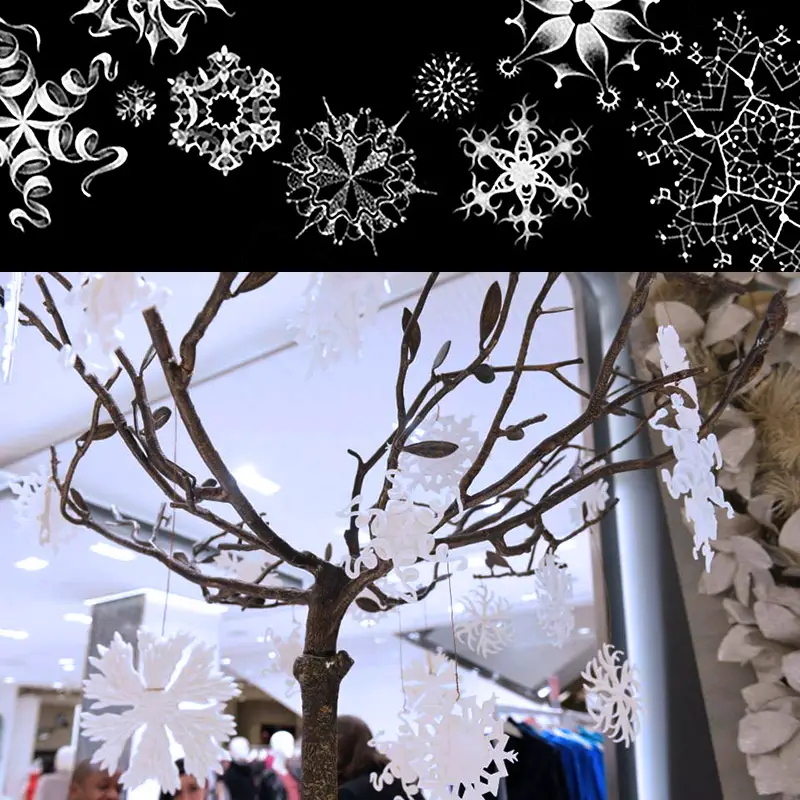 Cookies featuring Banjes' snowflake designs were served to guests at the unveiling: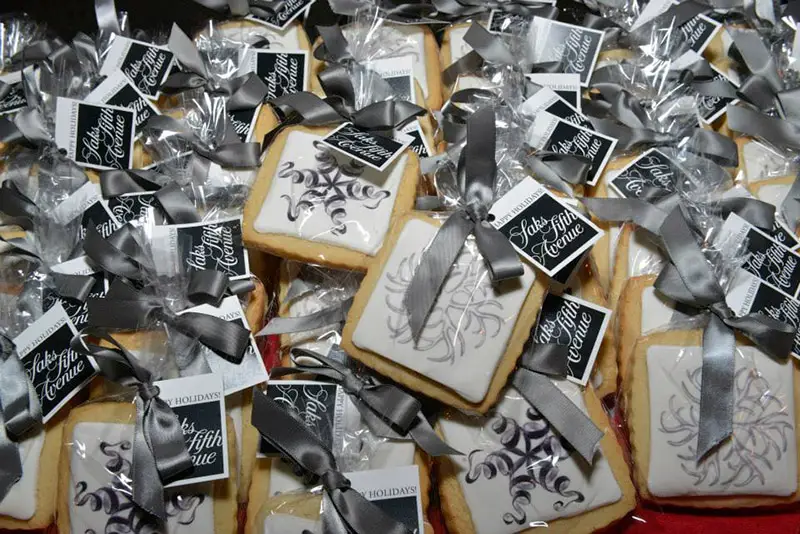 "It gives every one of us at Saks Fifth Avenue great joy to share our iconic holiday windows with the city of New York," said Richard Baker, governor & CEO of Hudson's Bay Co., parent of Saks Fifth Avenue. "The window unveiling is the official start to the holiday season here at Saks, and I am honored to carry the tradition forward with this celebration. Everyone — from resident New Yorkers to tourists — will be dazzled by this year's display."
images courtesy of Saks Fifth Avenue , Racked NY and additional information about the light display courtesy of Digital Signage Connection.
They say it's better to give than to receive, but not at the marketing department in Harvey Nichols. Their new hilarious holiday campaign, 'Sorry, I Spent It On Myself' offers a range of 'Ultra Low Net Worth' (ULNW) gifts for those customers who understand that a little something for their nearest and dearest means a bigger something for themselves.

above: The tongue-in-cheek product range designed for the campaign includes mundane items like toothpicks, canned goods and gravel
The Harvey Nichols Christmas Commercials:
The campaign began with a teaser / preview of the new ULNW collection:

The above teaser was followed up with the commercial shown below in which, scene by scene, we begin to discover that in each case the suspiciously well-dressed gift-giver appears to have spent more time and money on themselves at Harvey Nichols, than on their loved ones, instead offering a present from the Harvey Nichols ULNW Gift Collection:

'At this time of year it can be all too easy to get caught up in the spirit of giving. We hope that our new 'Sorry, I Spent It On Myself' Gift Collection will provide our customers with low-cost gifting options for others that will allow them to spoil themselves that little bit more this Christmas.' said Julia Bowe, the Group Press & Marketing Director of Harvey Nichols
The full Harvey Nichols 'Sorry, I Spent It On Myself' Gift Collection
With a varied and competitively priced selection, there's something for everyone; a Plastic Door Stop for Mum; Non-Swiss Biro Pen for Dad; and nothing quite says Merry Christmas like a packet of Authentic Lincolnshire Gravel.
The 'Sorry, I Spent It On Myself' Gift Collection became available in store and online starting Wednesday, November 27th. Sadly all online versions of these items are already sold out:
- Christmas Lunch in a Tin (with most of the trimmings)
- Non-Swiss Biro Pen, 81p
- Real Plastic Door Stop, £1.43
- Elastic Band Gift Set, £1
- Authentic Lincolnshire Gravel, £1.61
- Metal Plated Paper Clips, 99p
- See-Through Glass Salt Cellar, £1.73
- Sink Plug (Water Resistant), £1.13
- Multi-Bristled Toothbrush, 95p
- Toothpicks (100% Wood), 47p
- Genuine Wire Sponge, 96p
"This Christmas, a little something for them means a bigger something for you"
If you visit their special website, you will find, in addition to the commercial, a little slide show comparing the ULNW gifts side by side with something you could splurge on for yourself:
They also offer a free downloadable no frills "Sorry, I spent it on myself" Christmas card:


download the card here
#SpentItOnMyself
Credits:
client: Harvey Nichols
Advertising Agency: adam&eve DDB, London, UK
Creative Directors: Richard Brim, Daniel Fisher
Published: November 2013