If you've not yet heard of textile artist Qualeasha Wood, you will soon. The emerging artist uses two different techniques for her unusual and provocative work: tapestry and tufting. In both she evolves the traditional craft from a decorative element into a personal statement expressed through self-portraiture. The pieces reflect her experiences living as a queer Black woman, the interplay between analog and digital, and relationship between artist and art.
Qualeasha Wood Tapestries
There are several terrific artists who work with textiles rather than the more common and traditional art mediums of paint or photography. Their works lie somewhere between sculpture and paintings with a tactile quality that begs to be touched as much as a visual that warrants close observation. Qualeasha Wood's complex tapestries are one such example.
Born in New Jersey, Qualeasha is a graduate from two reputable art schools: the Rhode Island School of Design in 2019 with a degree in Fine Art and the Cranbrook Academy of Art in 2021 where, at 24, she just received her Masters in Fine Art in Photography. This month her piece, Black Madonna – Whore Complex, graces the cover of the Art In America magazine's New Talent Issue, a coveted honor.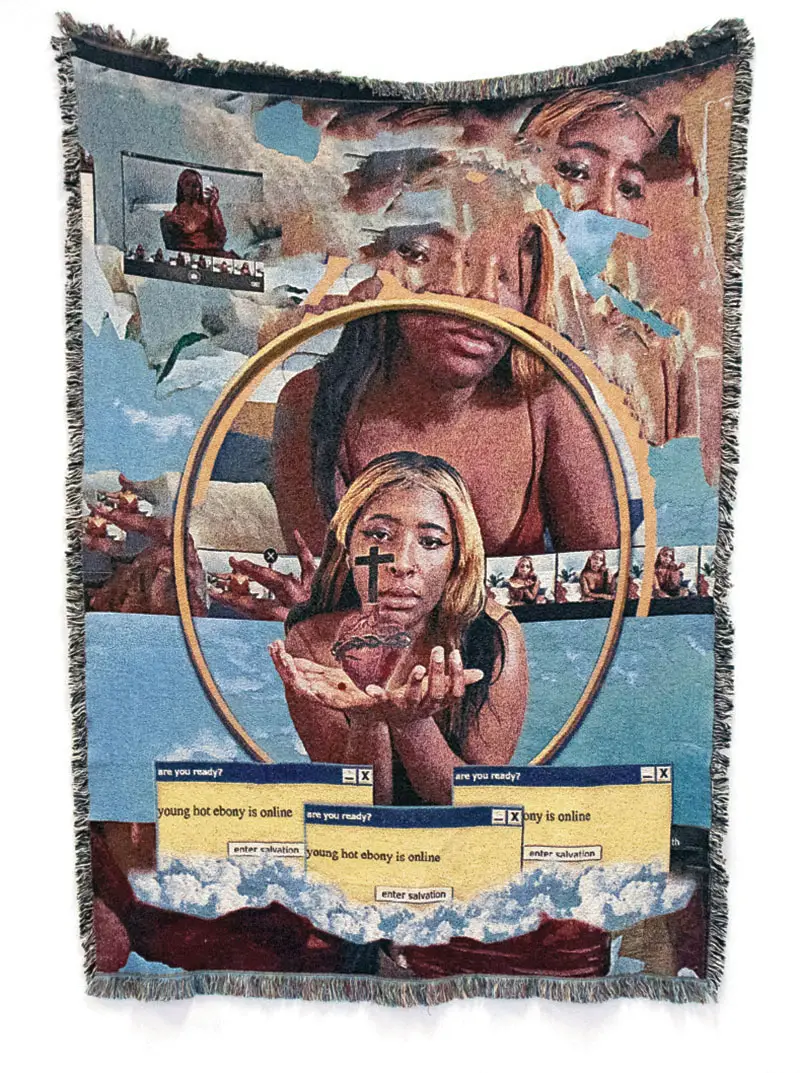 "This new piece is titled the Black Madonna – Whore Complex and it is one of my favorite tapestries made to date. I was honored enough to be included in magazine, but to be offered the cover absolutely blew my mind. I remember calling @gallerykendrajaynepatrick and we talked about how huge this was. I remember crying my eyes out. I remember not thinking it was real. But it is." – Qualeasha Wood, Instagram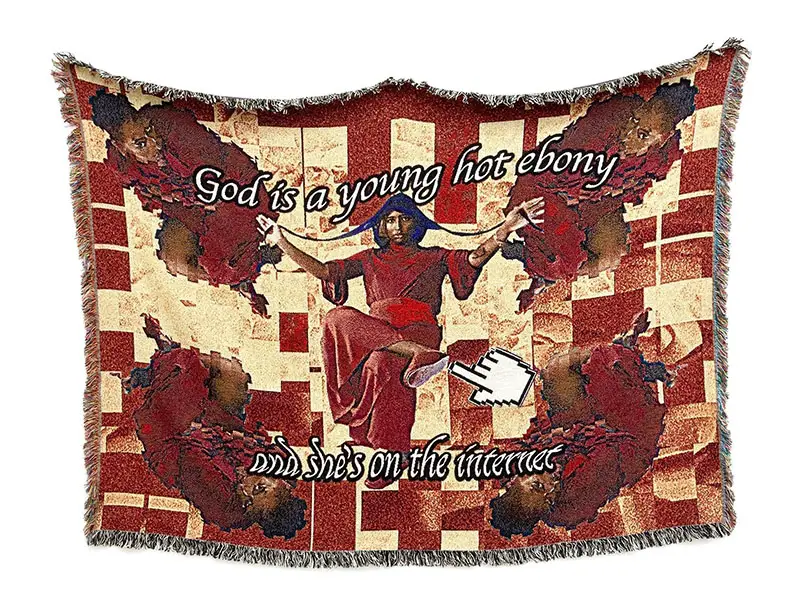 Tapestry weaving is one of the oldest forms of art, an ancient craft going back centuries to the Egyptians and Incas who buried their dead in them. In Europe, the great period of tapestry weaving ran from the second half of the 14th century to the end of the 18th century. It was during the 13th and 14th centuries that tapestries were created by the Church to convey Bible stories to illiterate congregations. In contrast, Qualeasha's tapestries are present day "selfies", telling her own personal narratives using photos of herself combined with iconic internet and religious symbology. Unlike the many artists who hide behind their work, Qualeasha doesn't draw a line between her art and her self. In her tapestries Qualeasha IS the Madonna and the Whore, the Saint and the Sinner, simultaneously exposing her power and her vulnerability, her sexuality and her religious reverence.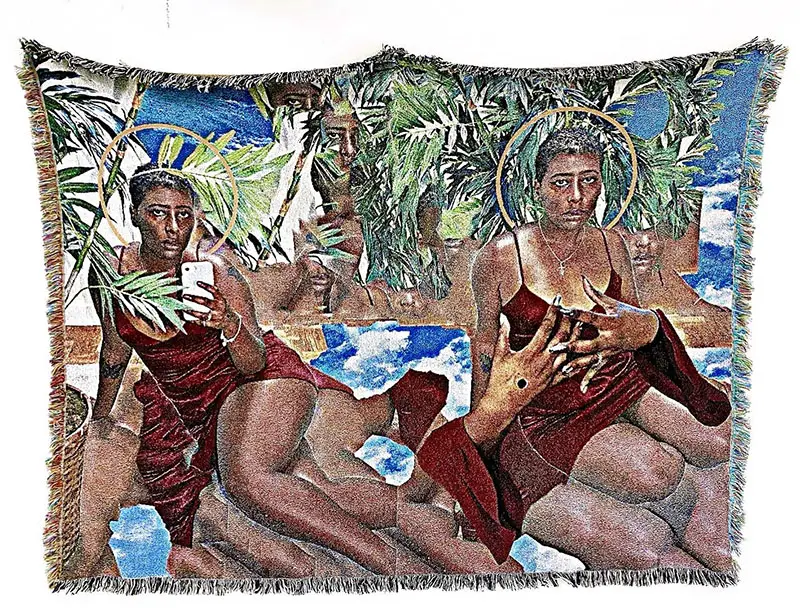 "I refuse to let anyone see my art and not have to see me at the same time. That's really important for me." – Qualeasha told Roula Seikaly of HAFNY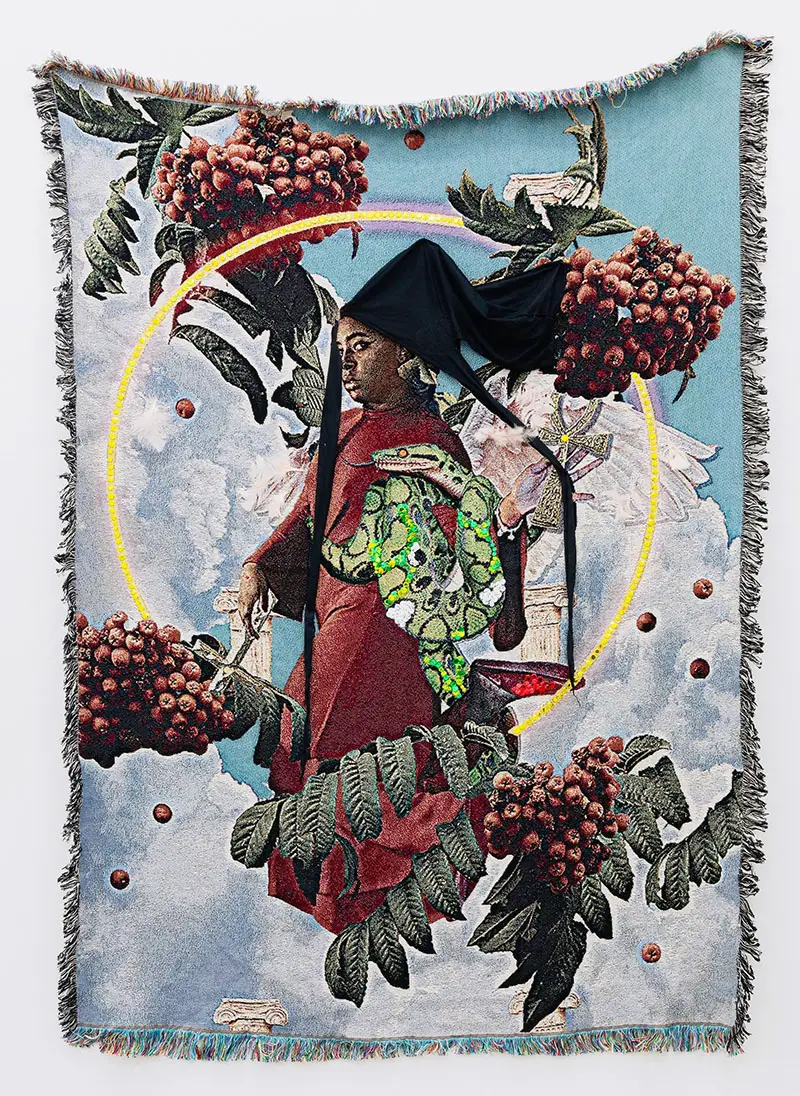 Qualeasha combines the traditional craft of tapestry with the digital technology of today to produce her tapestries. Replacing the manual work of weaving with software, she creates complex layers in Photoshop and composes her images down to the pixel before sending them off to Robotic weavers who use an AI-powered loom to catch every detail. Several of the tapestries are then hand-embellished with elements such as metal chains and other objects.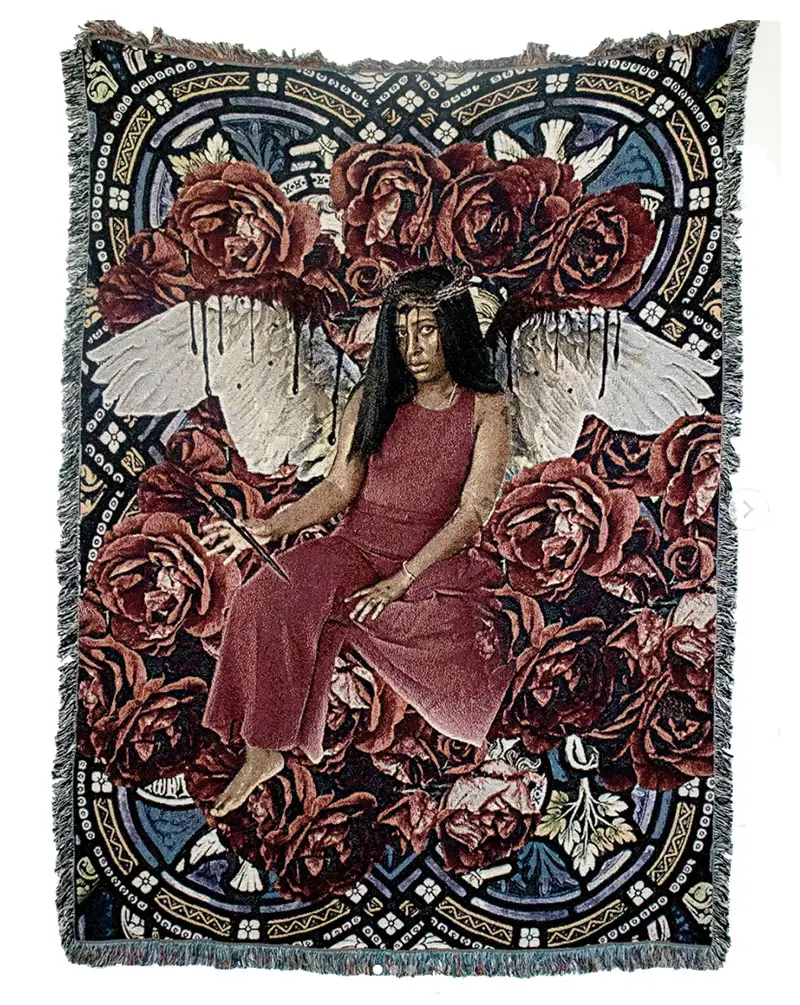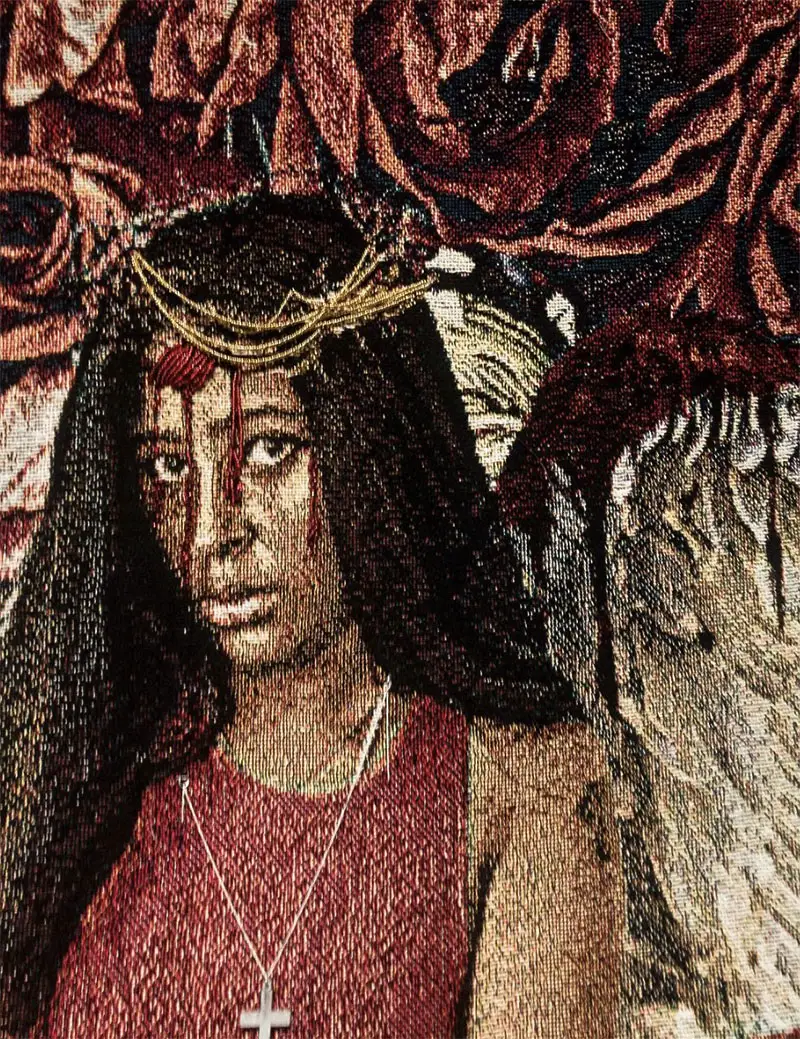 The religious symbology in her work is as impossible to ignore as her messaging. All of her tapestries include an element of Christianity be it a quote, a bible, a halo or a pose. By juxtaposing these religious icons with the symbolic iconography of the internet, she's effectively created a new language that puts religion in art in a new context.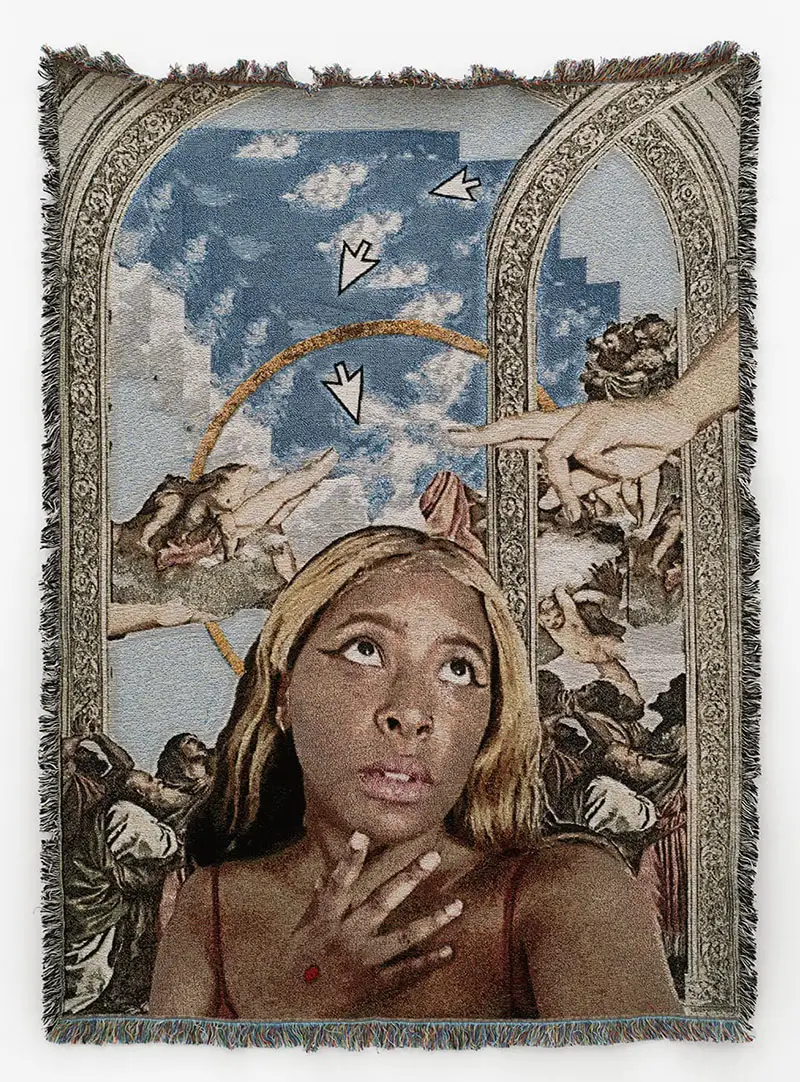 Rather than fight against the roles she's expected to play as both a Black and Queer woman in society, she's turned those expectations into tools to provoke questions about 'true self' versus the way one is supposed to be as deemed by society.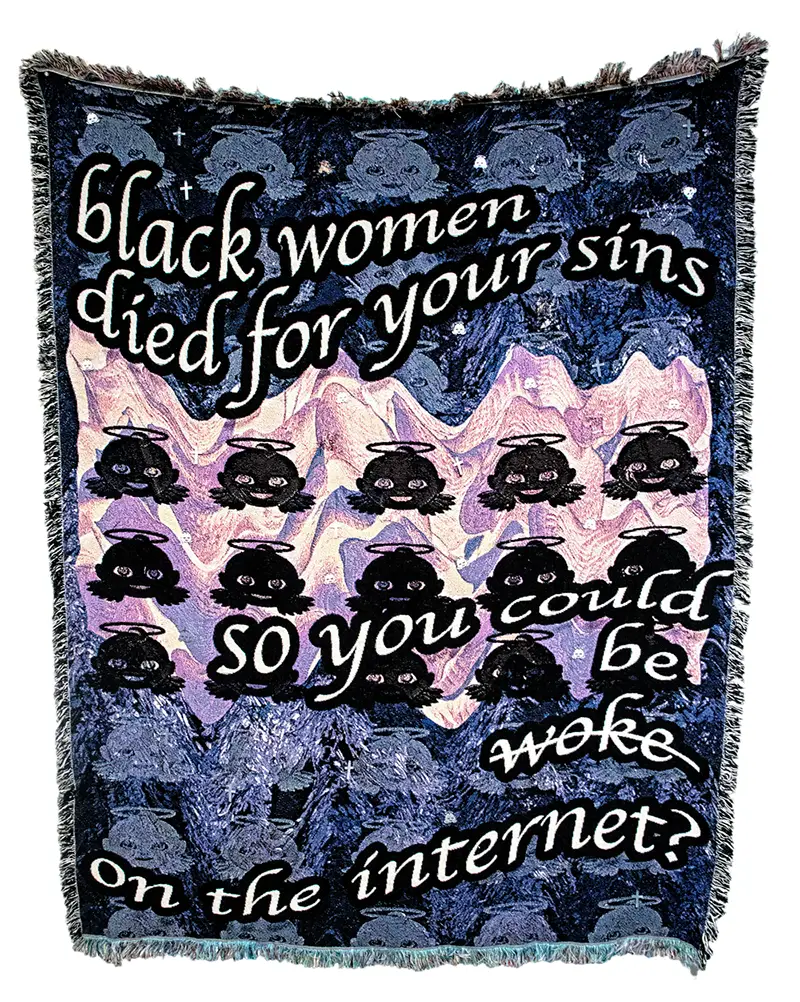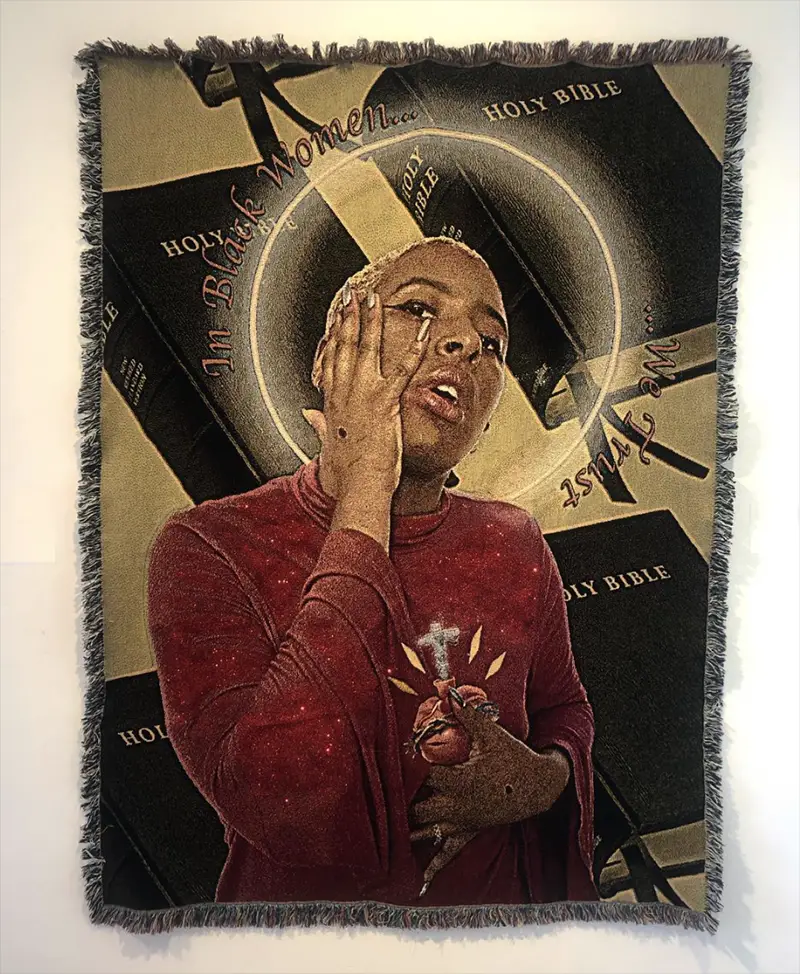 It's so hard to do her tapestries justice because it's the details that make them so incredulous. Tiny glass beads are actually woven into the jacquard.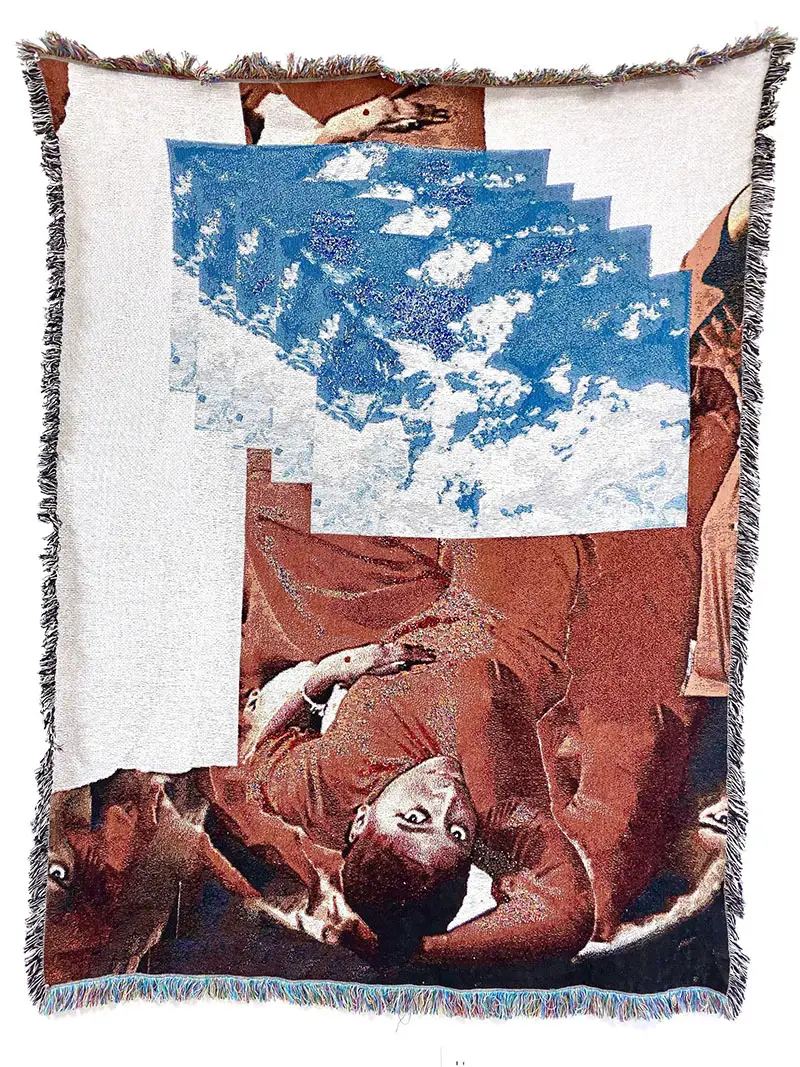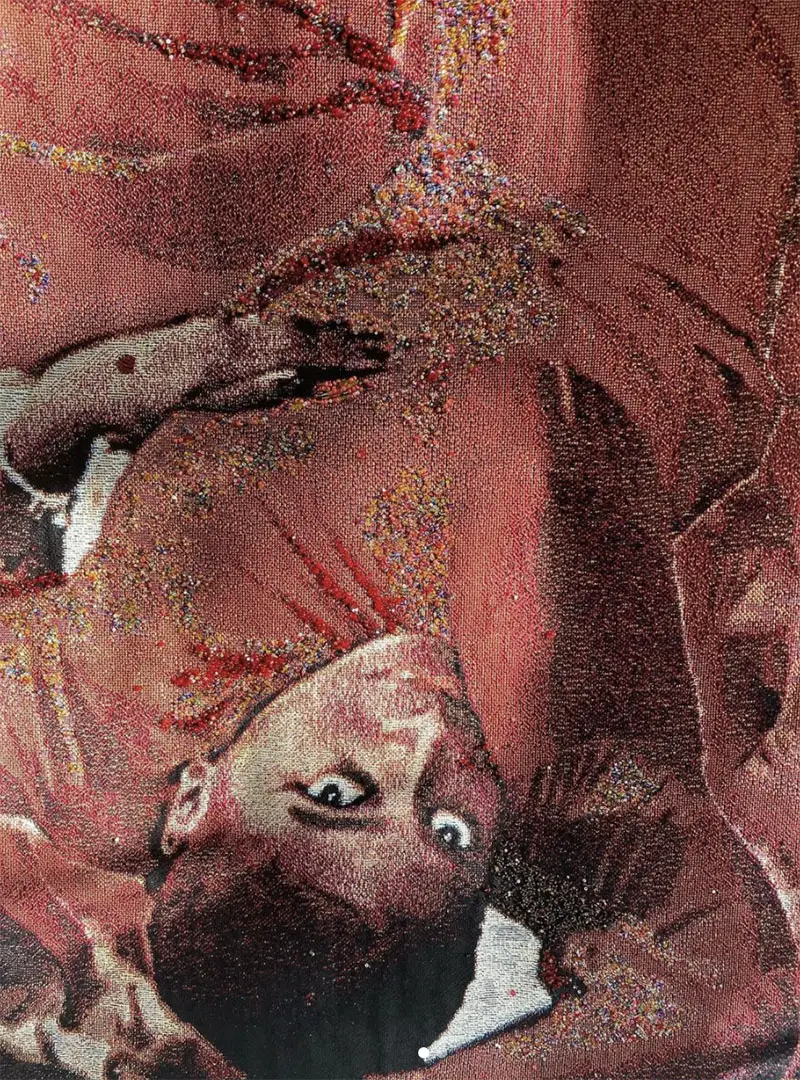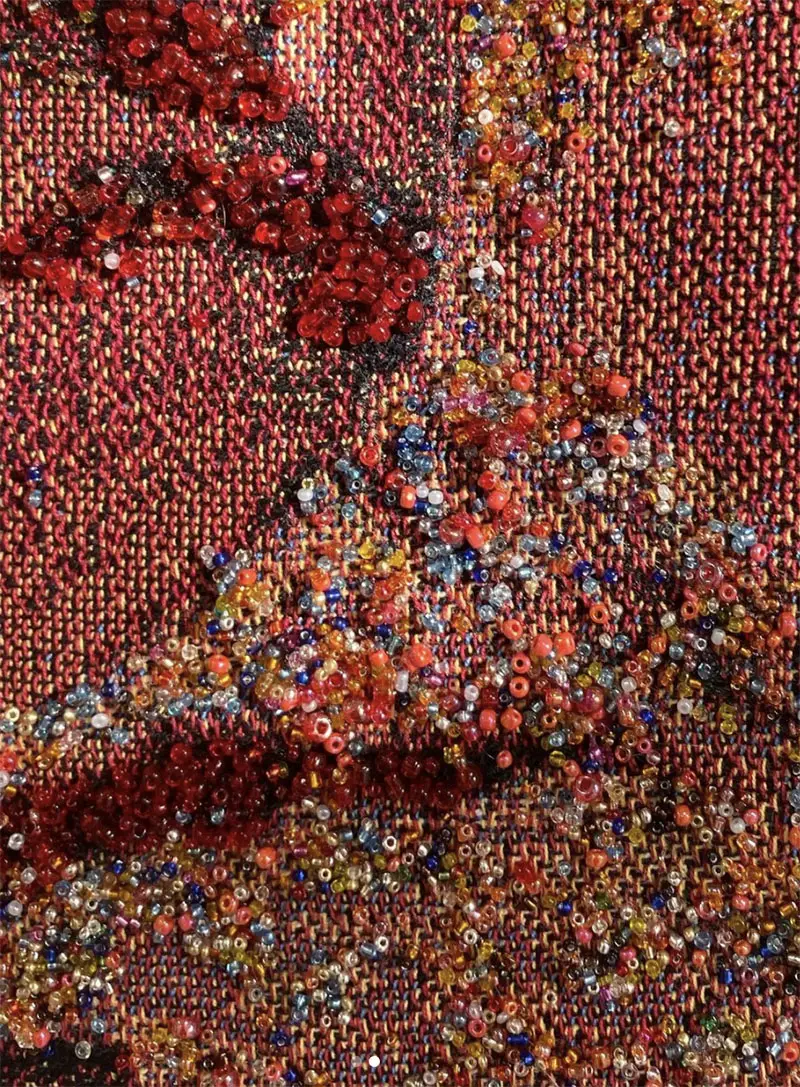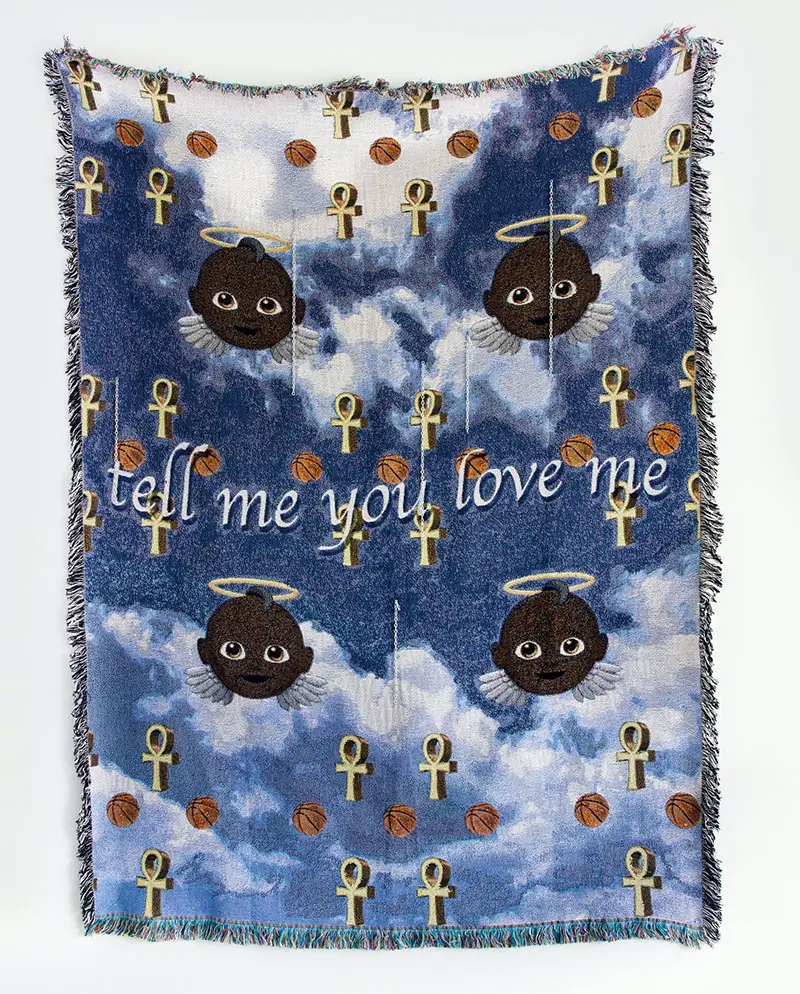 "Like, shit, if I'm going to get fetishized out here, I'm going to fetishize myself. I'm gonna appreciate my own identities and not let anyone else tell me how to display them, or what to do with them or [that] I need to go further, or I'm going too far. I just want to be as Black as possible. I spent so much of my life just being as non-Black as possible and pretending I wasn't Black so like, everyone can kiss my ass." – Qualeasha Wood, in a 2017 interview with Bluestockings Magazine.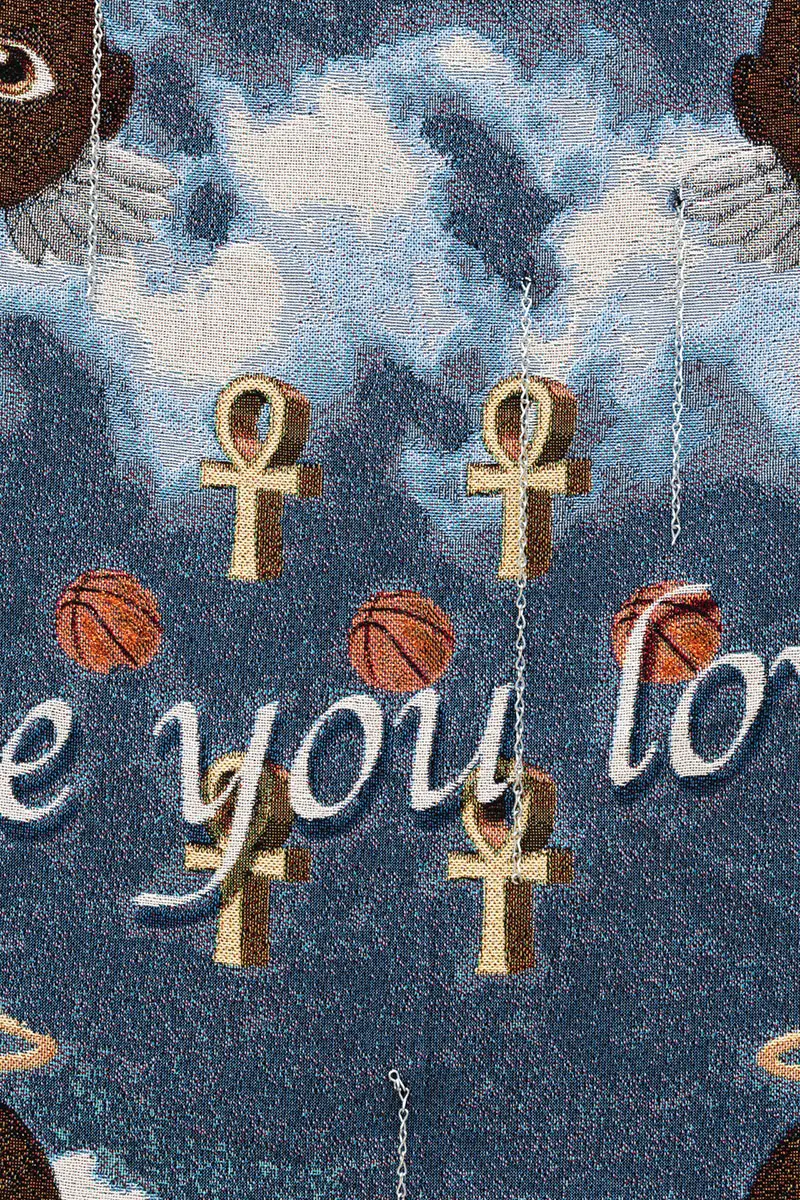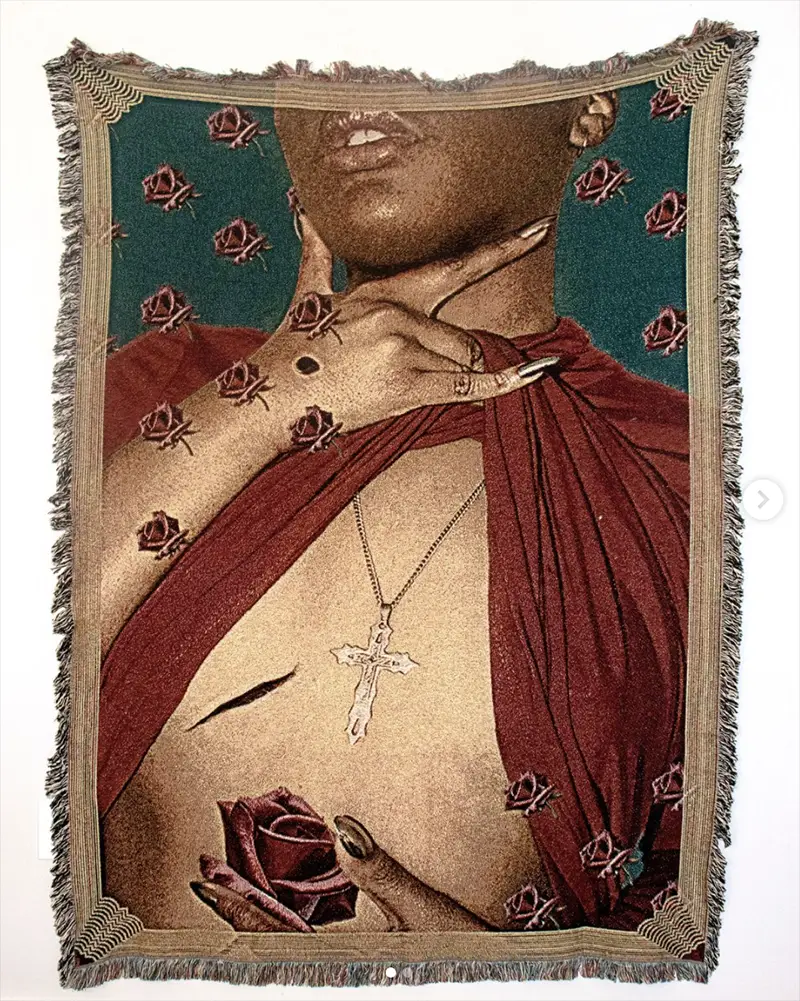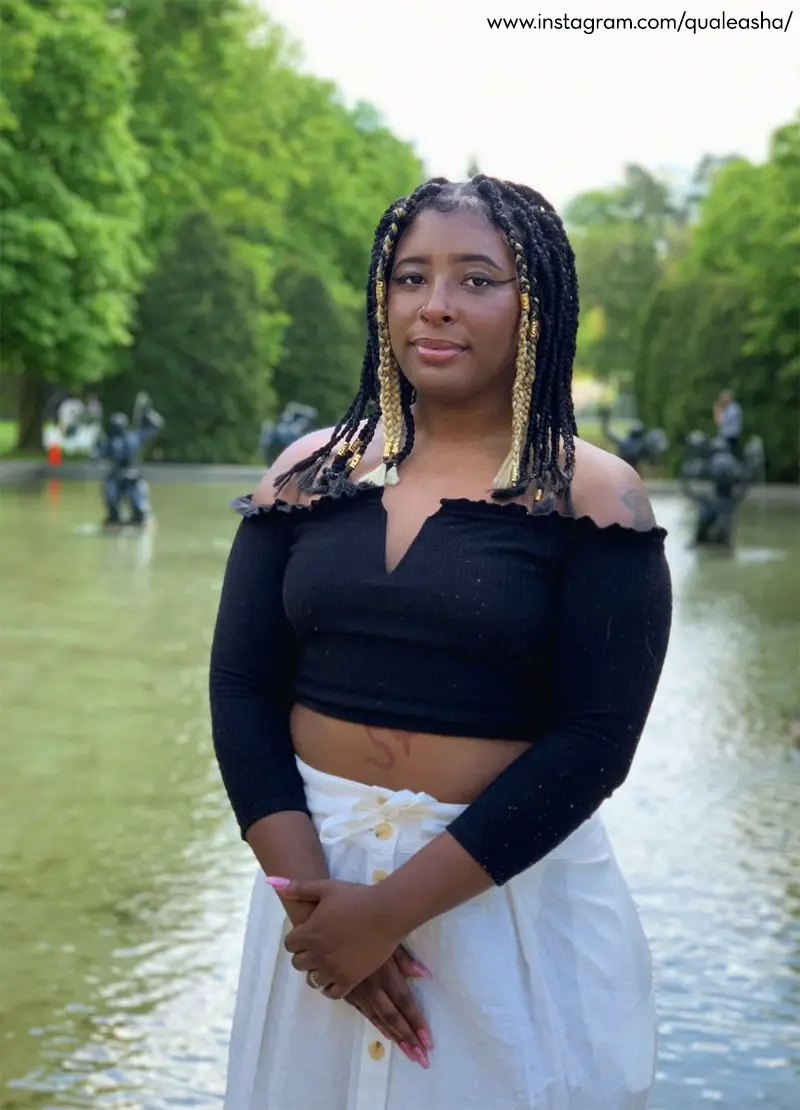 Be sure to keep an eye on this talented artist. I have a feeling we'll be hearing a lot about her.
Qualeasha Wood is represented by Kendra Jayne Patrick Gallery
all images and information courtesy of the artist