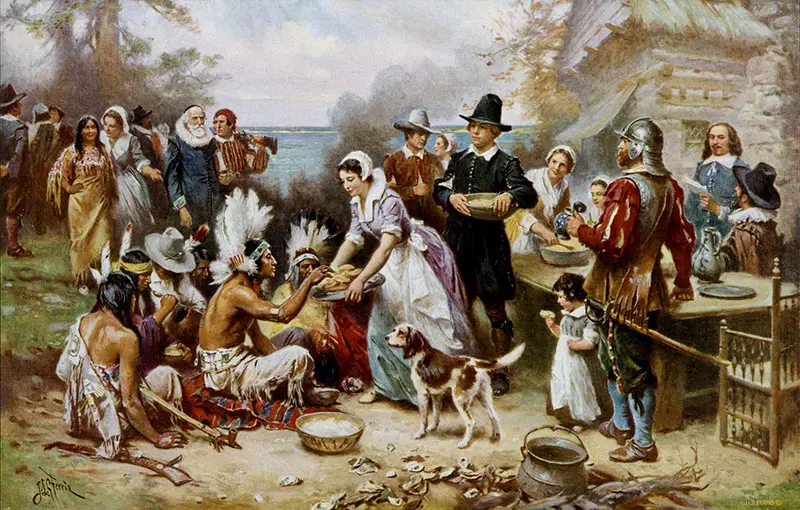 above: The First Thanksgiving 1621, oil on canvas by Jean Leon Gerome Ferris (1899)
In honor of today's holiday, I've rounded up some Thanksgiving History and fun facts for you.
Thanksgiving facts and trivia
• The first Thanksgiving was observed in Plymouth, Massachusetts in 1621

above:The First Thanksgiving at Plymouth, oil on canvas by Jennie Augusta Brownscombe (1914).
• Approx Ninety (90) Native Americans were at the festivities

above: Circa 1653, Samoset (died c. 1653).
Native American of Abnaki people of the Algonquin nation. In spring 1621, as the Pilgrims were still building the Plymouth settlement, Samoset entered calling out 'Welcome' in English. The next day brought Squanto, fluent in Englis (Photo by Archive Photos/Getty Images)
• in 1863 President Abraham Lincoln first declared that Thanksgiving should be observed on the last Thursday of November
• in 1939, However, President Franklin D. Roosevelt moved it to the third Thursday of November. Why? To boost Christmas shopping (this is true).
• President Harry S. Truman (shown above) began the tradition of pardoning a turkey. The turkey is most often sent to a petting zoo in Virginia.

above image courtesy of Affect Magazine
• The average American consumed 13.1 pounds of turkey in 2005
• In 2007, the us will produce 1.6 billion pounds of sweet potatoes

A parade float from the Macy's 1926 Thanksgiving Day Parade.
• The first Macy's Day Thanksgiving parade was in 1924
• 1934 was the first year the Detroit Lions played the first Thanksgiving day game. they faced off against the Chicago Bears
source: us census bureau/macy's, inc /detroit lions
And now, a bit about today's Macy's Thanksgiving Day Parade.
The parade got under way Thursday morning, mixing new attractions and longtime favorites, solemn tributes and lighthearted spectacle.
Carrying banners and flags, participants gathered on an unusually warm November morning for the parade. The lineup included three new balloons, 2,000 cheerleaders, 800 clowns, the Radio City Rockettes and 11 marching bands — among them the Virginia Tech Regimental Band, playing in honor of the victims of last spring's campus shooting.The 81st annual parade began with a Michael Feinstein tune especially written for 600 kids from around the nation, whose opening number was choreographed by John Dietrich of the Rockettes.
Below are a few images from early this morning in New York:






And my favorite pic from today's parade:

Maurace Morris, 6, of Brooklyn mugs for the camera as the Shrek balloon is inflated in the background.
Happy Turkey Day Everyone!