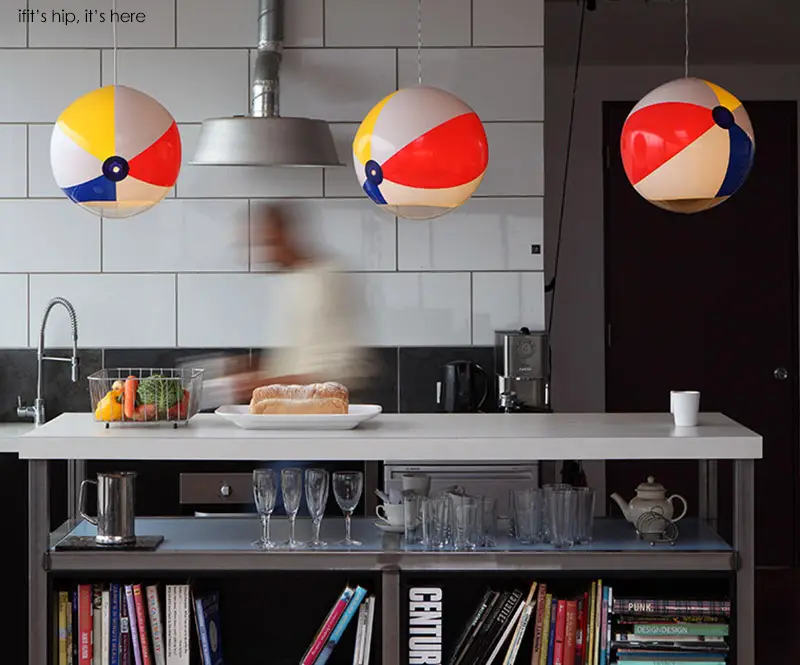 Available as pendant or table lamps, these lights are made from real beach balls. The classically colorful red, blue, yellow and white balls come flat-packed, and like the real thing, inflate for use.
The festive light fixtures were originally devised as a lampshade (shown below, courtesy of Yatzer) by Toby Sanders of the UK's TOBYhouse.
The hand-made art piece designed for the premium market were repeatedly sought-out by designers for beach bars and boutique hotels so Toby reworked the design so it could be used and priced for the home market. (NOTE: The Lampshades as opposed to the Lights are also available in various sizes here)
Now, the real inflatable beach balls are specially manufactured with a transparent window and combined with a special air-tight new generation LED lighting system that results in a wonderfully whimsical light for indoor spaces. When lit they glow all around, and shine a light out through the transparent window.
"The classic beach ball is an iconic symbol that everyone loves and the light makes a really quirky and contemporary design statement" says Toby. "The original concept was so popular I wanted to find a way of making it work for everyone and after three years here it is."
Assembly takes only a few minutes. A bicycle or similar pump is required (not supplied). It is inflated through the regular pop-out blow-hole. The pump is required for inflation to prevent misting of the window. A conversion valve is provided for the most common type of bike pump.
The light is mains powered (220V or 110V), and uses the latest generation of cold LED bulb (supplied) that is the technological and ecological successor to CFL bulbs. The replaceable bulb is extremely long life.
The Beach Ball Light is designed to hold its air indefinitely, however should it ever need a top-up, this is easily done via the blow hole.
Beach Ball Lights are available in 2 distinct versions:

PENDANT VERSION – Comes with an adjustable 3 meter transparent hanging cable, and a white cup-shaped ceiling rose. This item requires electrical competency for installation.

TABLE VERSION – Comes with a 2.5 meter transparent switched cable with plug. A bright colored sponge ring is provided to form solid base for the Beach Ball Light to sit on. The beach ball can be rotated on this base to the orientation that best suits the space. No particular electrical competency is required as this just plugs in.

They ship worldwide. Shop for them at Beach Ball Lights at I LOVE MEL or at Not On The High Street