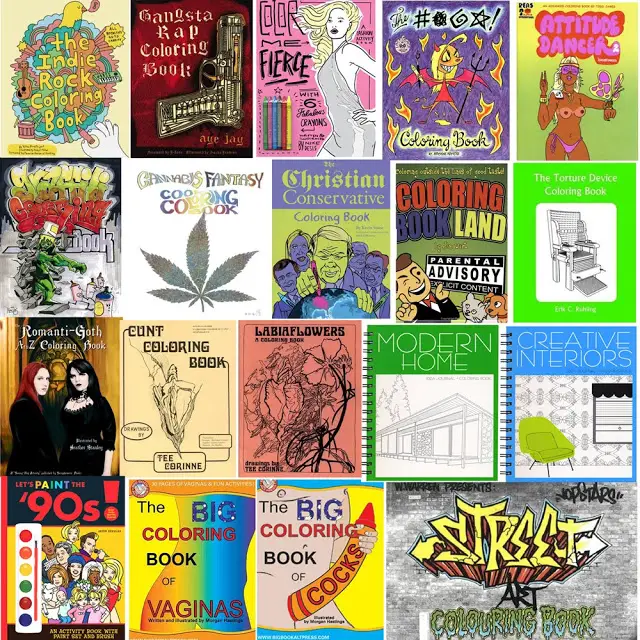 above: a few of the adult coloring books now available on the market
*please note, this post contains sexually explicit imagery and language and should not be viewed by those under the age of 18
Sure you can buy coloring books of all the Presidents, of geography and just about every licensed character out there. Fill in the lines of famous fashion illustrations and insects of all types. But why do that when you can be shading in a handgun or adding crosshatching to a cock?
Coolest Coloring Books For Grown-Ups
The following coloring books are some of the most fun, unique, edgy and artsy coloring books for adults and design lovers out there. They make great gifts because they are very affordable- and certainly memorable. The subjects of the following books cover everything from drugs to weapons and erotica to illustration.
MUSIC
The Yellow Bird Project's Indie Rock and Aye Jay's Gangsta Rap coloring books:
Buy the Indie Rock Coloring Book hereBuy the Gangsta Rap Coloring Book hereDRUGS
the Cannabis Coloring Books by Re:
Buy the Cannabis Fantasy Cool Coloring Book hereFASHION
Heather Stanley's Romanti-Goth and Nike Desis' Color Me Fierce:
Buy the The Romanti-Goth A to Z Coloring Book hereBuy Color Me Fierce!: A Fashion Activity Book with Six Glamorous Crayons hereMISC CULTURE
Expletive by Krystine Kyttre and Let's Paint The '90s coloring books:
Buy The #& *! Coloring Book hereBuy Let's Paint the '90s! hereBad Taste by Jim Wirt and Torture Devices by Erik Ruhling coloring books:
Buy Coloring Outside the Lines of Good Taste hereBuy The Torture Device Coloring Book hereILLUSTRATION
Roz Streeten (aka Rosie Flo) has about 16 charmingly illustrated coloring books to choose from:
Buy Roz Streeten books here
Taro Gomi's loose modern art style coloring books are made for children but great for adults :
Buy Taro Gomi Books hereINTERIOR DESIGN
Modern Home and Creative Interiors Coloring and Activity Books By Raindogs:
Buy them here.
EROTICA
Dan Ginsberg's Gay and Adult Coloring Books:

no longer in print
Tee Corinne's Cunt and Labia Flowers Coloring Books:
Buy Tee Corinne's Coloring Books here
Morgan Hastings' Big Coloring Books of Vaginas and Cocks:
Buy Morgan Hasting's Vagina and Cock coloring books here
The Bijou Cock by Stephen Toushin and Todd James' Attitude Dancer, Volume 2:
Buy The Bijou Cock Coloring Book hereBuy the Attitude Dancer 2 Coloring Book here
RELIGION
Religious satire; the Pat Robertson and Friends Coloring Book and The Christian Conservative by Kevin Stone:
Buy Kevin Stone's Coloring Books hereURBAN
Graffiti Coloring Book by by Uzi Wufc:
Buy the Graffiti Coloring Book hereStreet Art Coloring Book by William Warren:
Buy the Street Art Colouring Book hereWorth Noting:
This coloring book, A Scary Thing Happened, was intended to help youngsters deal with the fallout of 9/11 and was produced by FEMA. Ironically it took on a cult following and was very disturbing to youth so it is no longer in print:

out of print
The Grey Gardens Coloring Books are so much fun for anyone who watched either the original documentary or the Drew Barrymore and Jessica Lange HBO production about the freaky Bouvier cousins, the Beales. And if you haven't seen either, get on it!

Buy the limited edition Grey Gardens Coloring Books here.
Designed more for youngsters than adults, the Girls Are Not Chicks coloring book by Jacinta Bunnell and Julie Novak is a teach and learn book that abolishes stereotypes:
Buy the Girls Are Not Chicks Coloring Book hereMORE! PART II

UPDATE: Part III is up, the Coolest Coloring Books for 2012-2013!