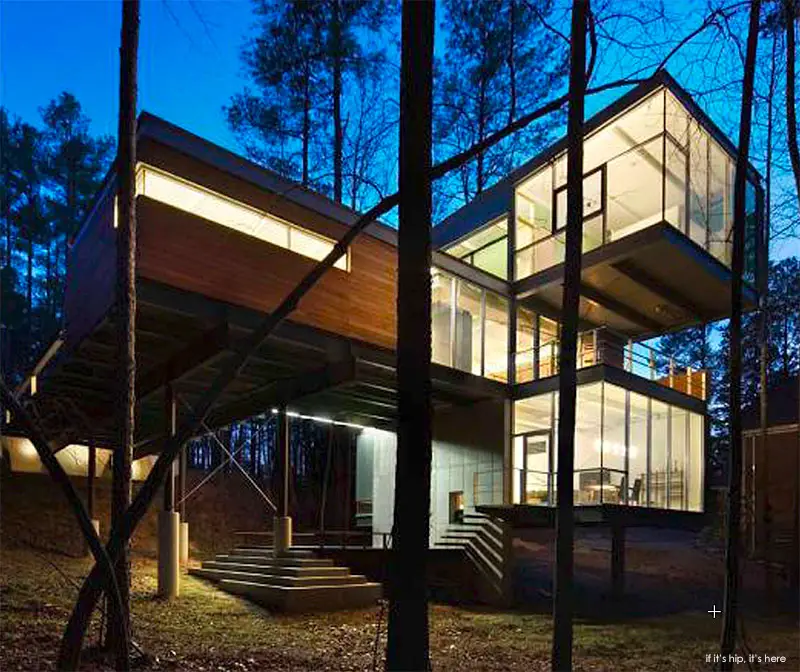 Mike Rantilla, a Senior Associate Architect with the Freelon Group designed this amazing residence for himself on 1804 Pictou Road in Raleigh, North Carolina. Nestled amongst the trees, the cantilevered home received the 2009 AIA Triangle Honor Award.
This private home literally springs upward from the pristine wooded site. Wedged between zoning setbacks, a stream buffer and a steep slope, the home squeezes vertically into a three story scheme, elevated above the uninterrupted ground plane flowing beneath. Each floor is expressed as a discrete rectangular volume, clad in a different material and spun radially from a 40 foot tall, 18 inch thick solid concrete shear wall. Fully cantilevered stair treads project from the shear wall allowing light and views to pass through. Vertical circulation always maintains a close connection to the diagrammatic and structural centroid of the building.
Feel like drooling? Here is a huge gallery of photos of the home for you plus a video.
Interiors:





above images courtesy of Mclane and Company, Mark Herboth and Frame Magazine