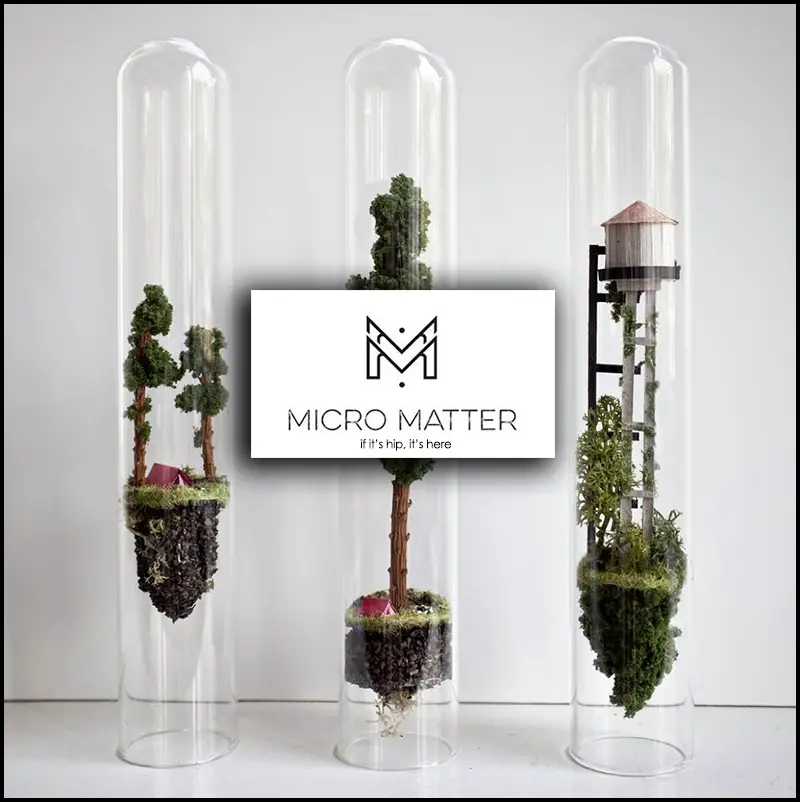 Micro Matter is Amsterdam-based Rosa de Jong's ongoing series of tiny precious worlds encased in glass. Miniature handmade skyscrapers, barns, cottages, water towers – even camping tents – sit upon grassy unearthed terrains as if they were floating islands.
Micro Matter by Rosa de Jong
Requiring great eyesight and a steady hand Rosa, a freelance designer, art director and animator, uses supplies often seen in hobbyist stores for train collectors and other miniature artists such as Kendal Murray.
She creates all of the tiny elements herself- from the ladders to the power lines.
Then attaches the minute structures to their bases and mounts them in glass she obtains from lab supply companies.
The results combine impressive craft with the 'adorable' nature of tiny objects.
Whether skyscrapers or teepees, they are equally charming.
The little sculptural pieces are available to purchase with prices starting at 120 euros. She requests that you email her at hello@byrosa.nl for questions and specific prices.
About the artist (from her own site):
I'm a freelance designer, art director and animator based in Amsterdam.
After studying for commercial art direction and working for one or two agencies,I started working for my own clients.

Designing can be intense.
The more experience I have, the more respect I have for other people's creativity.It's so much easier criticizing something that somebody else already did than making something from scratch.

The most important thing for me is that by the end of a project, every one is happy. I want to make things people want to look at, not something they're forced to look at.

Since people are naturally drawn to stories and people that are different, the goal is to tell the real story of the brand, and set it apart from the crowd, making every piece of communication authentic and personal. – Rosa de Jong
Follow her Micro Matter series on Instagram at https://www.instagram.com/byrosa/