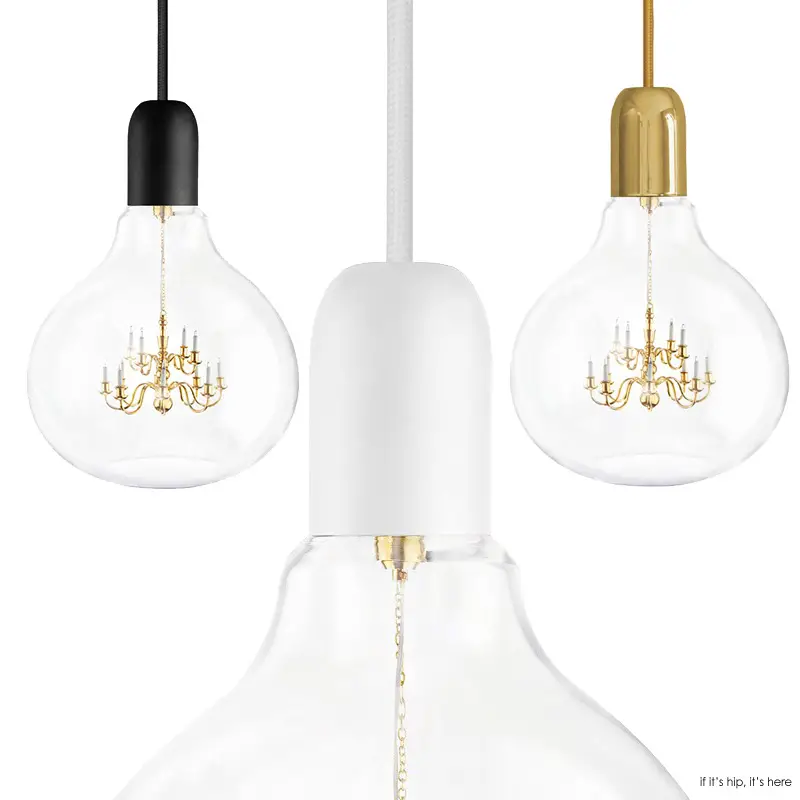 I wanted to update you on the very cool King Edison Lamp I introduced you to in June of 2013. At that time the whimsical pendant lamp had just been introduced and now it's available in four different options.
Designed by Young & Battaglia of Mineheart, the suspended lamp has a functioning tiny LED brass chandelier encased within a clear glass bulb, combining old world elegance with modern design.
Initially only available with a grey cap and cable, the King Edison Pendant Lamp is now available in Black, White and Gold in a addition to the original grey. A two meter braided silken cable of matching color is attached to the lamp.
A cluster of these lights offers more illumination and looks terrific.


The image below is courtesy of inhabitat:

For use with a 5 volt power supply, (transformer included).
Current lead time: 4-6 weeks
Supplied with a 2 meter cable and ceiling rose (longer cable available on request)
Specifications:
• 0.72 Watts
• LED Estimated Life Span 40,000 Hours
• Light Type: Decorative/ 30< Lumens
• Dimensions: 15 cm diameter x 21 cm H
Price for the grey is  $748 ( £480.00)  The black, white and gold are  $925.45 (£504.00).
Shop for the King Edison Pendant Lamp here