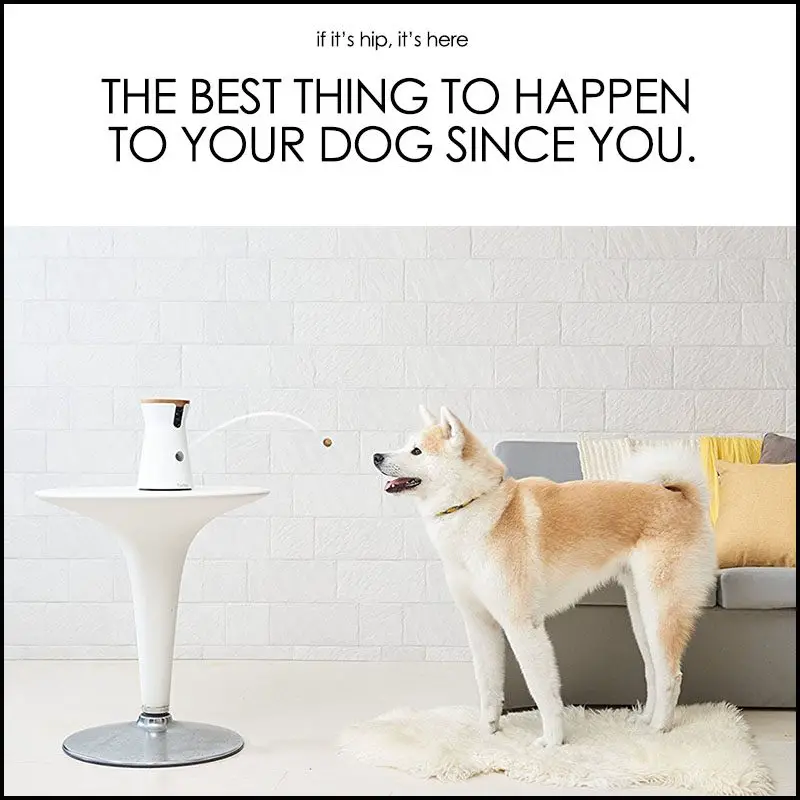 Designed with input from professional trainers and vets, Furbo is a smart dog camera that lets you see, talk, and even toss treats to your dog in real time. And it's not an eyesore.
Furbo Dog Camera

above photo courtesy of @mr.huckleberryfinn on instagram
Designed to make sure your dog can always feel your love when you're not around, Furbo will do most of the things for your dog that you would, except rub his belly. Furbo can toss treats to your dog, has night vision so you can see what your furbaby is up to in the dark, has a built-in audio so you can talk and listen to your pets clearly and will send push notifications to your smartphone when your dog barks so you can soothe them in real time!
Let Your Dog Know You Are There

Furbo's light indicator uses the colors dogs can see – yellow and blue. When you open the app, Furbo's light indicator changes from yellow to blue to attract your dog's attention.

Interactive Mode

Sleep Mode
Play With and Reward Them


Toss a treat to your dog through the free Furbo iOS/Android app. It can hold up to 30 treats and play a game of fetch from anywhere! [Depending on the size and texture of the treats, multiple treats may toss out at a time.]


Spy on Them:

With the built-in HD Camera and Night Vision, you can discover your pet's secret life when you're not at home. With 720p HD video streaming, a 120° wide-angle view and night vision, Furbo lets you see your entire room, day or night.
Converse With Them

Hear and comfort your dogs just like you are right there with them. Furbo has built-in microphone and speakers so you can talk and listen to your pets clearly.
Know When They Bark / Soothe Them

With Furbo's intelligent sensors that automatically detect barking, you can know when they're in distress and speak through Furbo to calm them down. The detection sensitivity can be adjusted with the app.
The Barking Alert delivers push notifications to your smartphone when your dogs bark so you can let them know you're never far away can soothe them in real time.
Super easy set up in 3 minutes:
1. DOWNLOAD – Download the Furbo app on the App Store or Google Play.
2. CONNECT – Connect your Furbo to home Wi-Fi in a matter of minutes.
3. READY – See, talk and toss treats from your phone.
Internet connection and strong WiFi signal are required to set up Furbo.
Technical Specs:

Size: 5.91×4.72×8.86 inches (15x12x22.5cm)
Weight: 1.76 pounds (800g)
Camera: 720p HD, 120° wide-angle lens, 4x digital zoom, automatic night vision
Audio: Built-in speaker, high quality microphone
Treat capacity: 30 pieces
Recommended treat: Round shaped treats with a diameter around 0.4 inches; (1cm)
Power: 100-240V, 5V2A
Connectivity: 2.4GHz Wi-Fi (802.11 b/g/n), Bluetooth Low Energy (BLE)
Inside the box:
• Furbo Dog Camera
• 2M USB cable
• Furbo power adapter
• Quick start guide
• 1-year limited warranty
633 Customer reviews on Amazon are an impressive 4.2 stars out of 5
If you encounter any issues installing the Furbo app or cannot complete the setup process, please reach out to Furbo's support team via support@furbo.com.