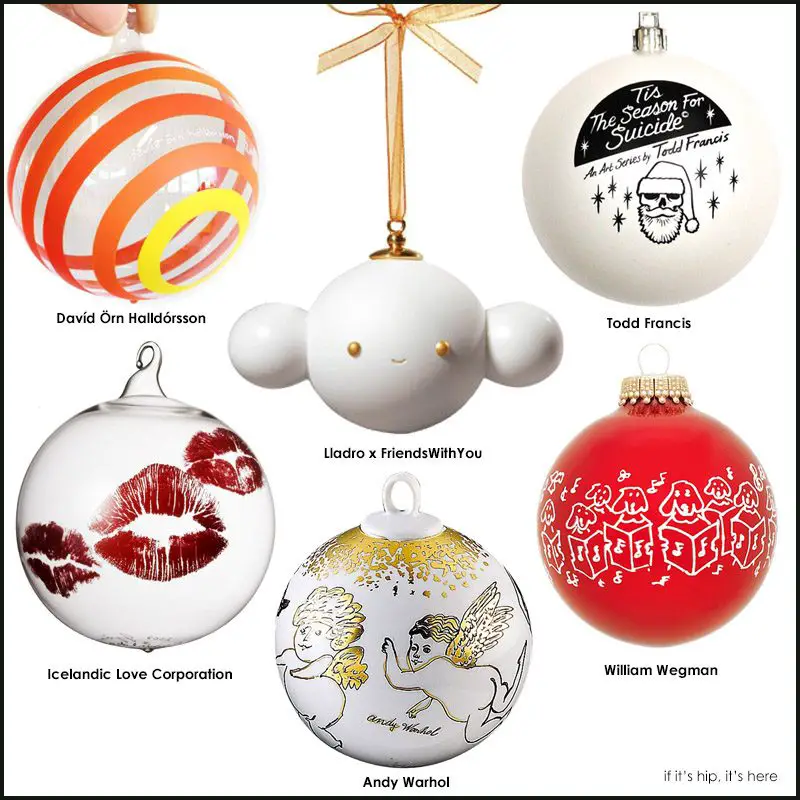 For those who have a passion for fine art and the unique, I've gathered up a selection of limited edition Holiday Ornaments designed by various respected artists, illustrators and photographers to turn your Christmas tree into a showcase for contemporary art.
Artist Christmas Ornaments
Lladro X FriendsWithYou Ornaments:
New this year is a collaboration between Lladro and art collective FriendsWithYou for some super cute and quirky porcelain Christmas Ornaments and two tree toppers.
Shop the collection here.
Also new for 2014, is the addition of this ornament by Rolito joining last years' fabulous (and still available) "The Guest" ornament collection.
New for 2014,  The Guest by Rolito  Ornament:

Size: 4×3¼ ", $300, buy it here
The Guest Ornament by Gary Baseman ($300), by Jaime Hayon ($270), by Devilrobots ($270) and by Tim Biskup ($270):
Shop for these here
Andy Warhol Porcelain Christmas Ornament by Rosenthal:
Buy it here
The Globe of Goodwill Christmas Ornaments
The Benefit Society for Children with Disabilities (SLF) has launched a Globe of Goodwill every year since 2003. The Globes form a unique collection of artwork by some of Iceland's most renowned artists. These artists contribute their work to support our efforts on behalf of children and young people with disabilities.
Globe of Goodwill 2014 Ornament, 2014 By Davíd Örn Halldórsson

The following ones from previous years are still available.
The Icelandic Love Corporation, Breath of Life, 2008:
Eggert Pétursson, Circle, 2007:
Rúrí, Without Beginning – without end, 2005:
Yoko Ono, Draw Your Own Map, 2011:
Ragnar Kjartansson, THINK PIECE, 2013 (also available as an individual piece):

• Set of 5 mouthblown glass ornaments
• Each ornament measures 10 cm x 10 cm. (4″ x 4″)
buy them here
"Tis The Season For Suicide" Christmas Ornaments by Todd Francis

Celebrating the tradition of suicides during the holidays, the "Tis the Season for Suicide" series of holiday ornaments by Todd Francis is now available. Displaying some of the most popular ways of ending it all, this set of four ornaments features artwork by the longtime skateboard artist printed on shatterproof, white acrylic ornaments.

All 4 ornaments are double-sided with only one bearing the, "Tis The Season For Suicide" graphic. Box of 4 white ornaments includes, "High Explosives," "Pills And Booze," "Self Inflicted Gunshot," and "A Noose And A Chair" Size: 3-1/4″ diameter acrylic (shatterproof) ornaments
Set of 4 ornaments includes shipping within the U.S.
$56.00 buy them here
Snarkitecture's Broken Ornament:

Broken Ornament is a play on the traditional glass globe holiday ornament. Appearing from one side as a smooth sphere, from other angles the excavated form reveals the jagged texture of the interior. Recast in solid gypsum cement, the white material suggests a moment between ruin and construction, frozen in time.

Broken Ornament, 2012, White gypsum cement, 2″ x 2″ x 2″
$24, Buy it here
WILLIAM WEGMAN Christmas Ornaments (boxed set of 4 reflective glass ornaments)

This boxed set of 4 Christmas ornaments by celebrated artist William Wegman features four different designs on reflective gold and red ornaments. Each ornament shows one of Wegman's original drawings, two of which include humorous lines of text. Limited to 250 sets this is an easy and perfect gift for the holidays.

Each ornament: 2 5/8″ diameter, edition of 250
$65.00, buy them here
Barbara Sullivan Silent Night Ornaments, 2008 (set of 4 silver glass ornaments)

Silent Night is a limited edition set of four different glass holiday ornaments conceived by the artist Barbara Sullivan exclusively for Artware Editions.

The four images in Silent Night are from the photographic series Roaming: An American Portrait. Inspired by noir motifs and the dark underbelly found in the outwardly beautiful American landscape, this series seeks out moments that have a simultaneously spare and emotional resonance with a voyeuristic point of view. The quiet solitude of Silent Night offers an unexpected juxtaposition to the jolly artifice usually found in the holiday season.
3 3/4 x 3 1/4 inches. each, edition of 100
$15.00, buy them here
MOSS Gallery Pop Shop Hand Blown Glass Ornaments by Victor Chiarizia:
Mother Ship Blown glass Ornament

Only three of this wild and striking creature were ever made. Mothership is both mechanical and organic, reflective in camouflage coloration, and with an aggressive horned helmet which renders her fierce and forbidding. All of which is absolutely belied by the delicate fragility of the material of which the creature is made. We are reminded of space, and of the earth. Of a ship, and of a minuscule insect.
Limited Edition, Price:$300.00
buy it here
Alien Autopsy Blown Glass Ornament

Created in 1998 as part of a holiday window exhibition at Moss, Alien Autopsy is a very small limited. Only two pieces were made. And in fact each is unqiue in that the "autopsied" explosion of inside parts is completely different for each piece. Designed, mouth blown and hand painted by artist Victor Chiarizia, Alient Autopsy is a rare and extraordinary piece which comments on our commonly conspiracy theories with humor and, by the nature of the materials involved, delicacy.
Limited Edition, Price:$300.00
Buy it here
Spermatazoa Blown Glass Ornament

Spermatazoa was created as a limited edition of thirty individual unqiue pieces, each designed, mouth-blown and hand-painted by Victor Chiarizia for the 1998 holiday window of Moss Gallery. The intention at the time was to challenge certain holiday season "tabloo", and to borrow imagery associated with sexual reproduction to celebrate the birth of Christ. We wanted to present natural conception through traditional holiday ritual. The installation was controversial and ultimately proved to be too advanced in its message, and we chose to remove it from the gallery window. These pieces have been in secure storage for fifteen years. We felt the cultural climate had changed significantly enough for them to be re-presented once again.
Limited Edition, Price:$100.00
Buy it here
IMMACULATE, A suite of 100 blown glass ornaments of the Spermataoza shown above

Price:$10,000.00, buy them here